New Year's Game Free Printable
See our favorite New Year's Game Free Printable. So much fun for friends and family to play on NYE!
This New Year's Game Free Printable is a big hit in our house for New Year's Eve. It's a great way to get the party conversation started with questions like: Best Song of the Year, Best Movie of the Year, Most Embarrassing Moment, etc.
The questions will get your friends and family thinking back on their favorite moments of the year. Some of their answers will get the crowd roaring, while others will make everyone reflect.
It's pretty great to find out why everyone laughed the hardest they did all year long. And one of my favorite questions is Best Piece of Advice You Were Given This Year.
We also have rounded up some awesome family friendly New Year's Eve celebration ideas for you. So many great ideas!
Read more to download the New Year's Game Free Printable…
How to use the New Year's Game Free Printable
I love to put all the cards in a glass bowl and pass them around. Each guest picks a card and they have to answer. Then throw your card back in and pass around again!
You can also use the game cards as place settings at the dinner table. This is a fun way to get good conversation going at dinner time.
Another way to use the game cards this year (2020) is to set up a Zoom call with friends or family and play the game!
We hope you guys all have a great New Year's!
What are some of your favorite New Year's Eve traditions?
Our family would make corned beef and cabbage on New Year's Day to celebrate the new year.
Family games like charades and pictionary are fun for an at home celebration
Dress up and go out to a favorite restaurant
Dress up and make a fancy dinner at home!
Big dance party with family at home
Set the clocks back a few hours so the kids feel like they are staying up until midnight
Play the New Year's Game free printable!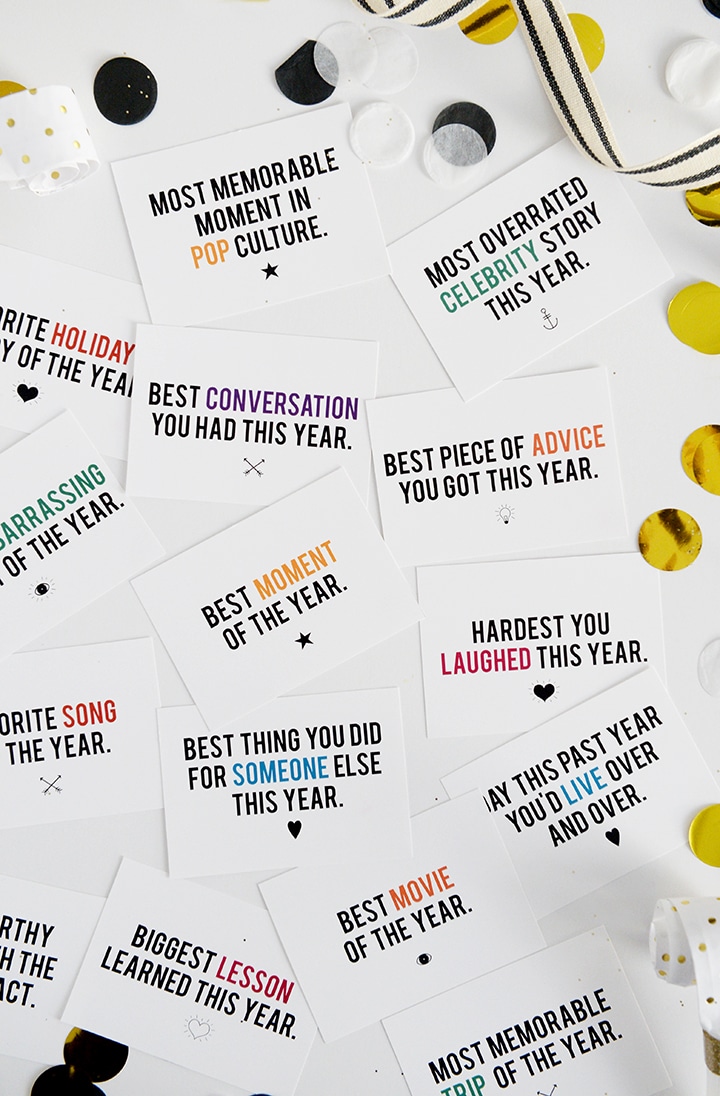 How to print the New Year's Game Free Printable
We created this printable game for you for free! Just download the New Year's Game printable, print out on white cardstock
, cut out the cards and you've got a fun night ahead of you to ring in the New Year! And remember, this game is for personal use only.
Find our updated 2020 Version of the New Year's Game here! Since 2020 has been a year like none other we just had to make an updated version.
photos by Melissa Fenlon. all rights reserved.