Roasted Cauliflower Hummus Recipe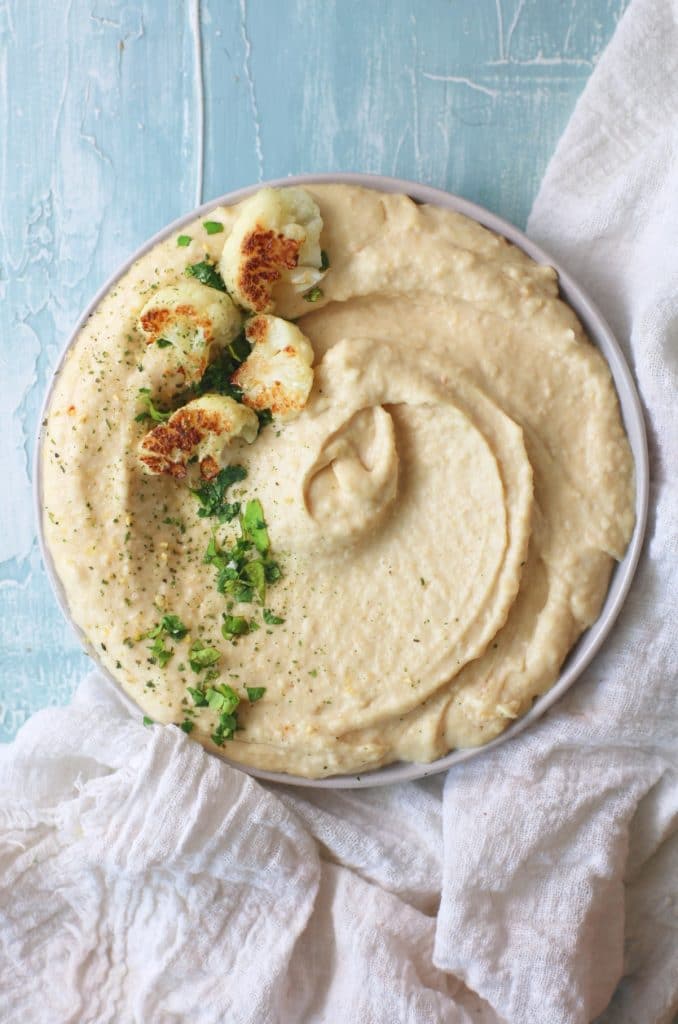 Are you looking for the best new summer appetizer? Then you have come to the right place! Today we are sharing our absolute favorite dip, Roasted Cauliflower Hummus. This is a delightful spin on a traditional hummus. The roasted cauliflower gives the hummus a unique flavor, but still tastes like hummus with the tahini.
Cauliflower is a cruciferous vegetable that is naturally high in fiber and B-vitamins. It provides antioxidants and phytonutrients. Talk about a super food! Have you noticed cauliflower in so many things? You can find riced cauliflower, cauliflower pizza crust and more in just about every grocery store.
Recipe Tips
The secret to make it so delicious is being generous with the tahini and using a good quality one. Another tip for this recipe is mincing the garlic clove and then letting it marinate for a couple of minutes with the lemon juice. The lemon juice helps to mellow the garlic and eliminates the harsh raw bite that garlic can give sometimes. Also, allow the roasted cauliflower to cool down because that way you don't have steam forming inside your food processor. That helps in keeping the cauliflower hummus creamy and not watery.
The Roasted Cauliflower Hummus is perfect with everything really! You can serve with crackers, pita chips, veggies and whatever you have on hand. Remember wen we made the
Spicy Roasted Cauliflower Bites
a few years ago – we still love those!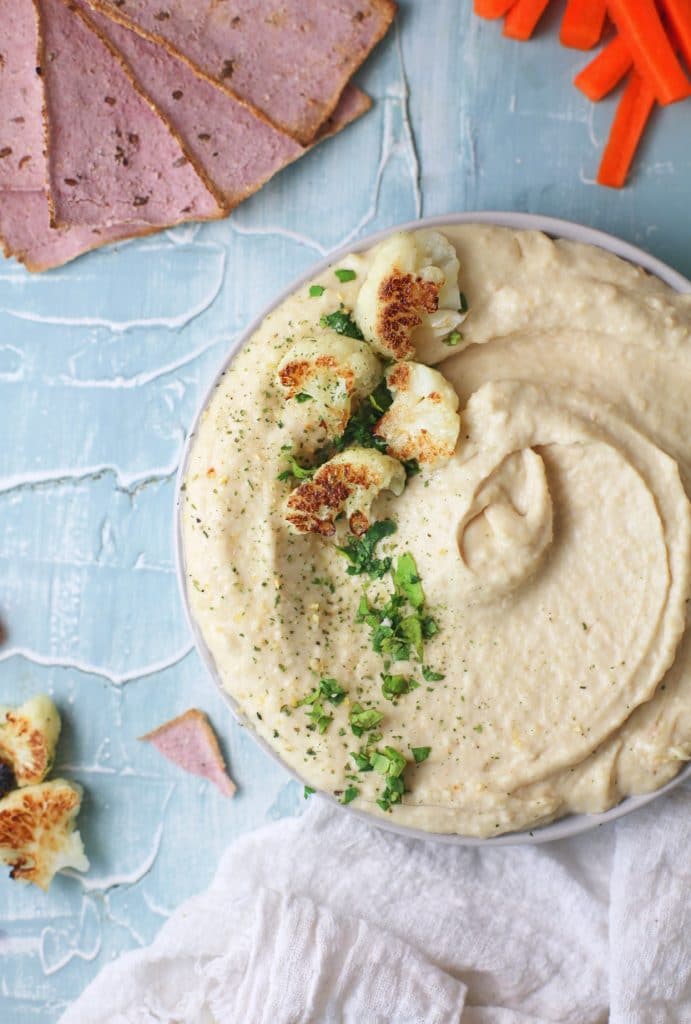 Roasted Cauliflower Hummus Recipe
Ingredients
3 Cups cauliflower florets
4 Tbsp tahini
3 Tbsp extra virgin olive oil
1 Tbsp water
1 Garlic clove
Juice from ½ lemon
Salt and pepper to taste
Pinch of ground cumin
Garlic salt, chopped parsley and roasted cauliflower to decorate
Directions
Preheat your oven to 400 degrees. Coat the cauliflower florets with 1 tablespoon olive oil. Add a pinch of salt and pepper and toss to combine. Line a baking sheet with parchment paper (these are our favorite) and roast for 15 to 18 minutes or until lightly golden brown.
Remove from the oven and let it cool down before processing. Reserve a couple of florets for garnish.
Meanwhile, mince the garlic and mix it with the lemon juice. Let it sit for 5 minutes so the raw garlic will loose it's harsh raw bite.
Once the cauliflower florets are cool to the touch, place then in the bowl of a food processor, add the garlic, lemon juice, salt, pepper and ground cumin. Press for 1 minute.
Add the tahini and blend until thick and creamy. With the food processor still on, add the water and mix until creamy.
Add the remaining olive oil and pulse until the hummus is smooth.
Garnish with a crack of garlic salt, roasted cauliflower and chopped parsley.