If you love soup in the Fall, you must try this Roasted Cauliflower Soup today!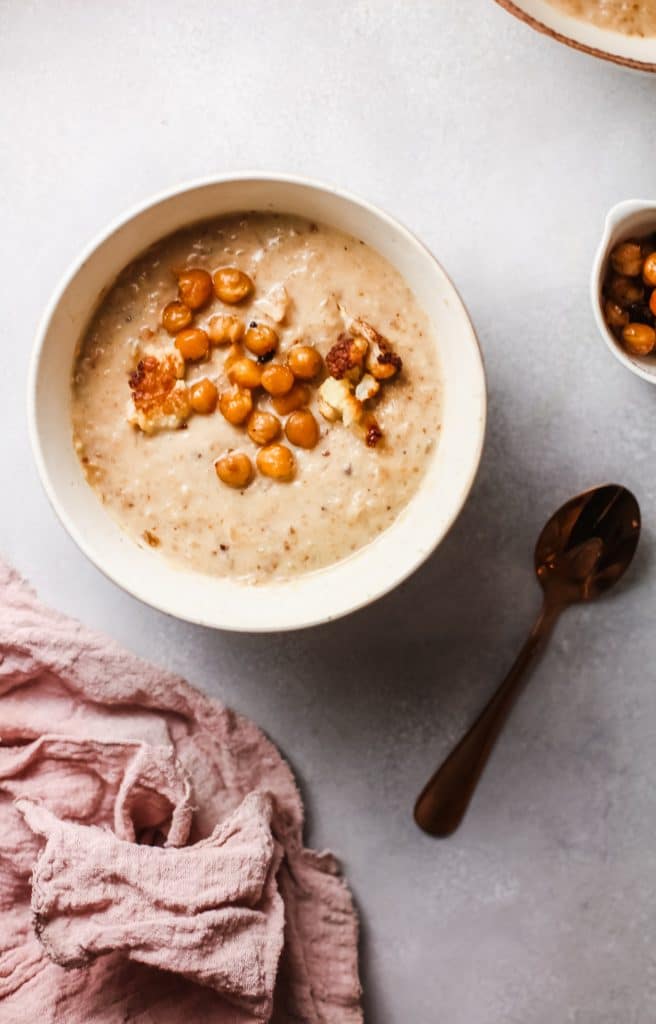 We are obsessed with anything that has roasted cauliflower in the recipe. Roasting veggies is a staple in our homes for dinners. We love to keep things simple with a protein, roasted veggies (like cauliflower, broccoli, carrots and brussel sprouts) and a big salad. But one roasted veggie that we incorporate into so many meals is cauliflower.
Fall and winter are our favorite times of the year to make homemade soups. And this Roasted Cauliflower Soup is so delicious.
The secret? Really roast your cauliflower until is super golden and crispy. That's what gives this recipe all the flavor and smokiness (and even a hit of sweetness!) The crunchy chickpeas are honestly to die for. I'll probably make a batch and keep them in the refrigerator as a snack because they are addictive.
Cauliflower is a cruciferous vegetable that is naturally high in fiber and B-vitamins. It provides antioxidants and phytonutrients. We think of it as a powerful super food! The entire family loves it – from tacos to hummus to everyday snacks! Find our Roasted Cauliflower Soup recipe below.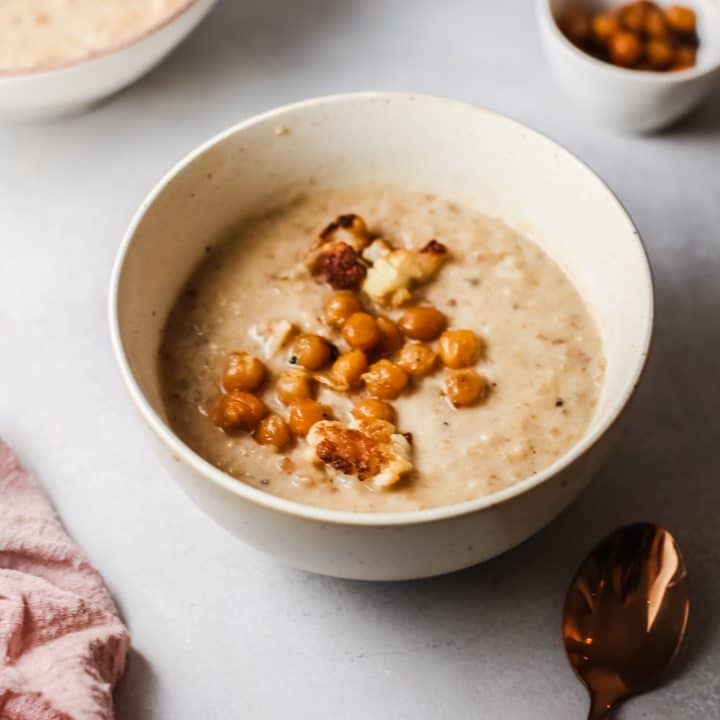 Roasted Cauliflower Soup
This Roasted Cauliflower Soup will quickly become a family favorite. The carmelized roasted cauliflower, spices and roasted chickpeas give the soup a unique flavor. Simple to make and so delicious!
Ingredients
1 Pound cauliflower florets
¼ Cup cooked chickpeas
4 Tbsp olive oil
1 Onion, chopped
1 Garlic clove, minced
3 Cups vegetable broth
3 Tbsp butter (optional)
Salt and pepper to taste
Pinch of nutmeg
Instructions
Preheat oven to 425 degrees. Grease a big baking pan (or place parchment paper on pan) and a small baking pan. Place the cauliflower florets in the big one and the chickpeas in the smaller. Drizzle both with 3 tbsp olive oil and sprinkle with salt and pepper. Toss so everything is well coated. Roast for 40 minutes or until the cauliflower is golden and caramelized and the chickpeas are crunchy. Toss halfway through the roasting time. Reserve a couple cauliflower florets and crunchy chickpeas for topping.

Heat the remaining olive oil in a pot over medium heat. Cook onion until translucent. Add garlic and cook until fragrant. Add broth and bring to a simmer.

Incorporate cauliflower florets and cook stirring occasionally for 25 minutes. Remove from heat and let it cool before processing.

Transfer to a blender. Add butter, salt and pepper and pulse until creamy and velvety.

Pour into bowls and decorate with roasted cauliflower florets and chickpeas.