Spring Citrus Salad with Honey Vinaigrette Recipe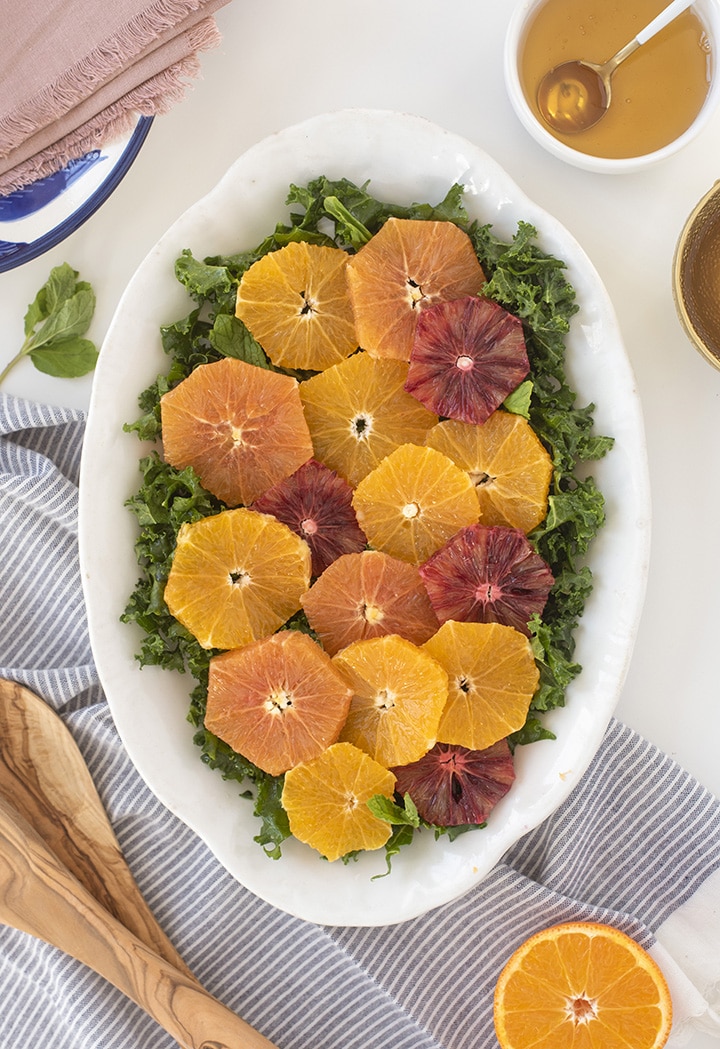 This post has been sponsored by Sunkist®. All thoughts and opinions are my own.
There are certain things we just love about cooking in the winter, and fresh citrus is one of them. We teamed up with Sunkist® and Safeway to create a Spring Citrus Salad recipe you'll love all winter long. This citrus salad features Sunkist® Cara Cara Oranges, Sunkist® Blood Oranges, and Sunkist® Minneola Tangelos and is combined with fresh mint and homemade honey dressing.
The trio of colors on the salad is so gorgeous, and each flavor of the three different citrus varieties is so amazing. Plus, it's so easy to grab a bag of Sunkist citrus at my Safeway's produce section. There's always such a great variety of citrus available at Safeway.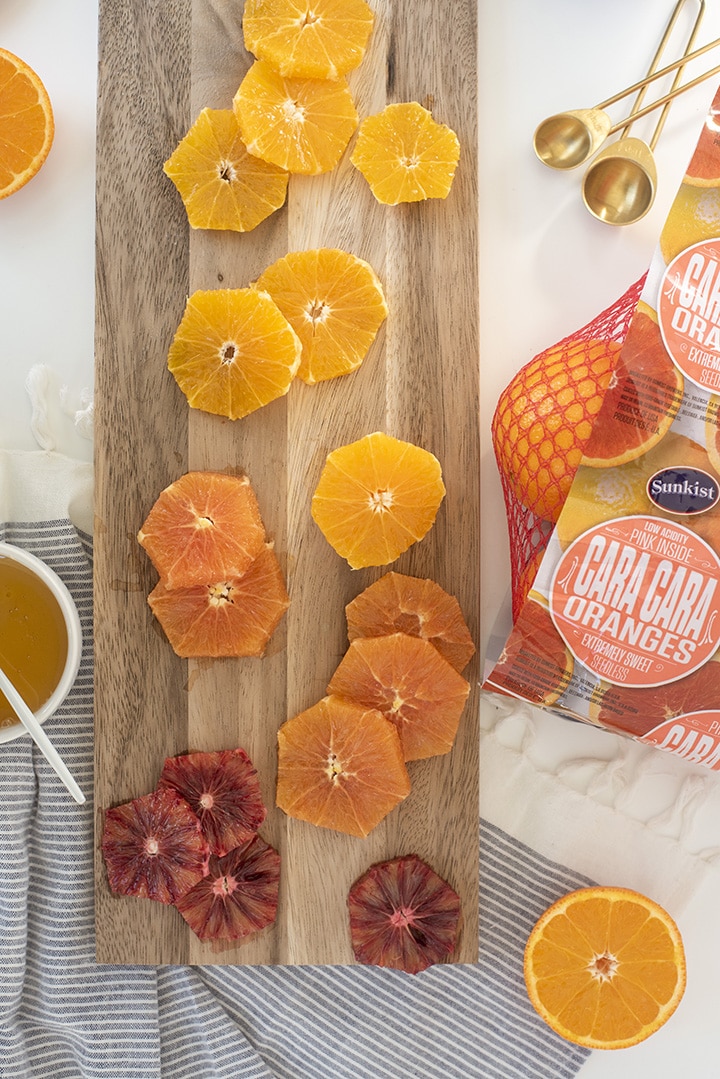 The Cara Cara Oranges, a personal favorite, have the perfect sweet orange flavor but low acidity—which makes it so good. Oranges are also an excellent source of vitamin C, folate and fiber.
The Blood Orange, which has the most gorgeous color inside, has such a unique flavor. It's almost a hint of raspberry.
My family loves the Minneola Tangelos, especially my girls. The tangelos, a cross between a grapefruit and tangerine, are easy to peel and are always so juicy with a bold flavor.
Make sure and check the Safeway app for their coupon page.
Spring Citrus Salad with Honey Vinaigrette Recipe
2 Sunkist® Cara Cara Oranges
2 Sunkist® Blood Oranges
2 Sunkist® Minneola Tangelos
1 bunch kale
Fresh mint
1. Peel citrus or cut off peels and pith. Slice into wheels.
2. Wash kale and cut into thin strips. Prepare dressing and massage dressing onto kale. Let sit for a few minutes.
3. Place layer of kale onto platter. Layer citrus fruit all on top of kale. Garnish with fresh mint.
Honey Vinaigrette
¼ cup olive oil
¼ cup apple cider vinegar
¼ cup honey
Pinch of salt
Add all ingredients to glass jar and shake. Pour over kale and massage into greens.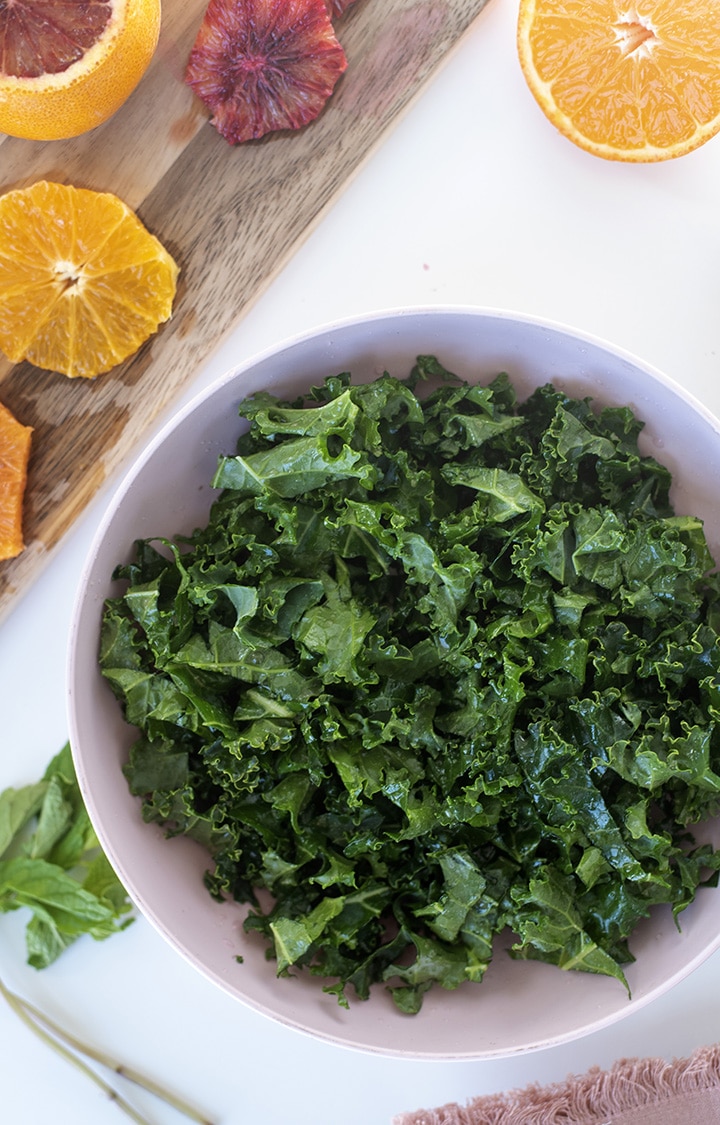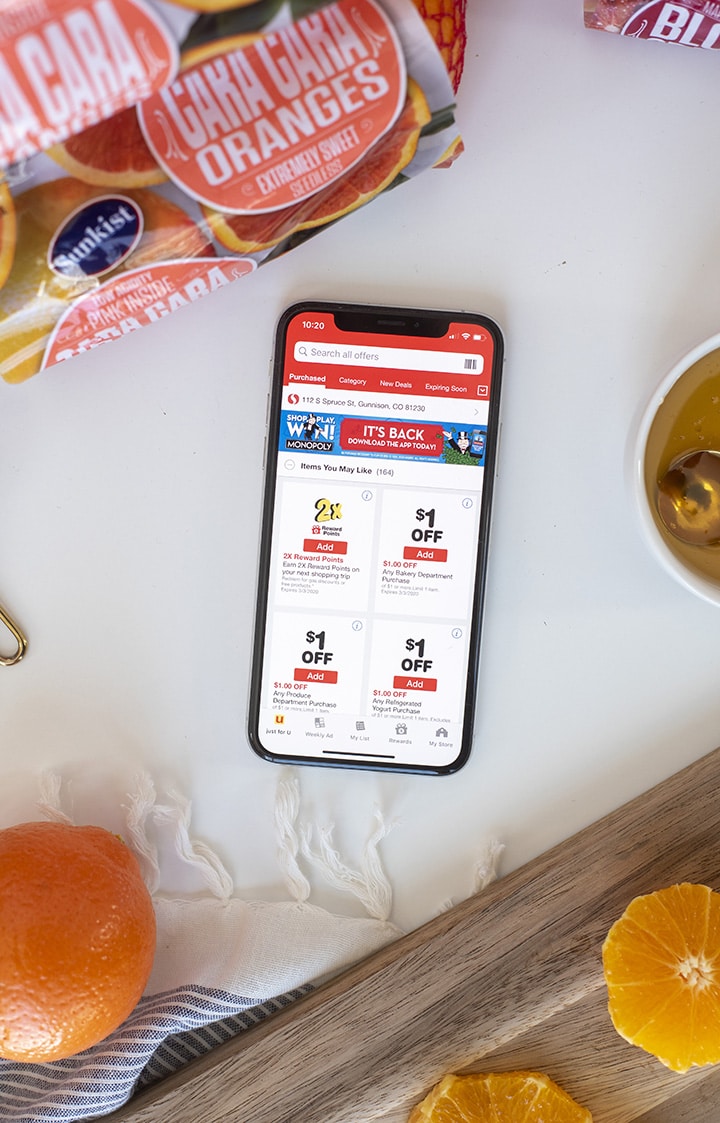 If you're looking to add some protein to this salad, consider adding citrus grilled shrimp. See recipe below:
Citrus Grilled Shrimp Recipe
1 lb shrimp
2 Sunkist® Cara Cara oranges (juice and zest)
2 Tablespoons olive oil
2 cloves minced garlic
salt and pepper
Combine orange juice, zest, olive oil, garlic and salt and pepper in a bowl. Toss shrimp in mixture, cover and refrigerate for 30 minutes. Grill shrimp (on kebab sticks or in grill basket) over medium grill for three minutes per side, until pink. Serve on top of salad.
You could also try pairing this citrus salad with a modern take on the favorite club sandwich – Turkey, bacon, avocado and garlic aioli on sprouted bread. Or try pairing it with a homemade chicken salad with walnuts, celery and onion. Serve the chicken salad on fresh sourdough bread with bib lettuce.