Studio Update – See the Lounge Area
I have to admit, I LOVE spending time in my studio. For those of you that don't know, I now have studio space in downtown Indianapolis. The Stutz is home to the studio. It is an amazing revitalized former car factory and offices to the historic Stutz car company. The building is now home to businesses and lots of artist studios. It is such an incredibly creative space.
Today I am excited to show off the lounge area of the studio. You might remember the inspiration for that space here. The space focused around the gorgeous Article Belez leather couch. It is not only a beautiful loveseat, but it is incredibly comfortable. The tan leather is the perfect color and goes with everything! I brought in a few of my favorite pillows that I made from different fabrics I sourced from the Alameda Flea Market. The indigo blue looks amazing with the leather color, don't you think?!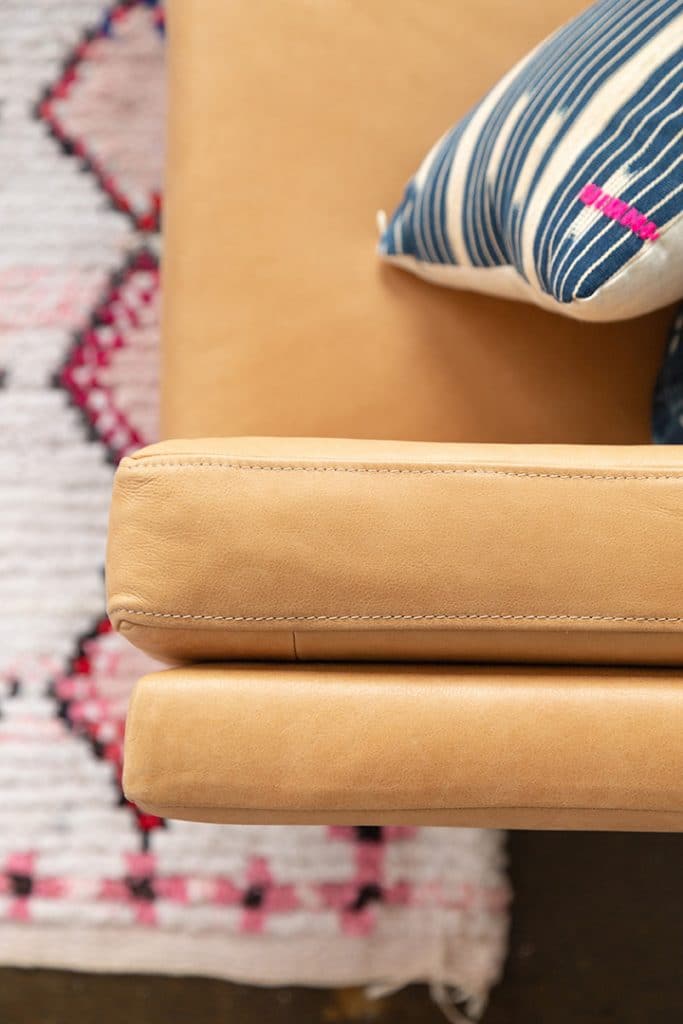 The lounge area is designed with a splash of color from a moroccan rug I ordered from this Etsy shop. It was so fun to go with the pops of pink and blue with the rug – something I would not have picked for my house. But it works so well in the studio. I love the pops of color against the gorgeous leather couch.
I wanted a coffee table that would let the area "breath", meaning not wanting it to weight down the couch or the rug. I went with the light wood and metal one that is perfect for the space.
I styled the coffee table with a few of my favorite things…. some vases and a potted succulent on a tray along with coffee table books (like Surf Shack, domino style, See San Francisco.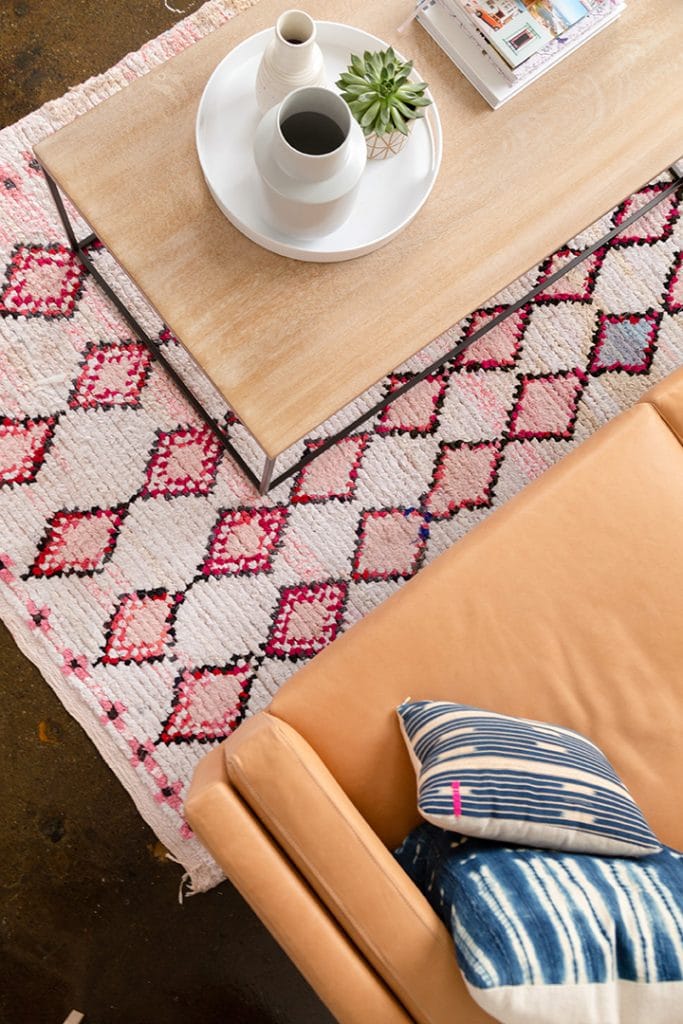 You might notice the giant blank white wall behind the lounge area! I am currently trying to decide what I want to do with it. Melissa mocked up a few ideas for me – one with a black and white photo and one a muted colored print. I am loving the idea of a large scale print since the ceilings are so tall. What do think? And of course I am already dreaming up a wall hanging, so stay tuned for that!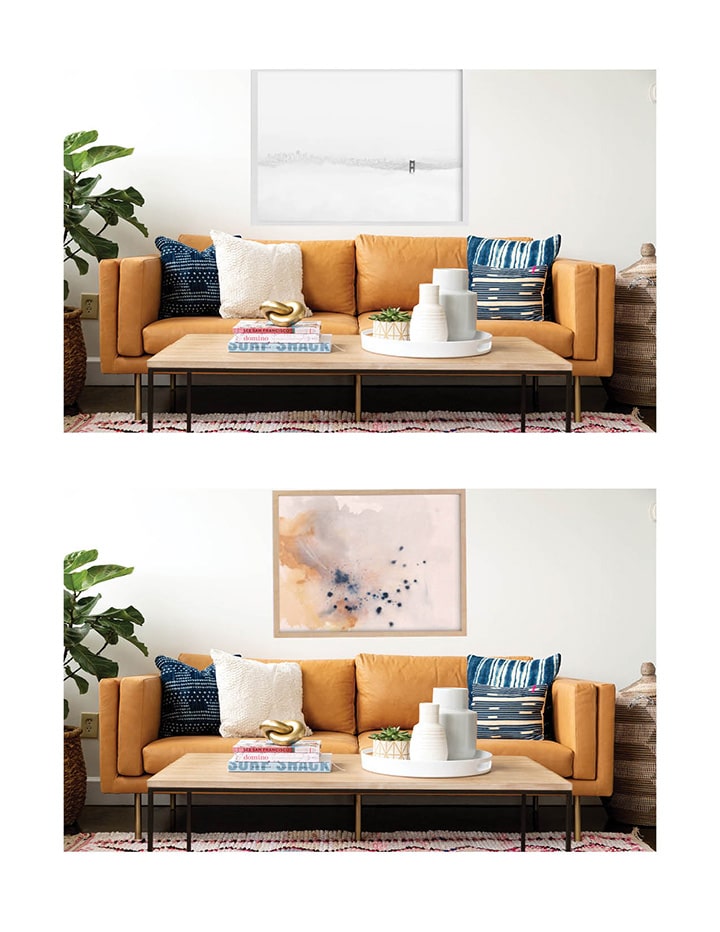 This lounge area space is my favorite. I LOVE sitting on my Article couch and working on my laptop or brainstorming on the phone with Melissa. I have to say a huge thank you to Article for sending over the couch – it really is the showstopper of the space.
Next week I am excited to share how I made my studio work table! So make sure and check back in. I continue to dream of all of the ways I plan to use this studio space! For now, I stay busy shooting projects and organizing!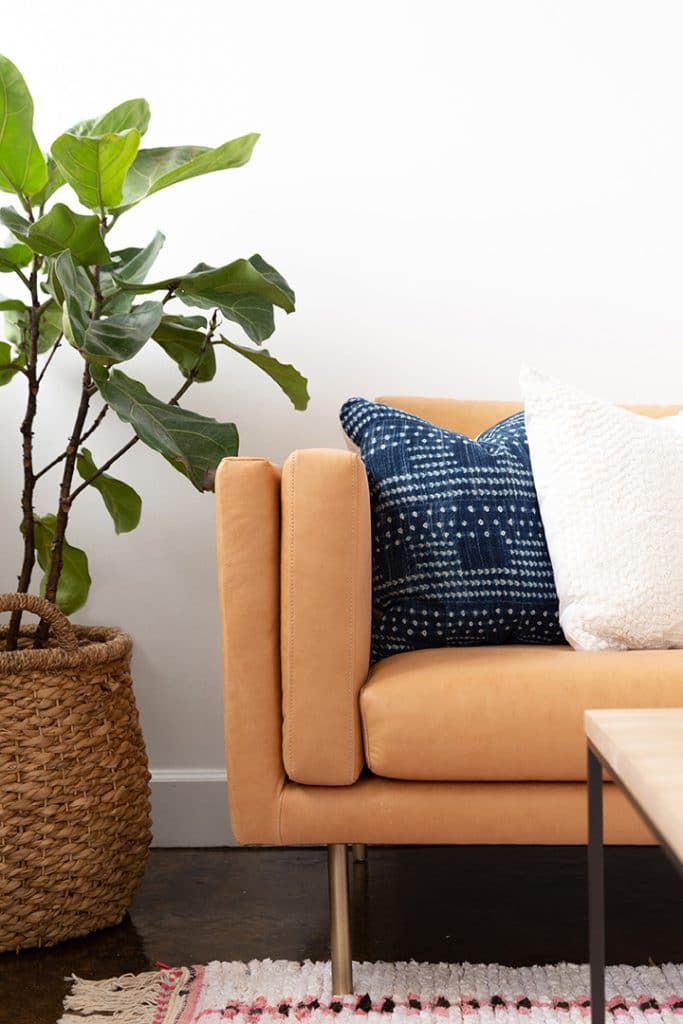 Photos by Sara Albers.