The Best Valentine Sugar Cookies
Get the recipe for the The Best Valentine Sugar Cookies ever!
It's a tradition in my house to make heart shaped cut out sugar cookies for Valentine's Day, and these Valentine sugar cookies are simply the best.
We get our love for sugar cookies from our mom. Who in turn got it from her mother. So the tradition of making sugar cookies for the holidays (Valentine's Day included) runs deep!
Our mom has even gifted each of her grandchildren this darling children's book about love and sugar cookies!
We shared this recipe with you for Christmas, and honestly, it's too good to not share again! This year, I made five different shades of pink to frost my cookies with. These ombre cuties are gorgeous on a platter and even cuter in a Ball jar to give away as a gift.
You can download the "How Sweet It Is" label here. Read more to see the recipe for the best Valentine sugar cookies and the tempting photos 🙂 I've already eaten almost all the cookies…
We also have made mini colorful versions of these cookies as well as a modern color block look!
Read more for The Best Valentine Sugar Cookies recipe.
The Best Valentine Sugar Cookies Recipe
Best Cookie Sheet
This is the absolute BEST cookie sheet to use for making big batches of sugar cookies.
Wiltons Mega Cookie Sheet (non-stick) – it is HUGE! Depending on cookie cutter, you can fit about 28 cookies on one cookie sheet. Love this thing!
We love this heart shaped cookie cutter as well!

Valentine Sugar Cookie Ingredients 
1 cup butter, room temperature
1 cup sugar (granulated)
1 ½ teaspoons vanilla
1 egg
1 teaspoon water (a bit more if needed)
3 cups flour
1 ½ teaspoons baking powder
¼ t salt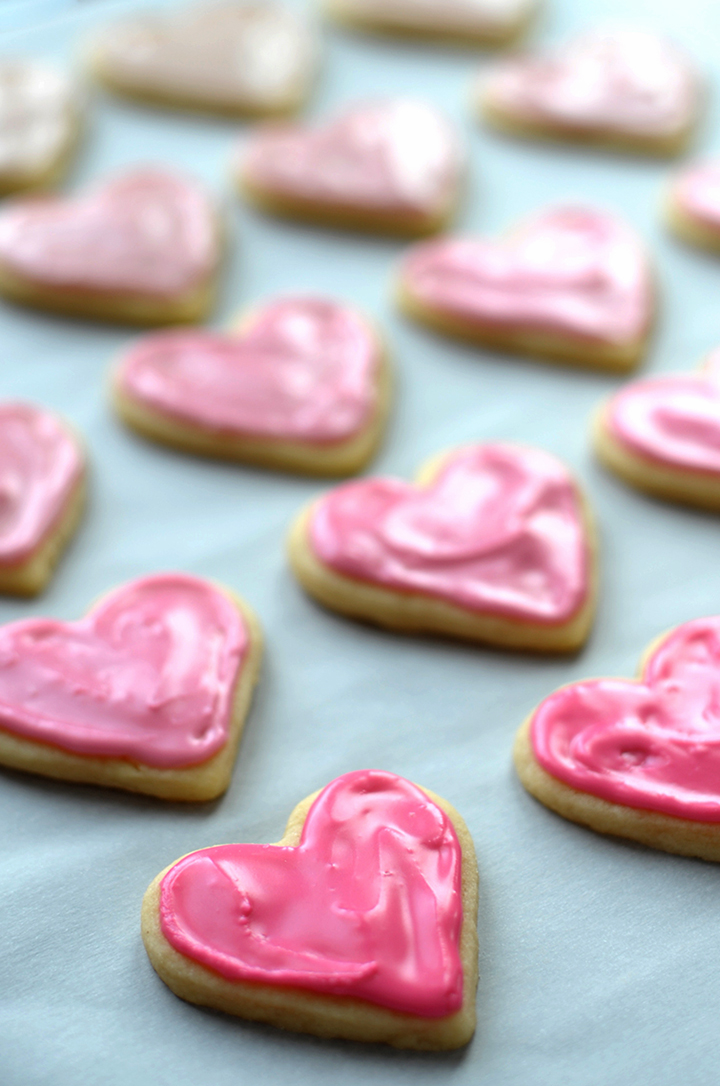 Cream butter, sugar and vanilla.
Add egg and water. Beat until light and fluffy.
In a new bowl, combine flour, baking powder and salt. Sift together.
Blend dry mixture into creamed mixture, divide dough in half. Wrap each half in waxed paper or plastic wrap and chill for one hour.
When you are ready to roll your dough, make sure and flour your working surface. If your dough feels too sticky, add a little bit of flour. If your dough seems to dry, add a tiny bit of water and kneed.
Roll your dough on the floured surface with a rolling pin. We like to roll our about a quarter inch thick.
Bake at 375 degrees for 6-8 minutes. Watch them carefully. Take out of oven before edges turn brown. 
Note – every oven cooks differently. Some ovens bake better at 350 instead of 375. Some ovens bake the cookies great at 375 for 6 minutes, while others bake at 350 for 8 minutes. 
Homemade Icing:
Start with 2 cups of powdered sugar.
Add 1 teaspoon vanilla and 1 tablespoon melted butter.
Stir in teaspoons of milk one at a time until you reach desired consistency.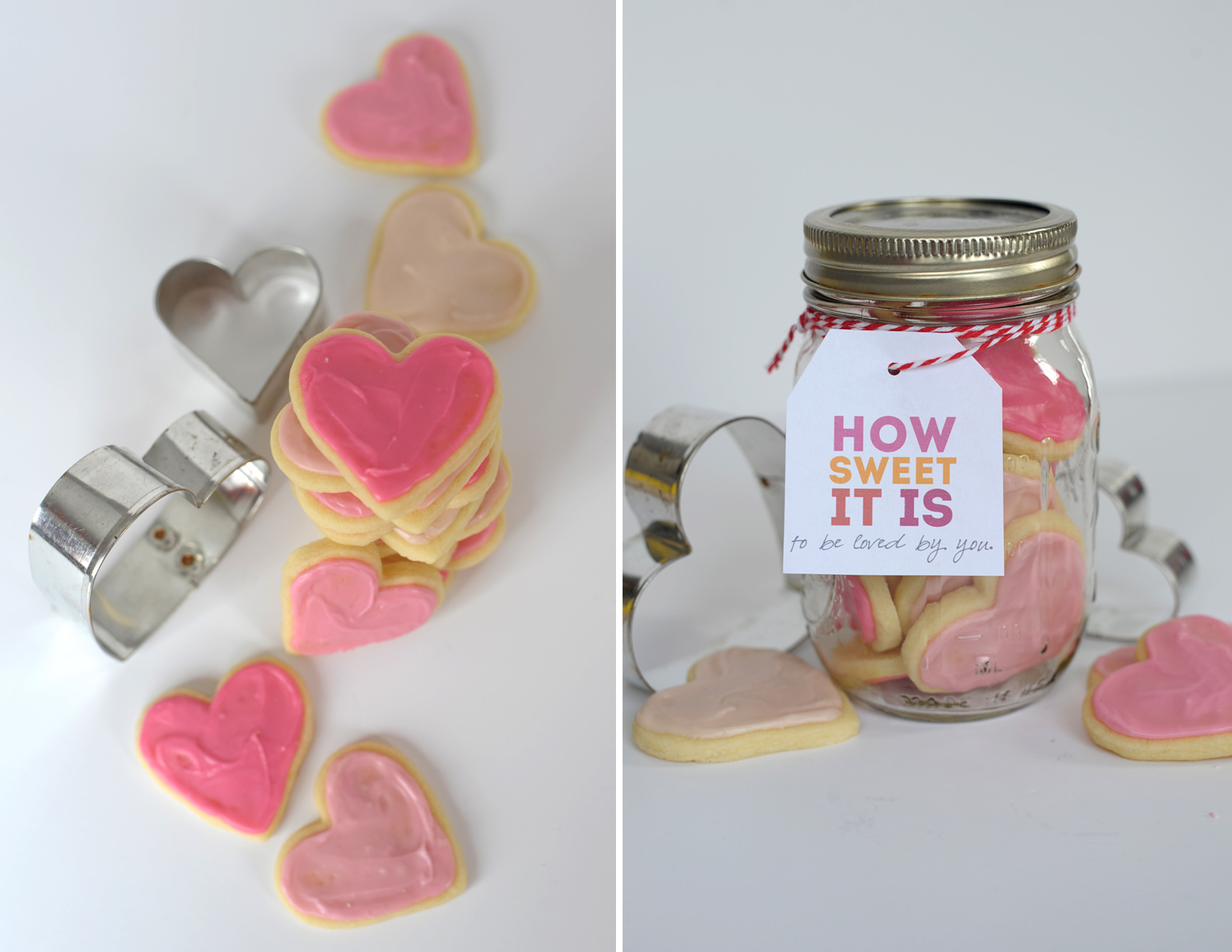 Ombre Icing Effect
To get the ombre frosting effect for these cookies, all you have to do is make five different shades of pink frosting. I just portion out five bowls of icing, then add some pink food coloring bit by bit to each bowl until I achieve the colors I'm looking for.
Then frost those sweet Valentine sugar cookies up! We love using the gel food coloring to get the rich and bright colors.
We hope The Best Valentine Sugar Cookies will become a Valentine's tradition for your family!
More Valentine's Recipes and Crafts
Make sure and check out more of our Valentine's content HERE. 
We would love to see your cookies! Tag us on instagram @aliceandlois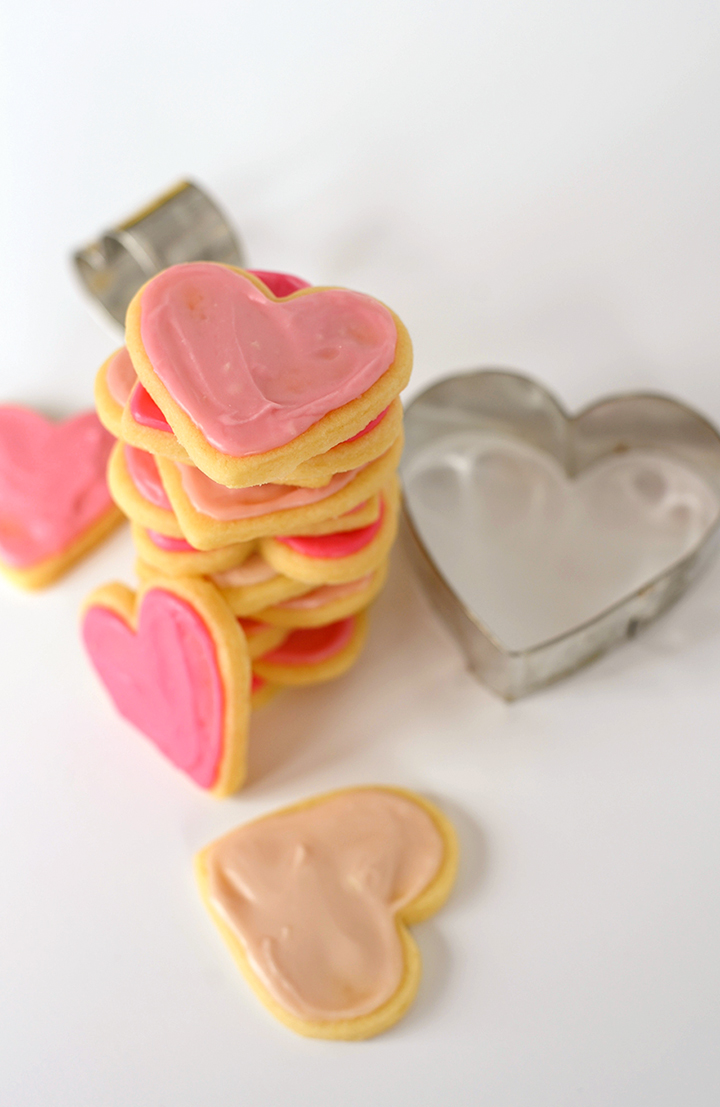 all photos by Melissa for alice & lois design studios, all rights reserved.