The Best Way to Paint Ikea Furniture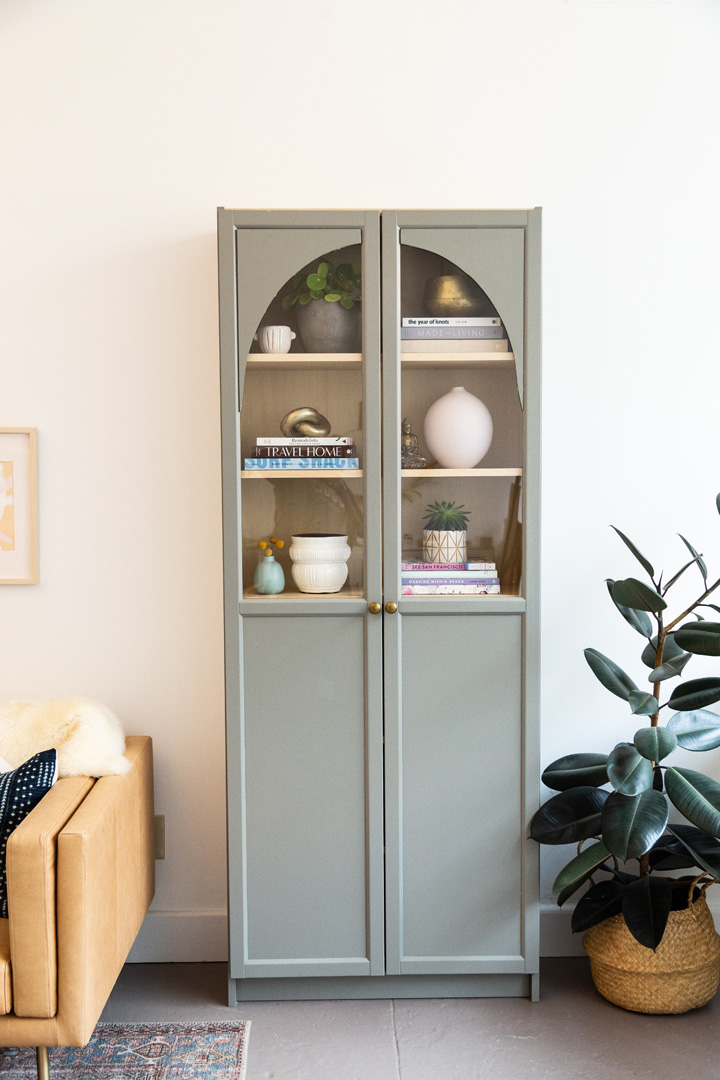 If you have been reading our blog for a while, you know that we love a good Ikea hack. We have done Ikea hacks on cabinets, bookcases, coffee tables, lamps and more! It is all about taking a basic furniture piece and giving it a new look! You might remember our Ikea Billy Bookcase Hack to Arched Cabinet project that has been popularly over Pinterest!
Interestedly enough, not all Ikea furniture is made from the same materials. The most popular Ikea furniture hacks you see on the internet are typically laminate material. It is made from a particle board which is covered in a laminate top.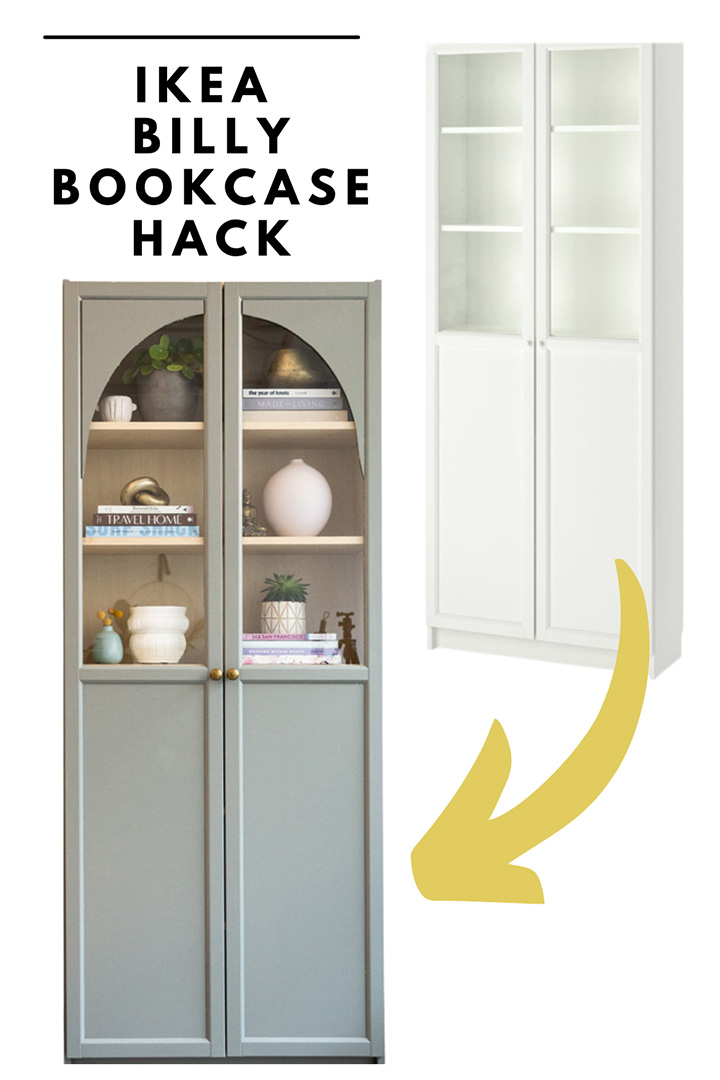 Today we are going to teach you how to get the best results from painting a piece of furniture from Ikea! It is all about using the right primer and the best paint to get the best result.
Someday I might invest in a paint sprayer. But I have had such good luck with a paint roller and quality paint on all of my projects to date!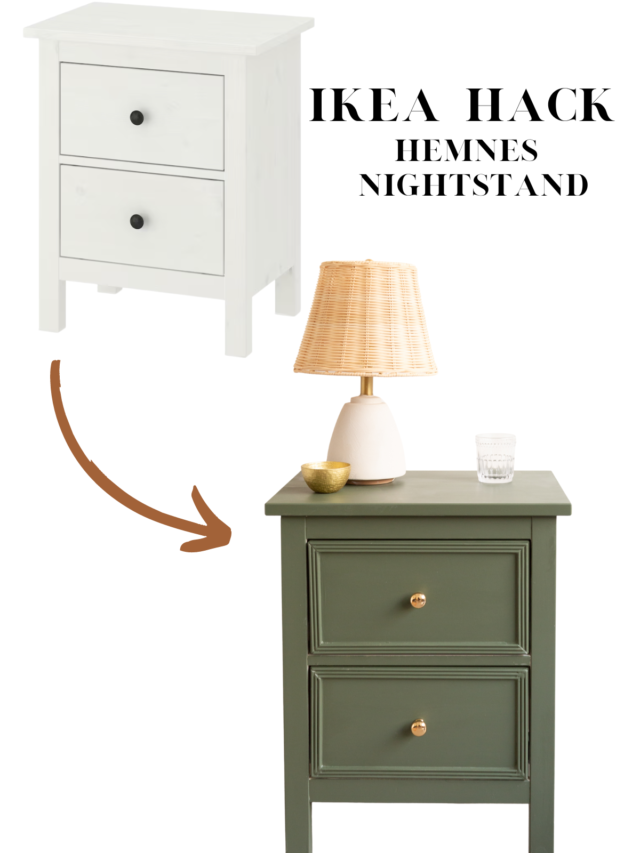 What is an Ikea hack?
An Ikea hack is when you take a basic affordable piece of Ikea furniture and transform it into something more high-end looking and on trend. You can take a more Scandi-inspired modern looking piece and turn it into something more traditional or even antique looking.
Ikea hacking is giving a piece a more custom look without breaking the bank. You can do this by painting Ikea furniture adding new hardware, reupholstering and adding trim.
Make sure and check out our entire section of Ikea Hacks on the blog! This green cabinet with half circle brass hardware is a favorite! We used the basic pine IVAR cabinet for this transformation.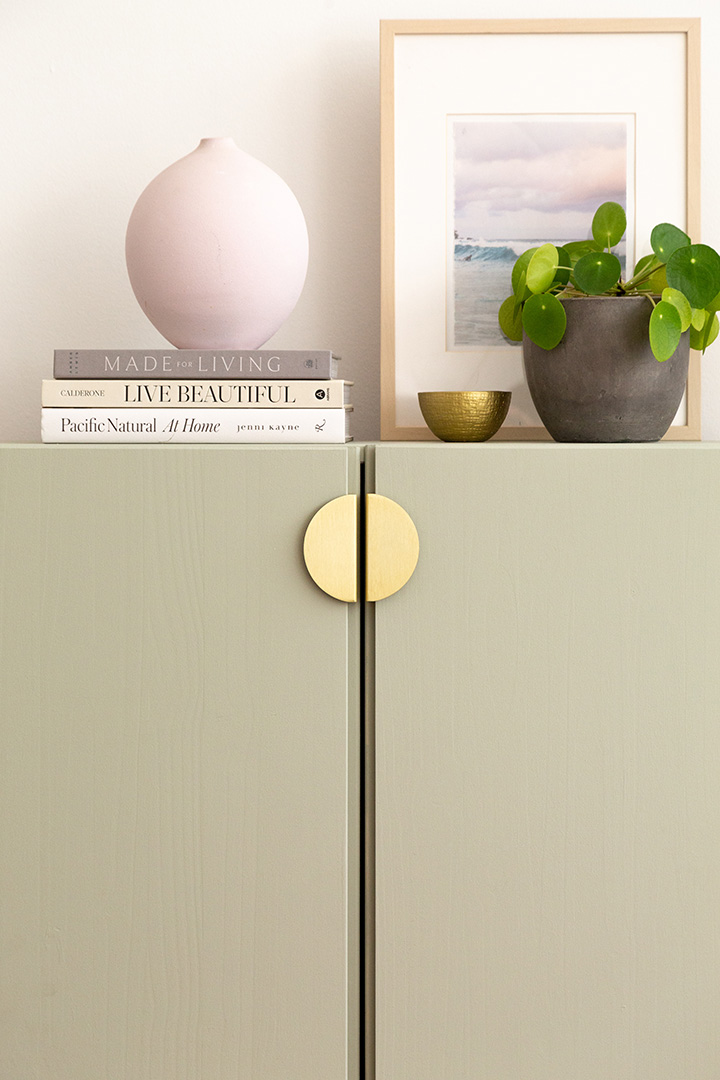 What you need to paint Ikea furniture
A good primer is key! As well as good paint.
Paint (we love using cabinet paint)
paint brushes (we love these cabinet paint rollers)
painting supplies (like tack cloth, paint tray, paint stick)
What kind of primer to use for Ikea hacks
Especially when painting an Ikea piece that has a laminate surface you will want to use the best primer out there! We absolutely love the Zinsser BIN Primer. This is a shellac-based primer that has honestly been amazing to work with. In all of my internet research, everyone else agrees!
Using a good quality primer is key to a successful laminate Ikea furniture transformation. It allows the new paint to "adhere" to the laminate. If you do not use a good primer, the paint will easily scratch off the furniture piece, especially in a high traffic area.
What kind of paint to use for Ikea furniture
We love using cabinet paint on high traffic Ikea cabinet or bookcase type furniture hacks. This paint has some enamel in it to give a super sturdy quality. But latex paint works well too!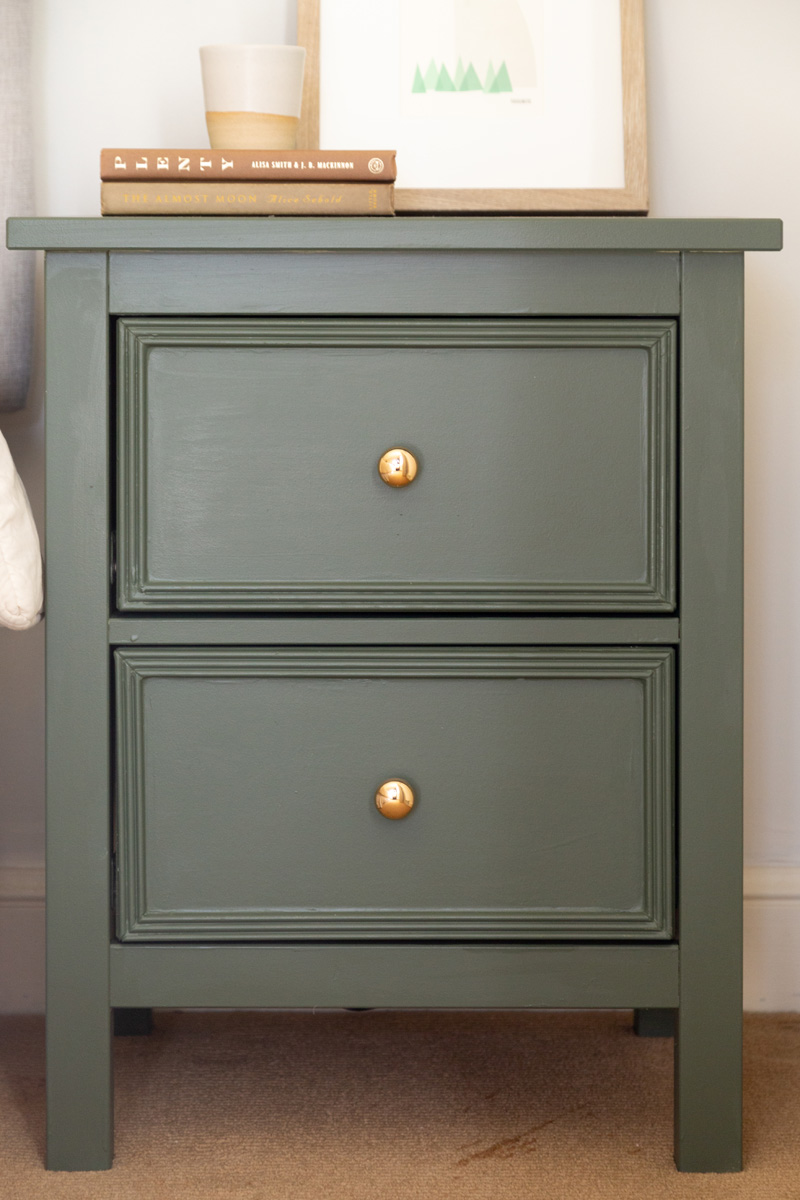 How to paint Ikea laminate furniture
Step 1: Assemble the furniture (in some cases it is easier to paint the piece when not assembled – you will determine this).
Step 2: Lightly sand the furniture. You can use a sanding sponge for this. Then wipe down the piece with a tack cloth or microfiber cloth.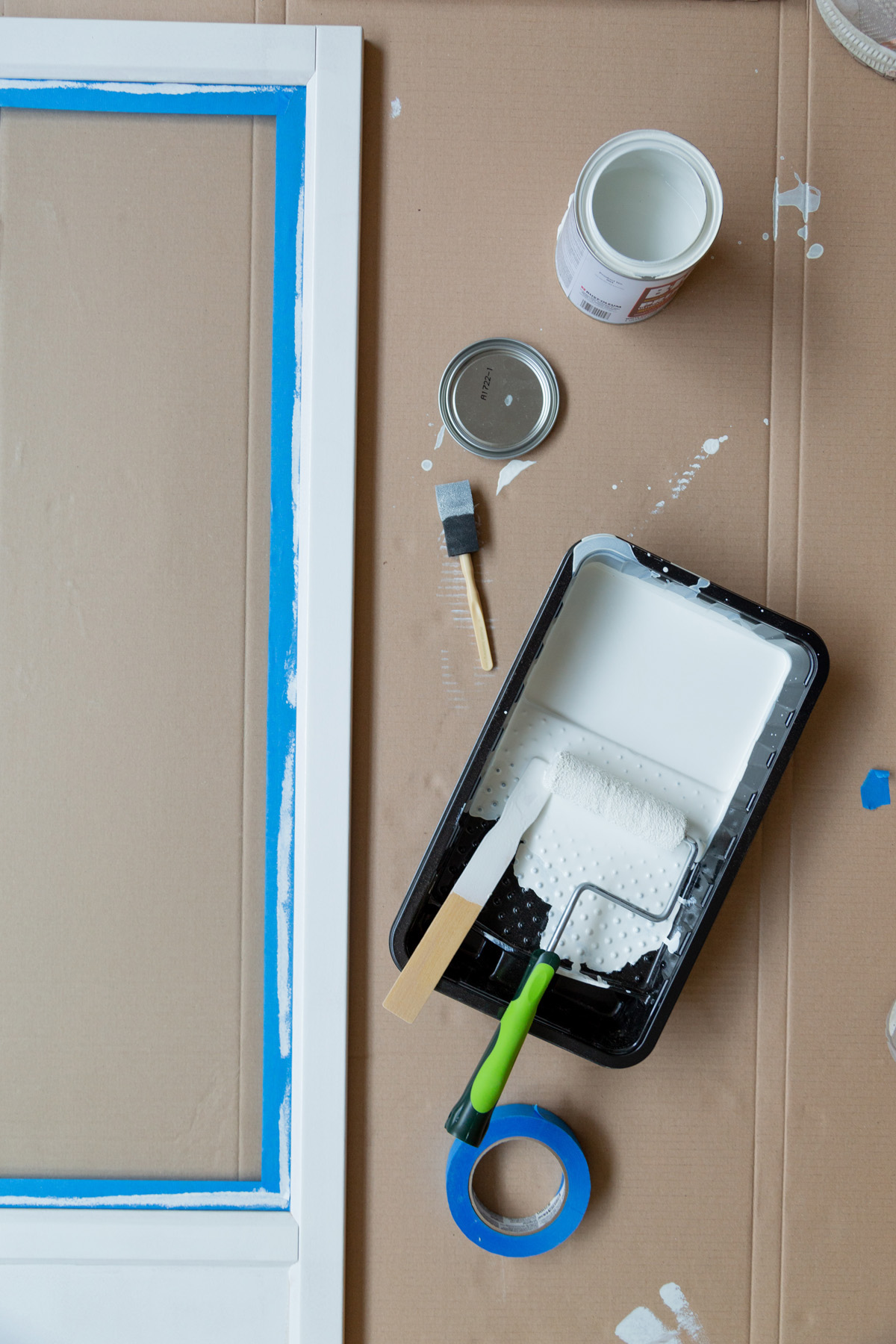 Step 3: It is time to prime! I love using these paint rollers. Apply the primer in an even coat. Once dry, make sure that you have evenly primed everything. Also make sure to paint in a well ventilated area. You can give it a second coat of primer. Allow to dry.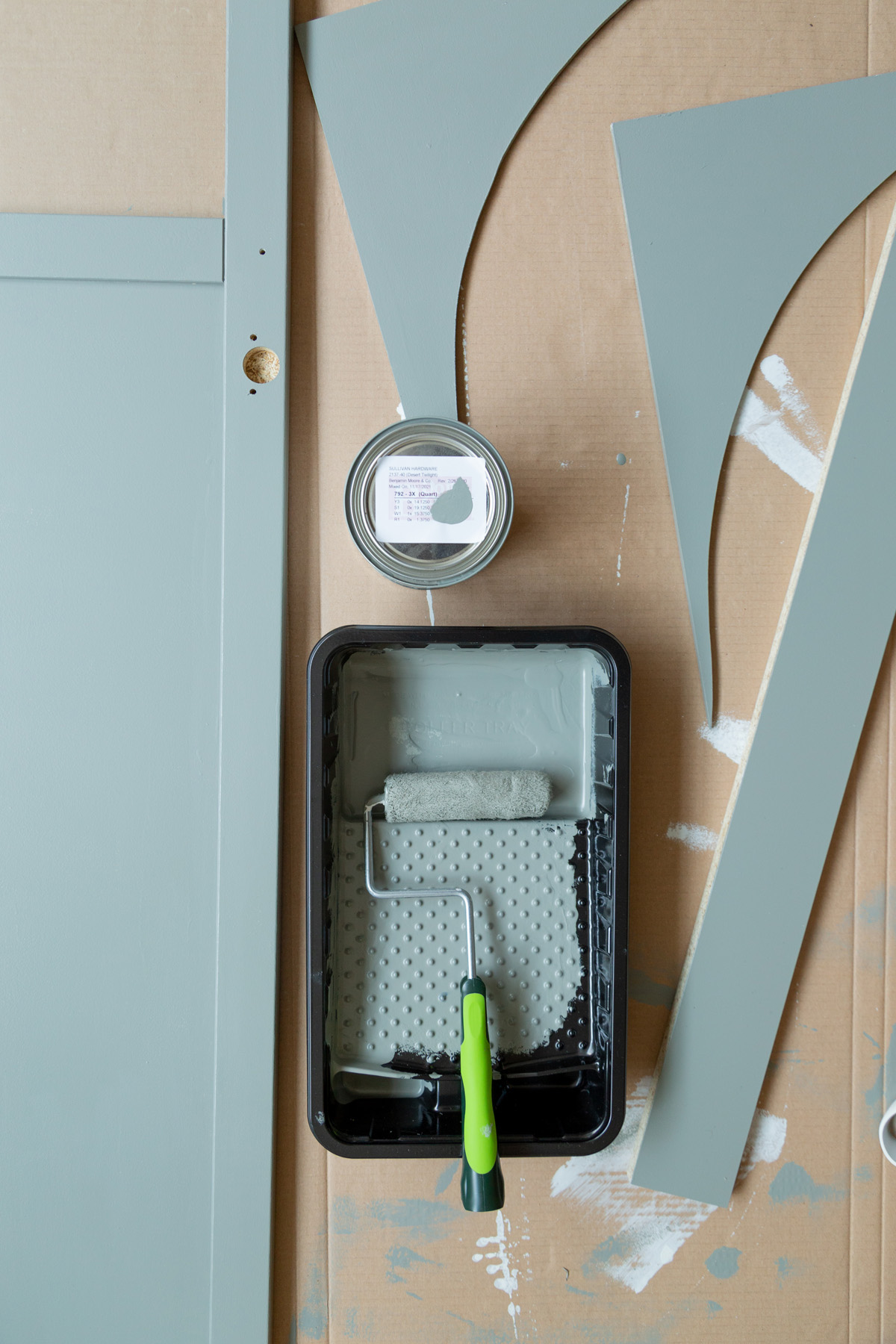 Step 4: Now is time to paint. When we are painting furniture pieces, we typically like to use a matte finish cabinet paint. It has enamel in the paint that allows it to be a tougher paint. Apply a first coat of paint using a cabinet foam roller. A good quality paint brush is key. Allow to the paint to dry, then apply a second coat.
Step 5: Apply a top coat. We love the General Finishes brand of topcoat. I will often test the topcoat on a part of the furniture that you cannot see, just to test that the paint color will not change. Typically Gereral Finishes topcoat is not a problem!
Step 6: Put on hardware. I most always change the Ikea hardware out for new brass hardware. These days even amazon has amazing brass cabinet pulls and hardware!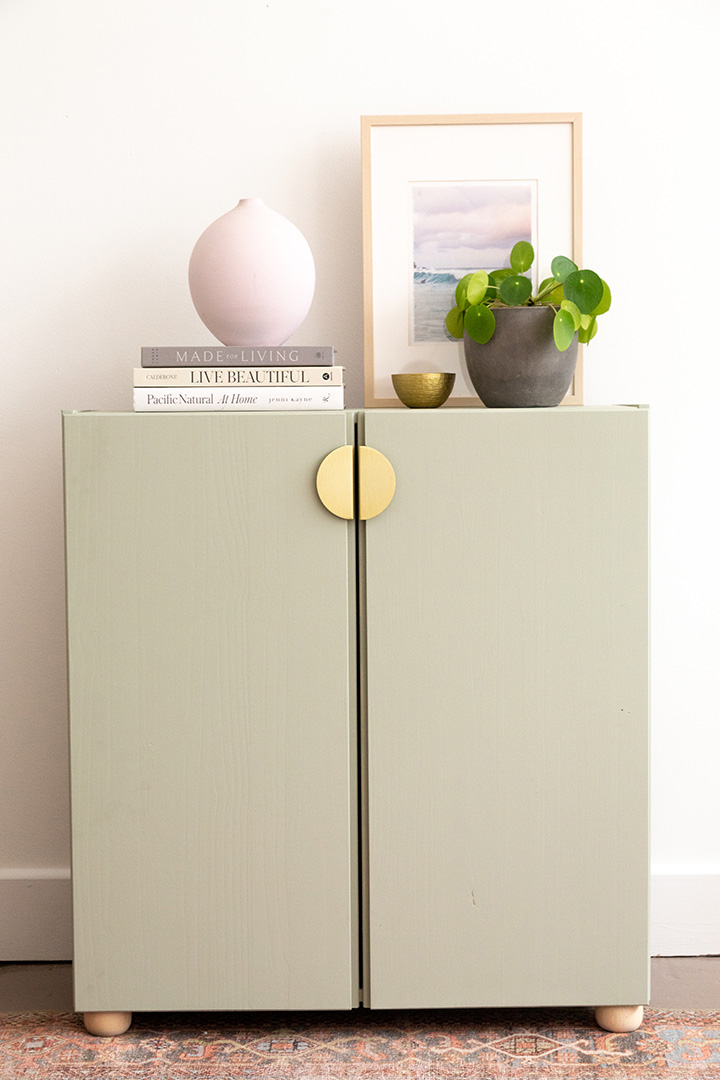 How to paint Ikea wood furniture
Painting on real wood furniture that is naked (does not have a top coat or stain) is simple. We still like to use a primer, but it does not have to be the shellac-based one. You can water-based primer.
You will want to follow the same steps as painting laminate furniture.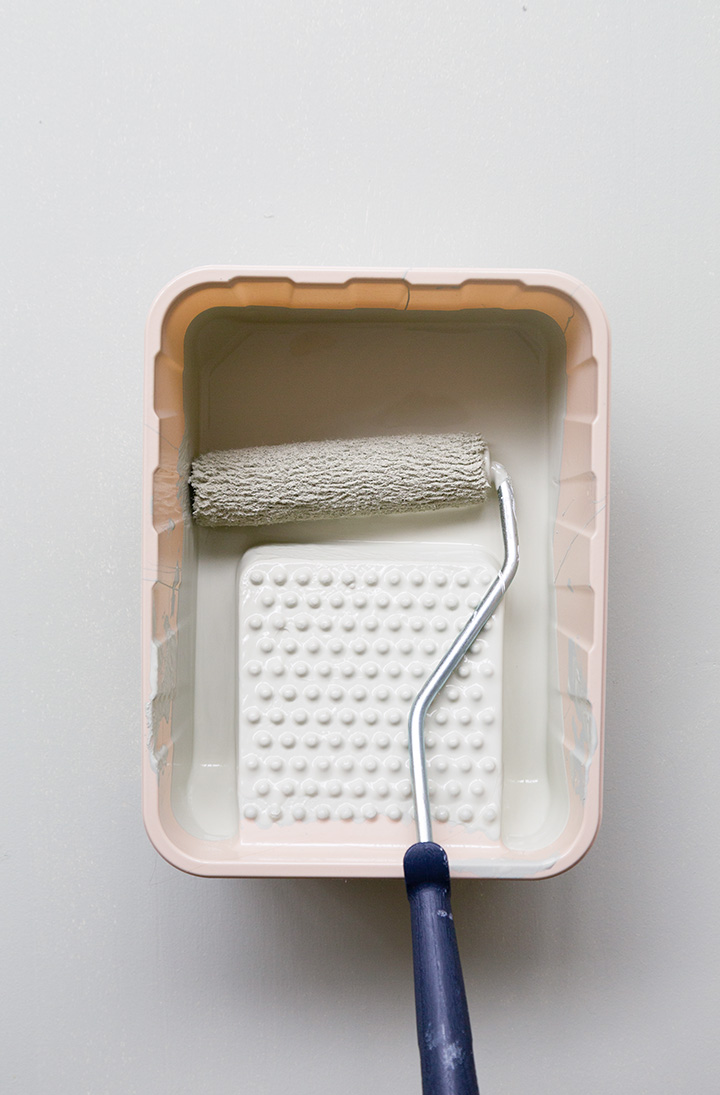 Do I need to sand before painting Ikea furniture?
Yes, we recommend lightly sanding the laminate or wood Ikea furniture prior to painting. This always the material to allow the paint to "stick" more easily and last longer!

Should I always use a primer before painting?
We strongly recommend the best primer on the market in our opinion, Zinsser BIN Primer. We have never had a problem with all of the Ikea hacks while using this primer.
Using a good quality primer will create that extra layer for your paint to adhere to.
Can I paint laminate Ikea furniture?
Yes you can! That is where the lightly sanding and using a primer is key!
Do I have to use cabinet paint?
No, you do not have to. Any paint that has some enamel in it will work wonderfully. You can also just use interior paint. But we have had the best luck with cabinet paint. It is a bit more expensive, but has been worth every penny.