Tips and Tricks for Parents Teaching Kids about Emotions
Raising little ones, we're reminded everyday how emotions play a big role in their lives. One minute, there's sheer joy on their faces as they prepare to taste their ice cream cone. That joy suddenly turns to sadness as they proceed to drop that cone before their first lick. And then anger kicks in as they look at their older sibling enjoying their perfectly intact cone.
Helping our kids learn how to express their emotions is something we practice in our homes. We want to set them up for interpersonal success later in life. So first we have to teach them how to recognize emotions in themselves and in others.
We've teamed up with our friends at Disney, who created the film Inside Out. If you haven't seen the movie yet, it's the animated story of an 11-year-old-girl named Riley who has to move from her idyllic life in Minnesota to San Francisco, the land of no friends and broccoli pizza. The film gets inside Riley's head, where all of her emotions work together in a fantasy control center called Headquarters.
We're sharing some tips and tricks for parents who want to help teach their kids about each one of these emotions. Here are some of our favorite ways as parents to incorporate emotional learning through play.
Baby Talk
With younger toddlers (and even babies), use multiple words to describe emotions. For instance, when your 18 month old gets frustrated because she can't express herself with words, start to use adjectives to express how you think they may be feeling. In this case, you can tell them that you know they must be feeling frustrated, mad or discouraged. This helps them grow their emotional vocabulary.
Sing A Long
Another great way to work on emotions with little ones is by adding new verses to the song "When You're Happy and You Know It." Calla had a preschool teacher who used this song to teach emotion recognition. For example, start the song with the well-known verse, "When you're happy and you know it, clap your hands." Then, start creating your own verses like, "When you're scared and you know it, find your teddy." This is such a great way to integrate music into emotional learning.
Read Aloud
There are some truly amazing books to help children learn about their feelings. Some of our favorites include Today I Feel Silly: And Other Moods That Make My Day
, Amos & Boris
, Sylvester and the Magic Pebble
and The Giving Tree
.
Make Believe
Pull out several interesting pages from magazines featuring human faces and interactions. Cut out the expressions into squares. Turn them over and have the kids turn one over and then tell a story about how the people in the picture are feeling.
Snapshot
This is a great interactive game for parents and multiple kids. Split off into groups of two and have the kids digitally photograph as many emotions as they can. Then reconvene the group and everyone has to guess which emotion each photo is depicting.
These are all great ideas for helping your kids distinguish between different emotions and give them the tools to be responsible for their feelings. We created three DIY projects that you can make at home. Read more for the full tutorials.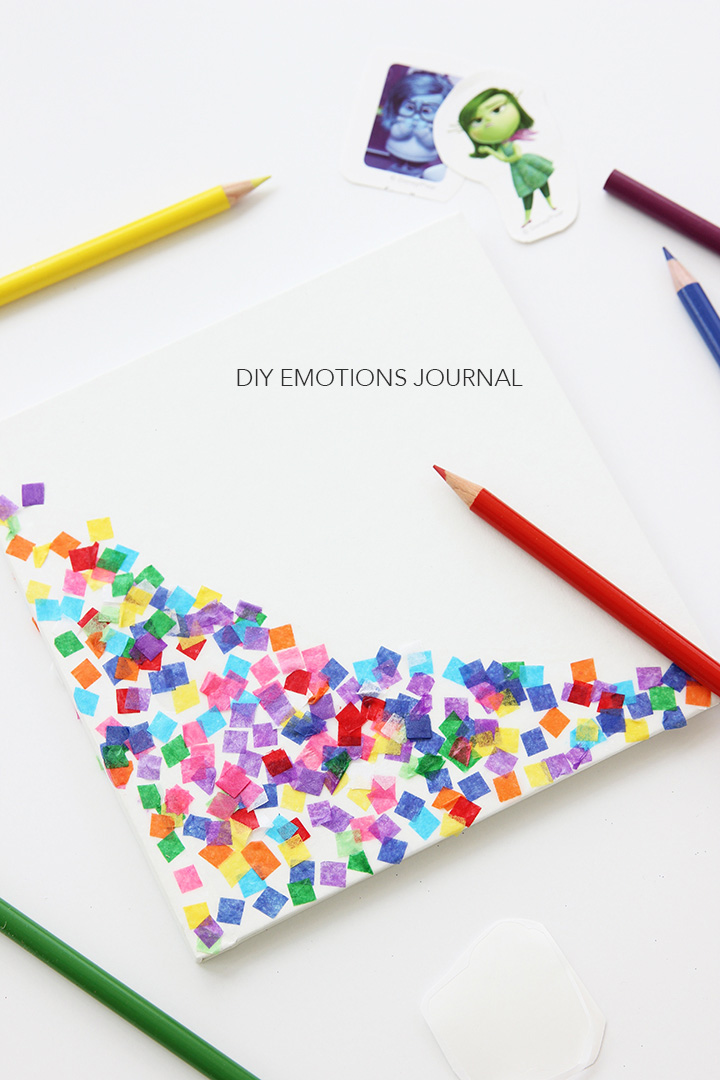 Emotions Journal
Journaling is a powerful tool to allow children to share their emotions. This method is great for a wide age range as kids can draw pictures or write about particular events. Make a homemade journal with your child so they can share their different feelings or emotional situations.
Supplies: plain white book
/ tissue paper confetti
/ Mod Podge
/ paint brush / Inside Out stickers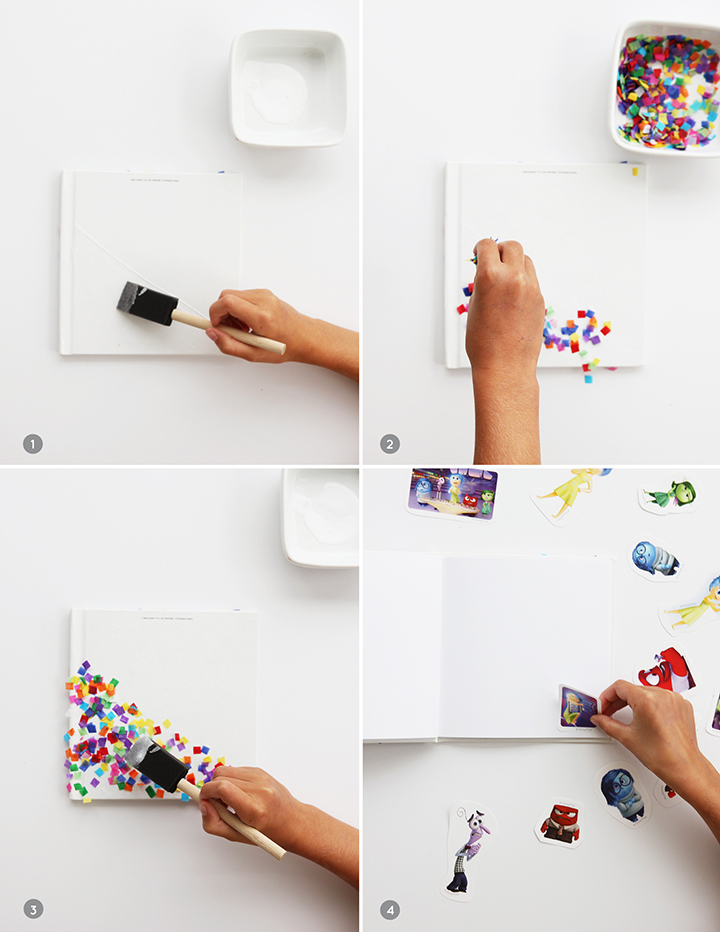 Steps:
Cut colored tissue paper into 1-inch squares.
Apply thin coat of mod podge onto top of journal.
Lay tissue paper squares onto the top of journal.
Allow mod podge to dry and apply a top coat over the tissue paper.
Add stickers to the pages to help prompt situations.
Your kids can use the journal as a place to share what they are feeling about events from the school day, a playdate or things at home.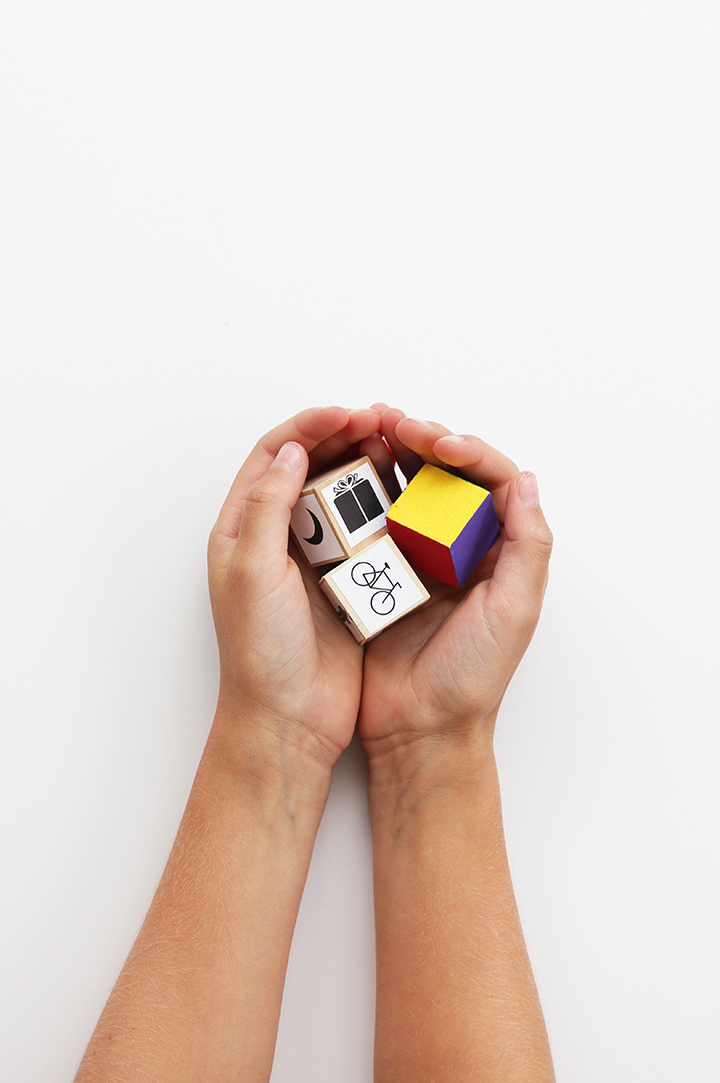 Story Dice
Interactive play is another wonderful way parents can teach their children about the different emotions. This is a DIY game to create for your kids using small wooden blocks. The child rolls the dice and then tells a story based on the words and emotion they roll. This game is interactive and allows the child to use their imagination when learning about emotions. We love this game because it gets kids using some of their own experiences with their imaginative stories and it helps parents understand their child's emotional point of view.
Supplies: one inch wood blocks
/ acrylic paint / paint brush / Mod Podge
/ muslin bag
/ story dice printable icons / round sponge brush

Steps:
First block – Paint each side a single color (red, yellow, green, blue and purple) representing the emotions joy, sadness, fear, anger and disgust from the movie. The block has 6 sides. Paint the extra side yellow.
Print the block printable template. Cut the square icons. Apply a thin layer of mod lodge to block and attach a paper square. Let dry. Add  layer of mod lodge on top of icon. Let draw.
On the last block, follow same step as above.
Use the same paints for the polka dot muslin bag. Use a round sponge brush to apply paint.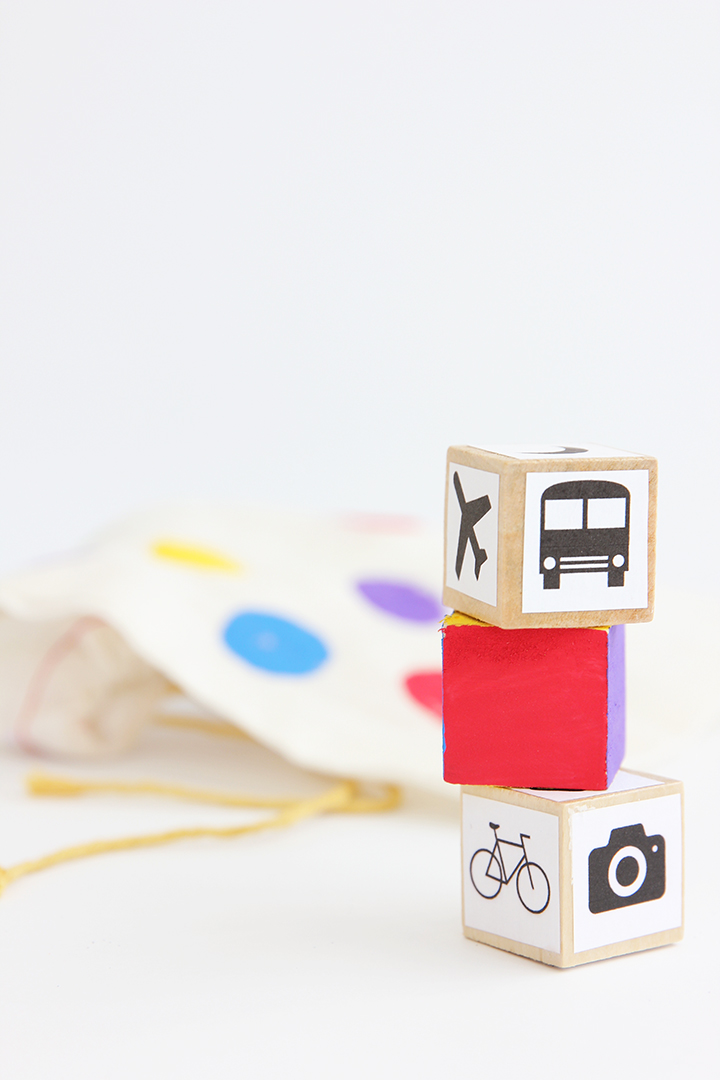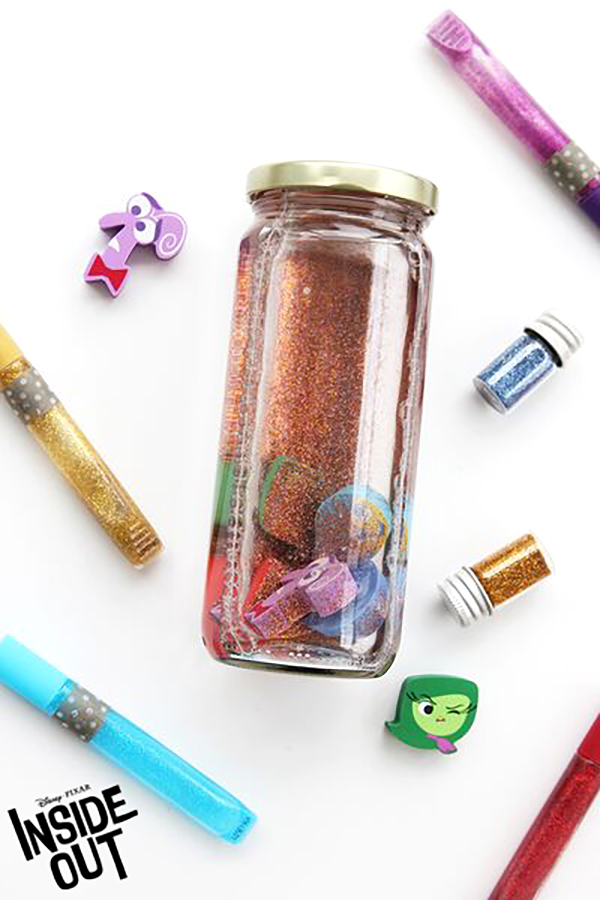 Calming Jar
 We love our calming jars in our homes. This is a great technique for the little ones who are trying to figure out their emotions. When frustration grows, invite your child to sit down with their calming jar. They shake it up, watch the glitter swirl and float to the bottom. This gives them time to calm down and refocus their feelings. We loved adding the Inside Out character erasers to this calming jar so the kids can watch all the emotions swim around in the glittered water. This helps them recognize the emotions that they are feeling.
Supplies: Jar (it's up to you how big or small you make this. It can be as small as a baby food jar, or as big as a glass peanut butter jar) / glitter / glitter glue
/ food coloring (optional) / warm water / Inside Out eraser set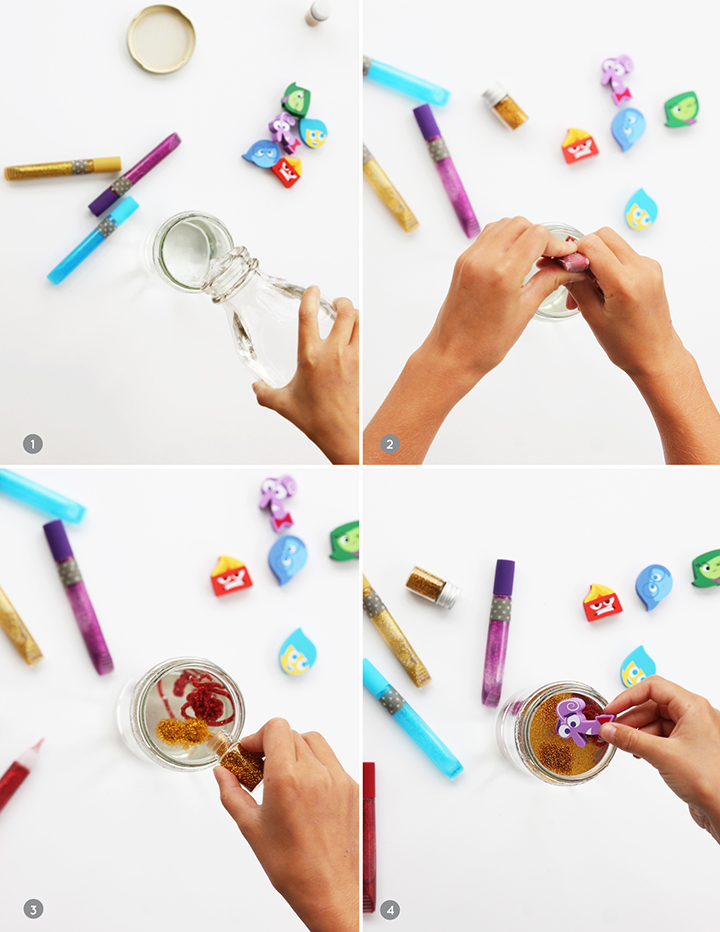 Steps:
Mix 3 tablespoons of glitter glue with 2 cups of warm water in your jar. Let your kids add their favorite color glitter and a drop or two of food coloring for a more concentrated color. Add the Inside Out erasers and you are set.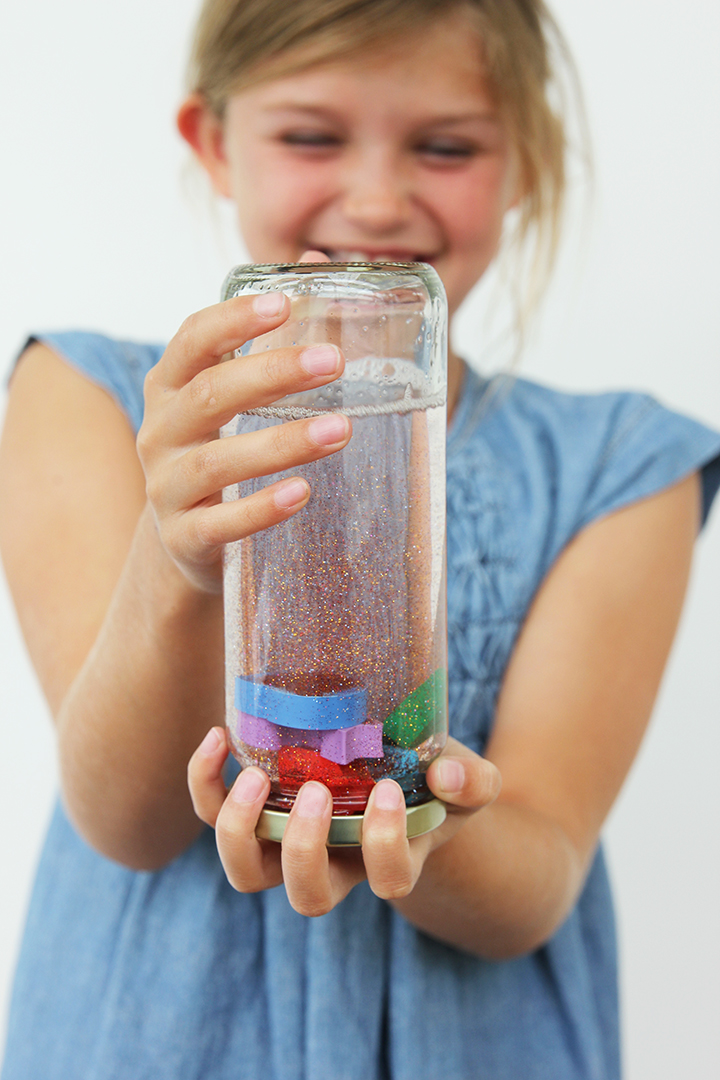 For more ideas to talk to your kids about emotions, check these projects out from some friends…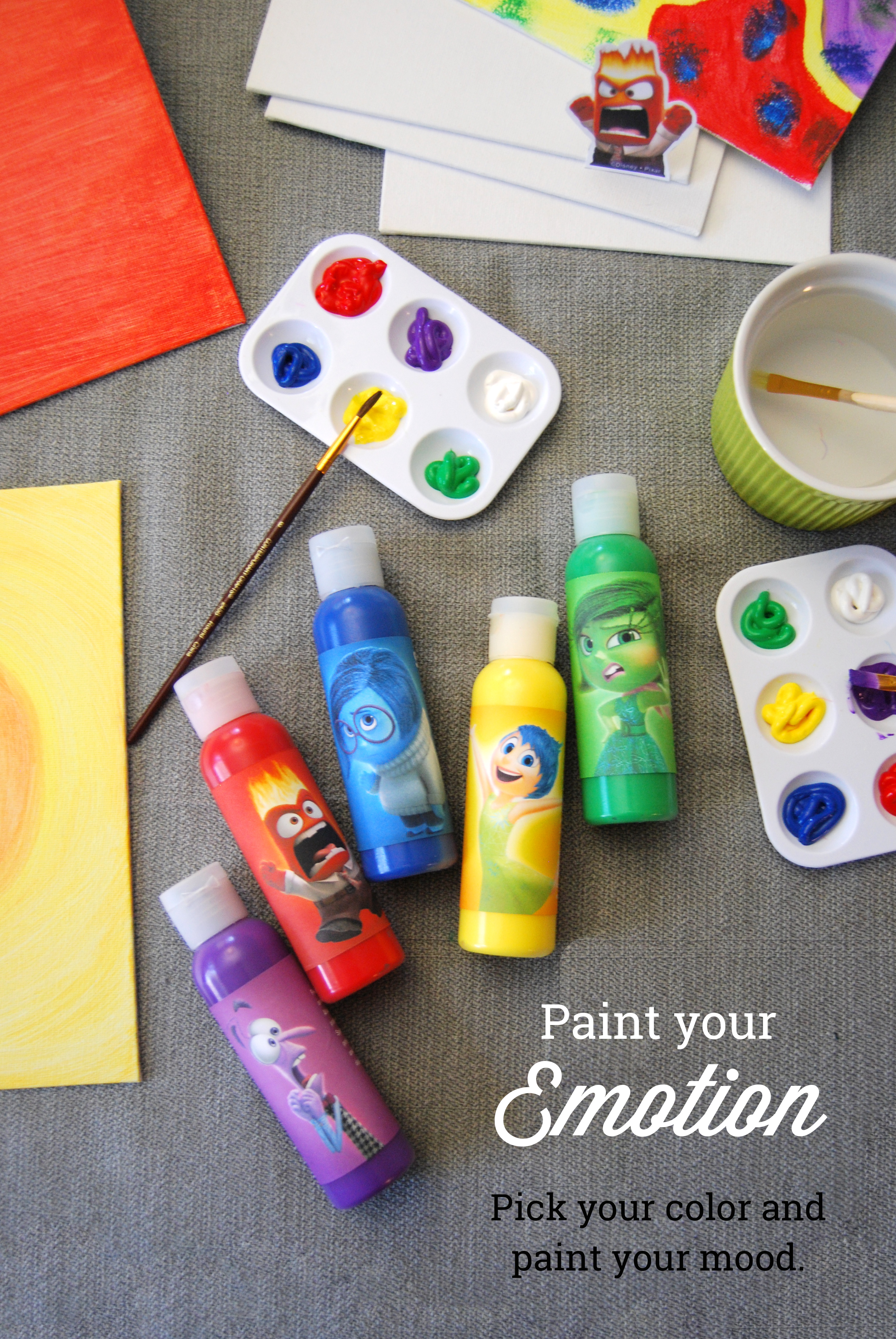 Paint with your emotions! Label appropriate colors with each emotion from Disney Pixar's Inside Out and have your kid choose what color they want to paint depending on how they feel today. Talk about what made them happy or help them cope with their fear or anger while they paint.

Kids can write about their mood on different colored strips of paper to create a paper chain. A strong visual reminder that we all experience a colorful variety of emotions.

Kids of any age can capture joy daily by drawing and writing about little things that make them happy! Great for building a daily habit of gratitude.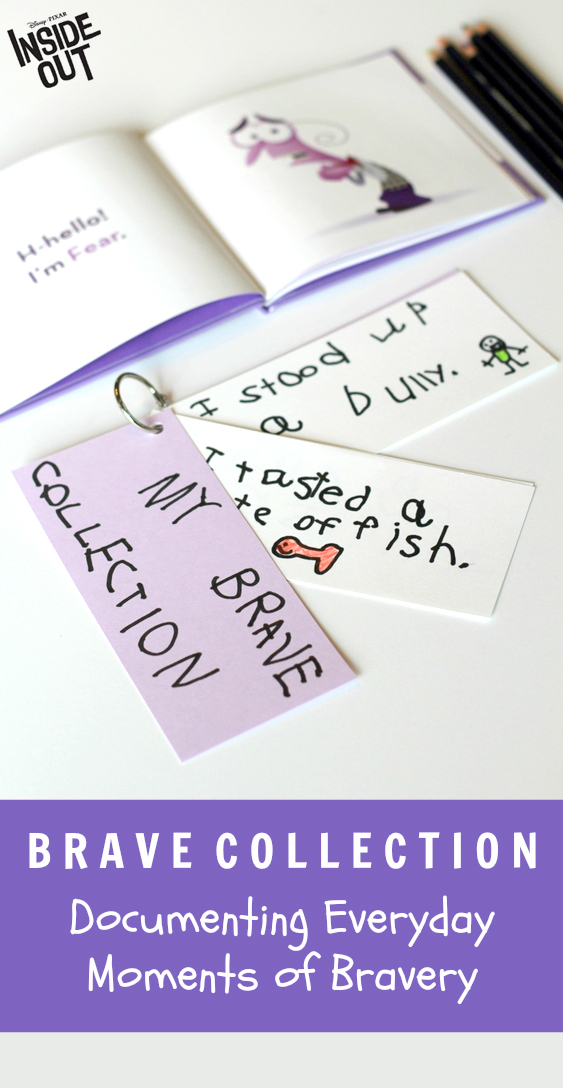 A simple way to empower kids and encourage them to celebrate brave moments. Inspired by Disney Pixar's Inside Out, add new cards to their Brave Collection each time your child conquers a fear or displays courage of any kind. A great confidence builder!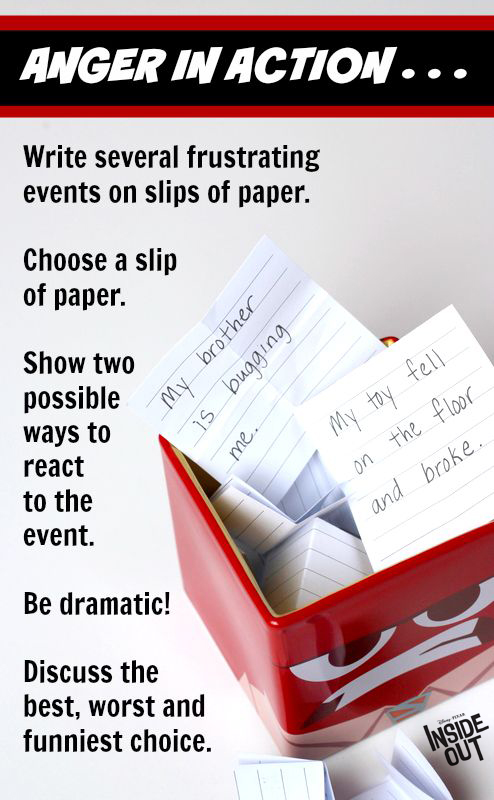 Play this funny acting game which is inspired by the Disney Pixar movie Inside Out the next time your little one needs to practice reacting positively to a frustrating situation.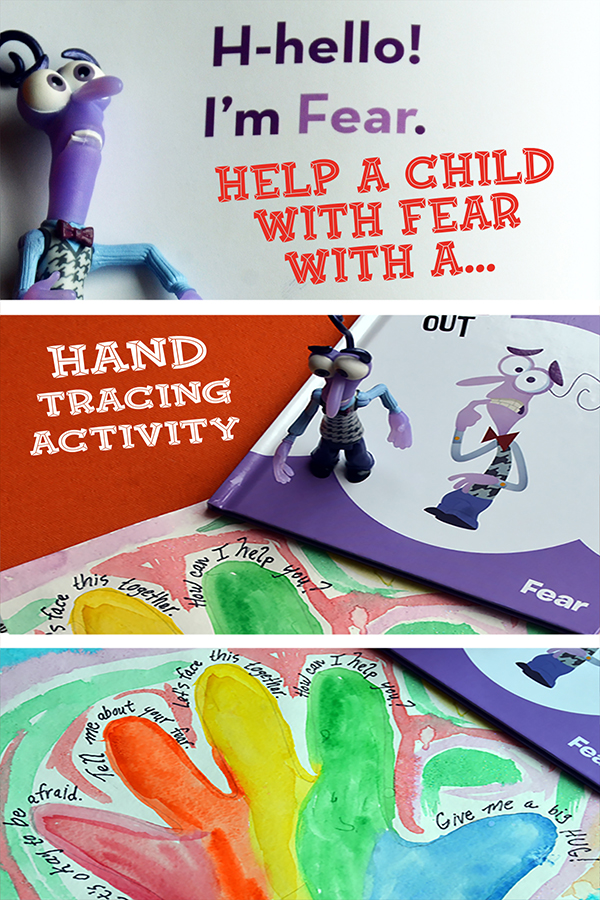 Have your child trace their hand with finger paint to calm them as they discuss their fears. Provide solutions on how to deal with their fear by writing them down on the painting so they can conquer their fears next time!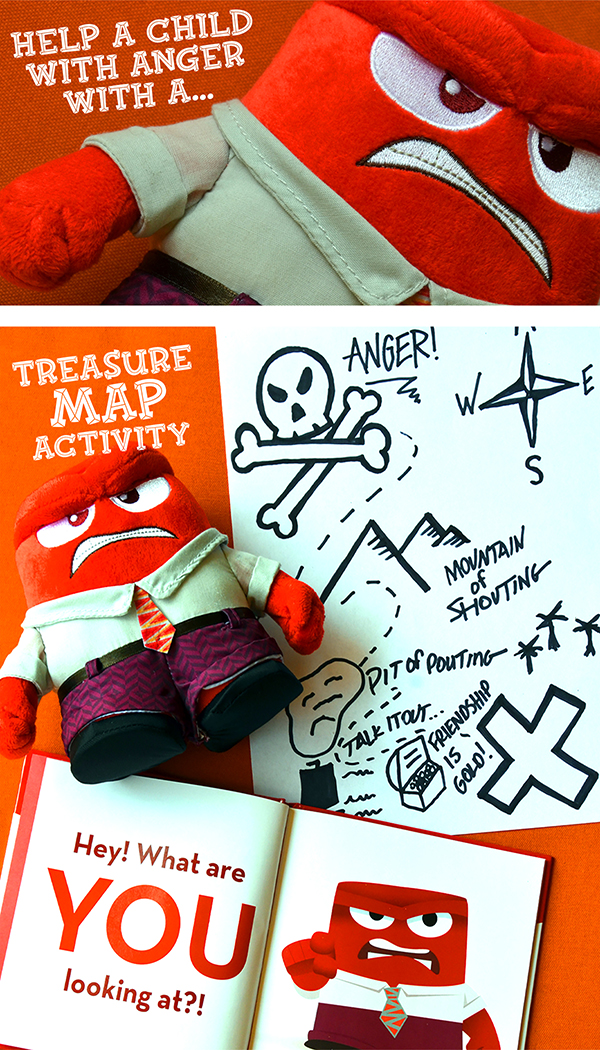 Your kid having a bad day? Have your kid create an Anger Map, inspired by Disney Pixar's Inside Out, to change their mood. Find out why your kid is angry and navigate them towards a solution that will make them feel better whether it is talking to a friend or avoid certain situation.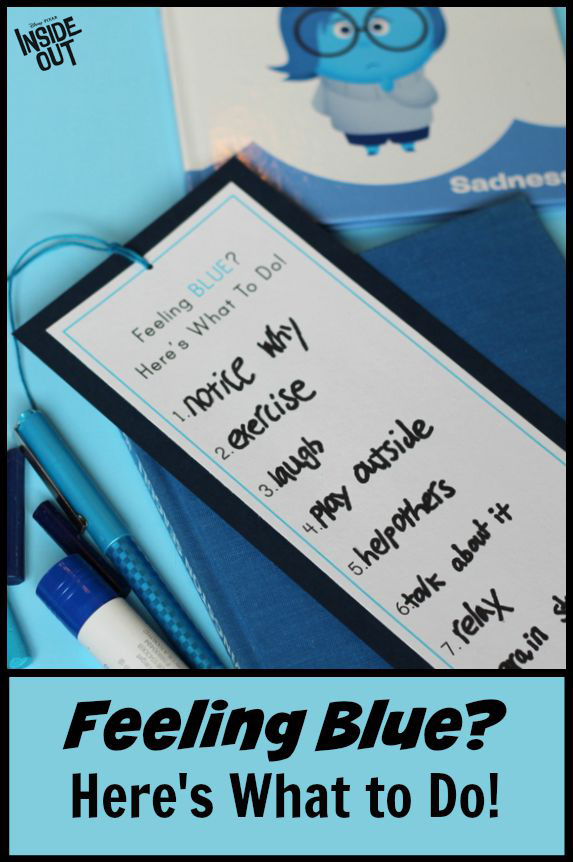 Families can work together to brainstorm a "blue list" full of simple solutions to brighten moods. Make your list into a bookmark, or post it on the fridge. The next time you're feeling blue, you'll know just what to do!
You can also check out some fun printables for even more ideas:
This post is sponsored by Disney. We are huge fans of their films, especially this summer's hit Inside Out. You can bring home Inside Out on Disney Movies Anywhere October 13 and on Blu-ray November 3. Thank you for supporting the brands that help support Alice & Lois.