This post is sponsored by Sara Lee Frozen Bakery. All comments and opinions are my own.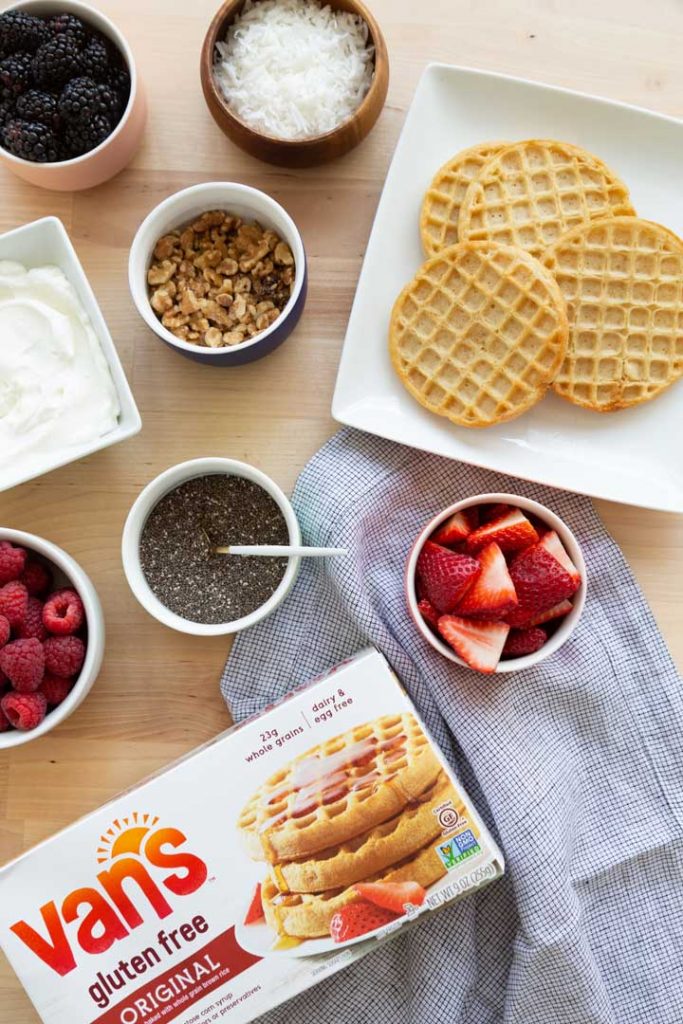 How about combining two of our very favorite things like waffles and yogurt parfaits?! We absolutely love to switch things up a little bit for breakfast for the girls. Today we are delighted to partner with VansÒWaffles to share our new favorite, gluten-free breakfast recipe; a Waffle Yogurt Parfait!
A few months ago, Calla was diagnosed with sensitivity to gluten. So, she has been gluten-free since then. We have our good days and bad days. Breakfast seemed to be tough, as she loved having waffles. So, now our go-to breakfast for her has been Van's Gluten-Free Frozen Original Waffles.
Did you know that May is Celiac Awareness Month? Did you know that 1 in 133 Americans have Celiac Disease? It is estimated that 83% of Americans who have celiac disease are undiagnosed or misdiagnosed with other conditions. (facts found here).
These days there are so many gluten-free options to so many of Calla's favorite foods. We love that Van's has Original, Blueberry and Apple Cinnamon Waffles – the girls love them all! They are honestly nutritious and taste great. I grab the frozen waffles at my local Fresh Thyme in the frozen food section.
Waffle Yogurt Parfait
This has become a family favorite for all of us! It is so much fun for the girls to build their own waffle yogurt parfait for breakfast. Calla has even started asking for this as an after-school snack!
Ingredients
Van's Gluten-Free Frozen Original Waffles
Vanilla yogurt (or Greek yogurt)
Fresh, cleaned berries (sliced strawberries, raspberries and blackberries or blueberries)
Chia Seeds
Shredded coconut
Honey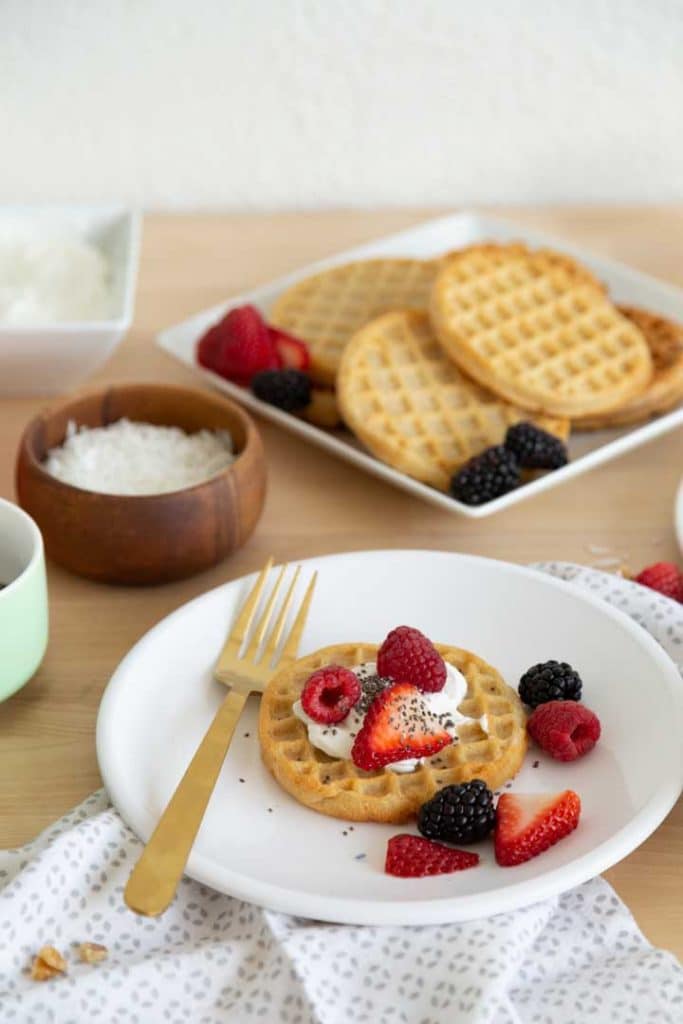 How to build a waffle yogurt parfait
Toast waffles and allow to cool a bit.
Top with a large spoonful of yogurt.
Add berries, chia seeds and coconut and honey if they like.
Now, you can also try other fruits to top the yogurt parfait as well. Mango and pineapple with the yogurt and a little gluten-free granola is delish! It is definitely fun to watch the girls build their own waffle yogurt parfaits to see just how creative they can get.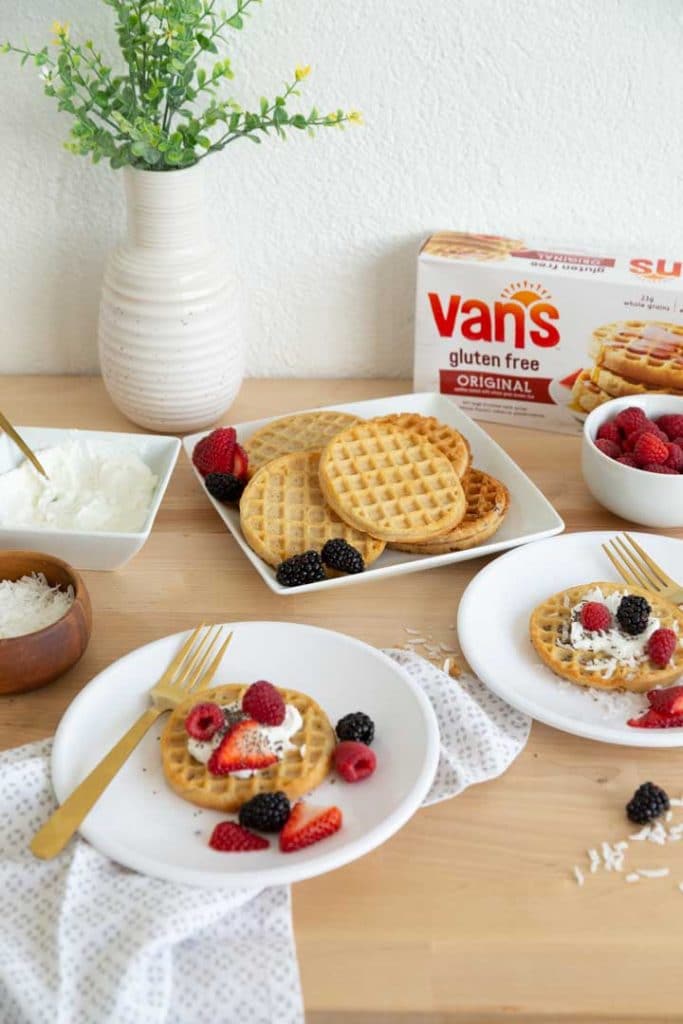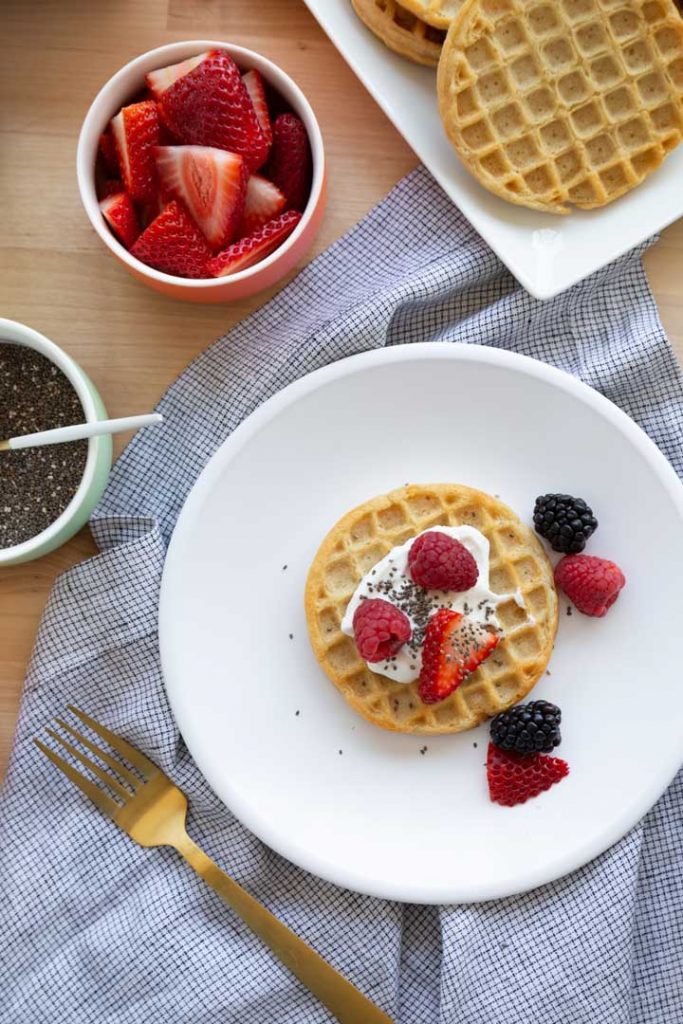 More unique waffle ideas
We have also tried a few other ways to enjoy Vans waffles throughout the day. Avocado toast on a waffle is divine! Add some smashed avocado, everything but the bagel seasoning and a fried egg for a tasty breakfast! And how about a little cottage cheese on top of the Vans Blueberry waffle?! It is so good! Another new favorite is sliced bananas on top of yogurt with a few chocolate chips. And do not forget about the PB and J. Spread almond butter on top of the waffle and add some fresh berries.
Let us know if you have any favorite waffle topping ideas or any gluten-free breakfast ideas!