Weekly Cleaning Checklist Free Printable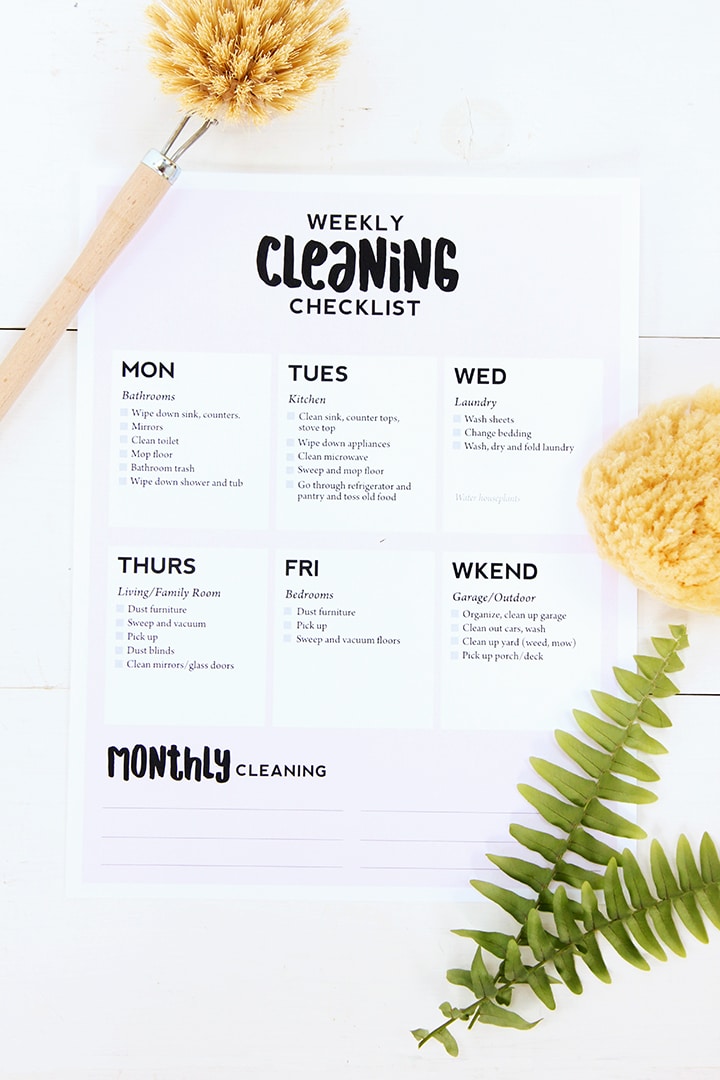 Maybe it is because I moved into a new house. Maybe it's because I live in a multi floor house (since living in flats for the past 20 years). Maybe it's because life is busy. I have been feeling very overwhelmed as of late keeping up with my house chores – especially cleaning. I asked a few friends for advice. So many told me their trick is keeping to a schedule. A cleaning schedule. I am not an overly-scheduled person, but I thought I would give it a try. And I have to agree with my friends – a cleaning schedule works! But so do the right tools. Well today, I am sharing all of my new cleaning secrets with you! We have partnered with our friends at O-Cedar today to share our Weekly Cleaning Checklist Free Printable and tell you about a few of our favorite cleaning tools – like the ProMist® MAX Microfiber Spray Mop!
Read more for the free printable and our favorite cleaning tools…
Ok, are you ready for the schedule?!
We broke the schedule down by weekday. This is what we found to work best for us. Breaking rooms of the house up by day really seemed to help. Now, of course you still have to pick things up in the rooms everyday – but the "cleaning" or mopping or dusting is by day now. Click here for free printable checklist. You could even print and laminate the Weekly Cleaning Checklist FreePrintable to use over and over again.
Monday Bathrooms
Wipe down sink and counters
Mirrors
Clean toilet
Mop floor
Bathroom trash
Wipe down shower and tub
Tuesday Kitchen
Clean sink, countertops and stove top
Wipe down appliances
Clean microwave
Sweep and mop floor
Go through refrigerator and pantry and toss old food
Wednesday Laundry
Wash sheets
Change bedding
Wash, dry and fold laundry
Thursday Living/Family Room
Dust furniture
Sweep and vacuum
Pick up
Dust blinds
Clean mirrors and glass doors
Friday Bedrooms
Dust furniture
Pick up
Put away clothes
Sweep/mop and vacuum floors
Weekend Garage and Outdoor
Organize, clean up garage
Clean out cars, wash
Clean up yard (mow, weed)
Pick up porch/deck
Let's talk about tools. My new favorite floor care cleaning tool is the new ProMist® MAX Microfiber Spray Mop from O-Cedar. You guys, it is so easy to use and makes mopping so fast! The mop has a super wide, double-sided microfiber pad that covers more than 2 times the surface area than the previous version. And the mop head flips 180 degrees so I can clean longer. And I absolutely love that I can wash the pad up to 100 times. Ok, another amazing feature is that I can put my own cleaning solution into the mop! No more smelly toxic cleaners in my mop! I have been using water and a few tablespoons of vinegar. And I love that this mop can go on all of my flooring surfaces – old wood floors, new wood floors, tile and laminate flooring.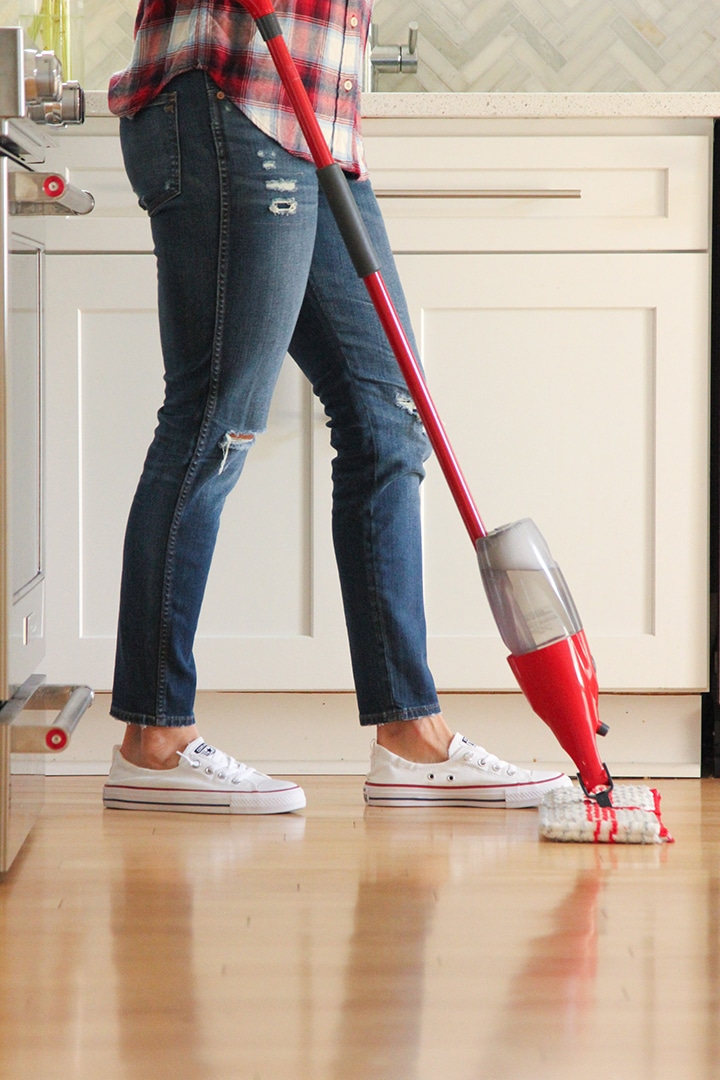 I am a big fan of making cleaners for my house. The least amount of chemicals and toxins the better! I like making this for bathroom cleaners – 2 C distilled water, 2 T vinegar, 15 – 20 drops of tea tree oil. And this is a great one for the drain – Pour 1/2 C baking soda in drain. Next pour 1/2 C with vinegar and cover drain (with a plug or towel). After 10 minutes, pour boiling water into drain to flush. Now if someone can share their secret for cleaners for hard water stains!
We hope you enjoy the Weekly Cleaning Checklist Free Printable as much as we do.
Photos by Sara Albers.
This post was sponsored by O-Cedar. All thoughts and opinions are my own.