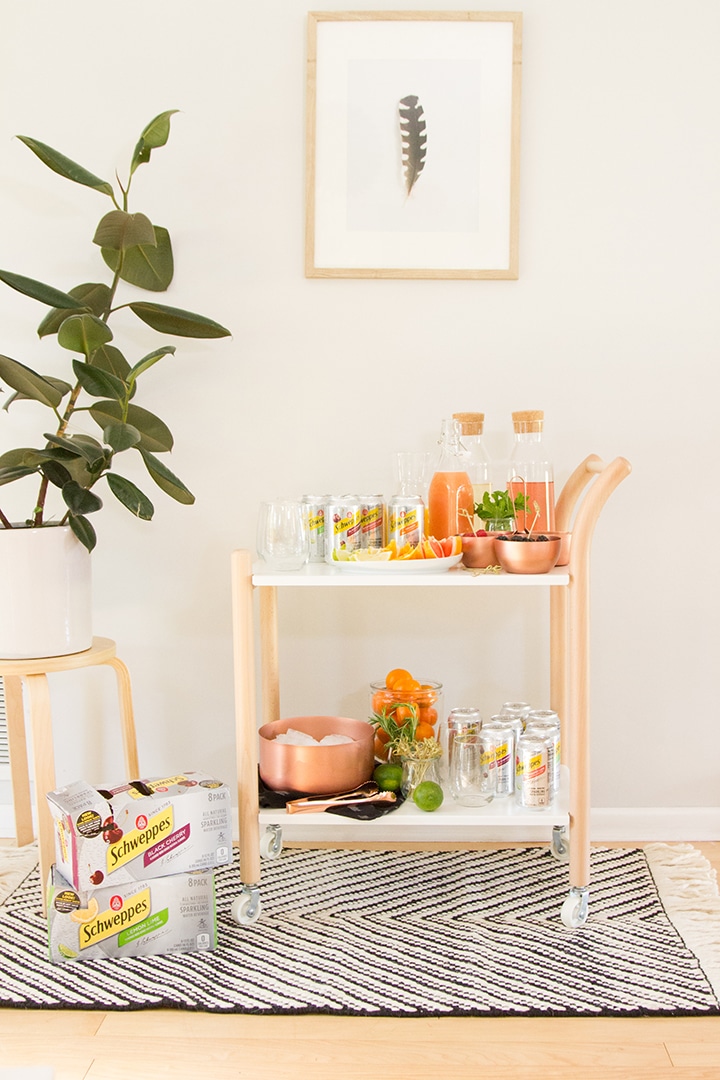 This post has been sponsored by Schweppes®. All thoughts and opinions are my own.
One of our favorite ways to celebrate the holidays is to gather friends and family at home. We love to set up a cocktail station or bar cart to highlight our cocktail for the night. Wine spritzers are our new favorite "cocktail" to set up on the bar cart. We are delighted to partner with Schweppes® to share our go-to cocktail and bar cart station for fall and holiday gatherings. We are obsessed with making and mixing white or rosé wine with flavored sparkling water, aka Wine Spritzers. These refreshing and gorgeous cocktails have been making a big comeback for entertaining. To add some fall and holiday accents to the drinks, set up a bar cart filled with Schweppes Sparkling Waters, garnishes, fresh herbs and fresh juice. Wine Spritzer Bar Cart is the way to go! 
There is something so refreshing and light about wine and sparkling water combinations. Mixing wine with Schweppes Sparkling Water is so easy and so tasty. The black cherry, raspberry lime, orange and lemon lime are perfect combos for the wine spritzers. These are the perfect cocktails to serve for an afternoon gathering or a low-key dinner party or even the meeting you are hosting at your home. If you are wanting to have something a little unique or different but not set up a full bar, you've got to give this a try! Another thing I love about a wine spritzer bar cart set up is that it allows your guests to create their own unique drink without too much hassle. It also offers something fun for the mocktail drinkers as well.
Read more for our bar cart set up and wine spritzer recipes…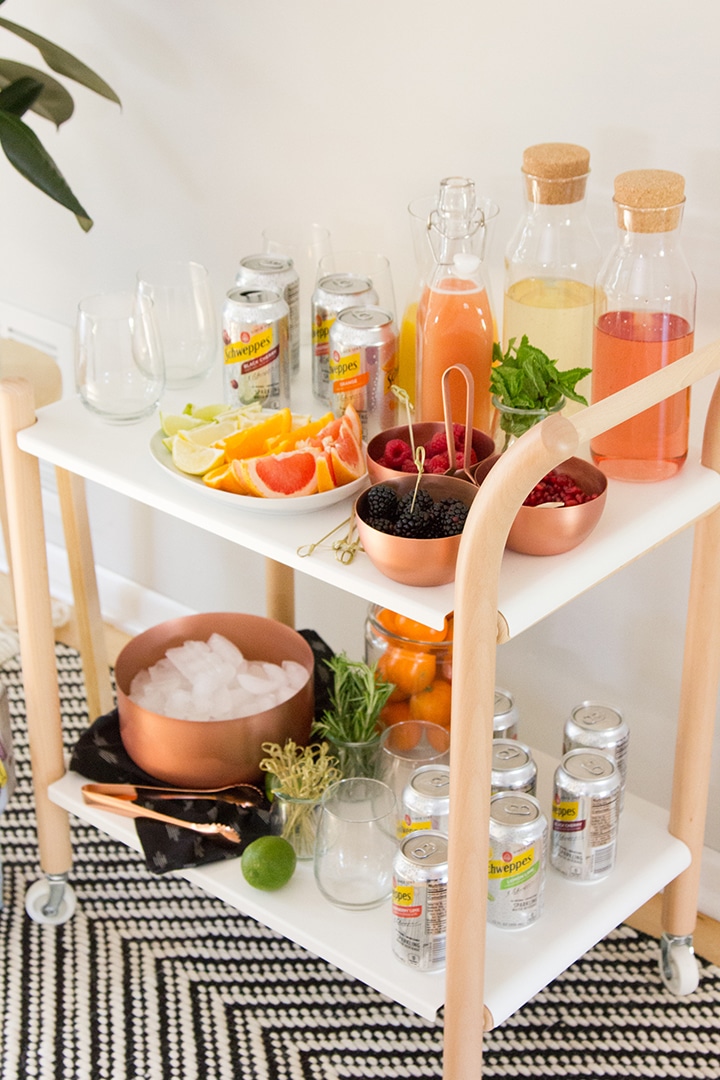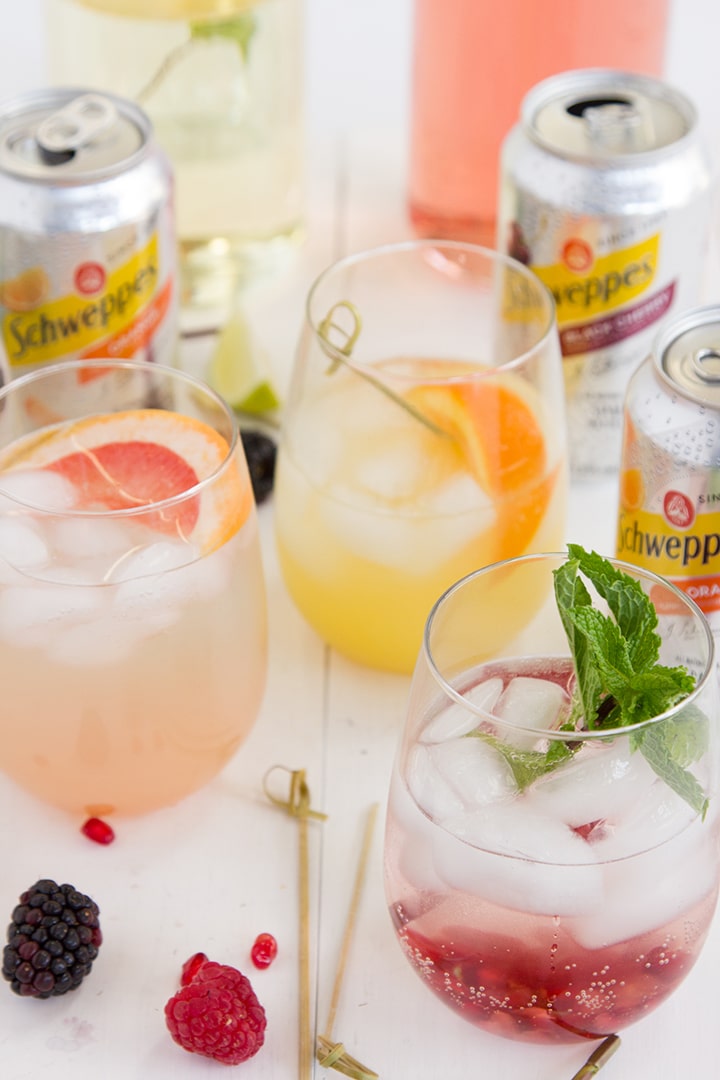 Wine Spritzers
Chilled White Wine

Chilled Rosé Wine

Schweppes Sparkling Water in lemon lime, raspberry lime, black cherry and orange

Small pitchers of freshly squeezed juice

Garnishes

Slices of grapefruit, oranges, lemon, lime

Fresh mint leaves and rosemary

Pomegranate seeds

Raspberries and blackberries

Ice Bucket or Bowl

Wine glasses (I love to use stemless)
We used a 50% wine, 50% sparkling water combo for our wine spritzers. Add some ice, fruit garnishes and a splash of juice if you wish. I love the small bamboo garnish cocktail sticks to add some berry garnishes.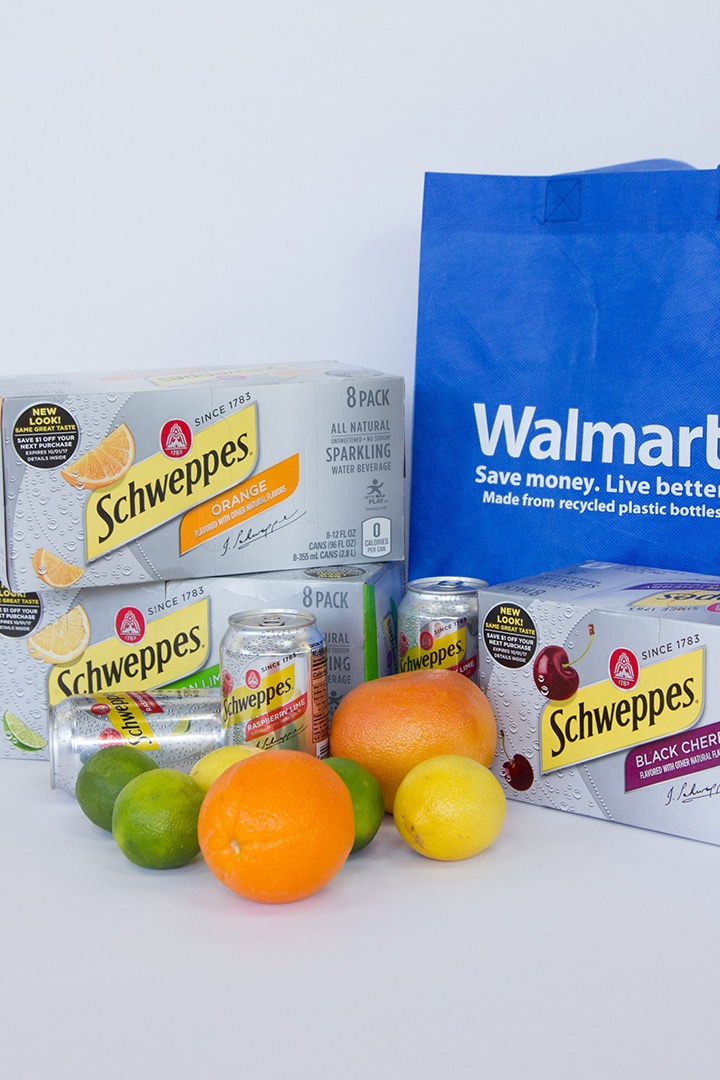 Another wonderful thing about setting up a wine spritzer bar at your next party is all the ingredients are so easy to find. Head to your local Walmart for everything – Schweppes Sparkling Water (which is newly available at Walmart stores), wine, fruit, glasses… one and done!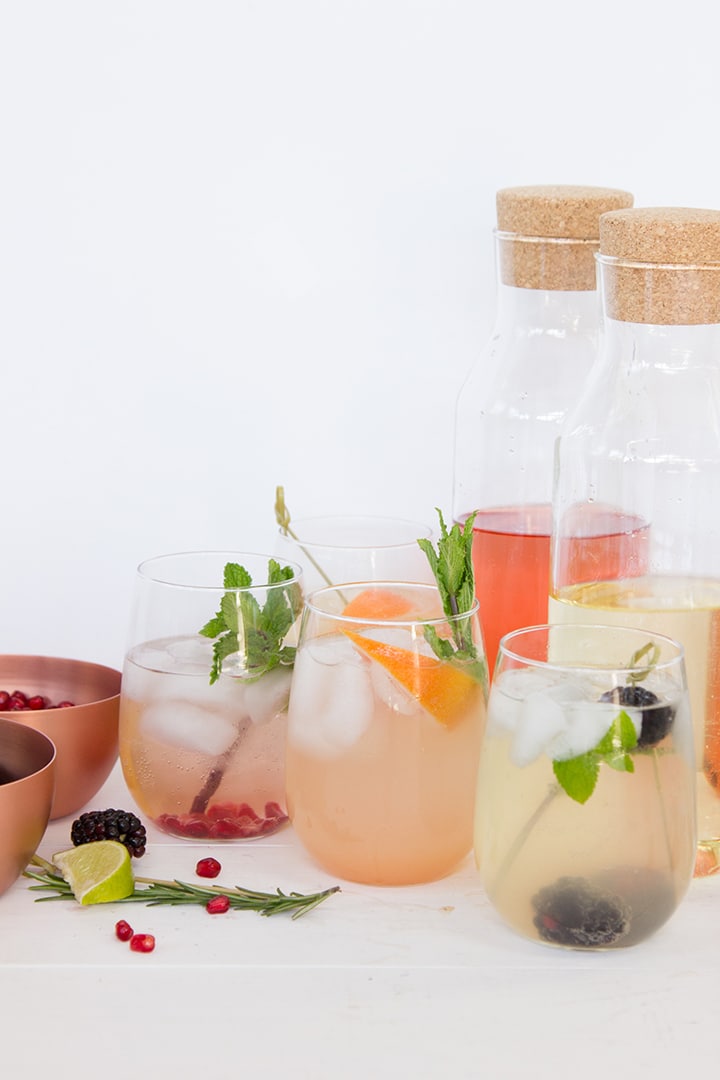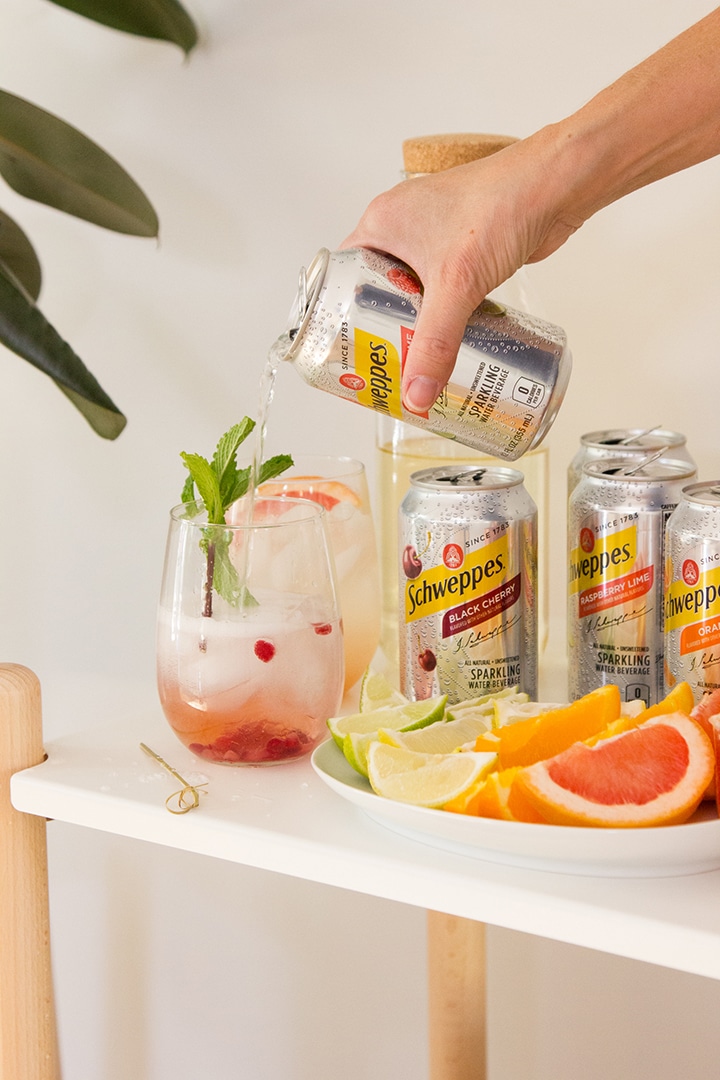 Wine Spritzer ideas
White wine with raspberry lime Schweppes, ice, blackberries and fresh mint

Rosé with Scweppes

 lemon lime S

parkling W

ater and pomegranate seeds.

White Wine with a splash of orange juice,  Schweppes 

orange  S

parkling W

ater, ice, and rosemary sprig.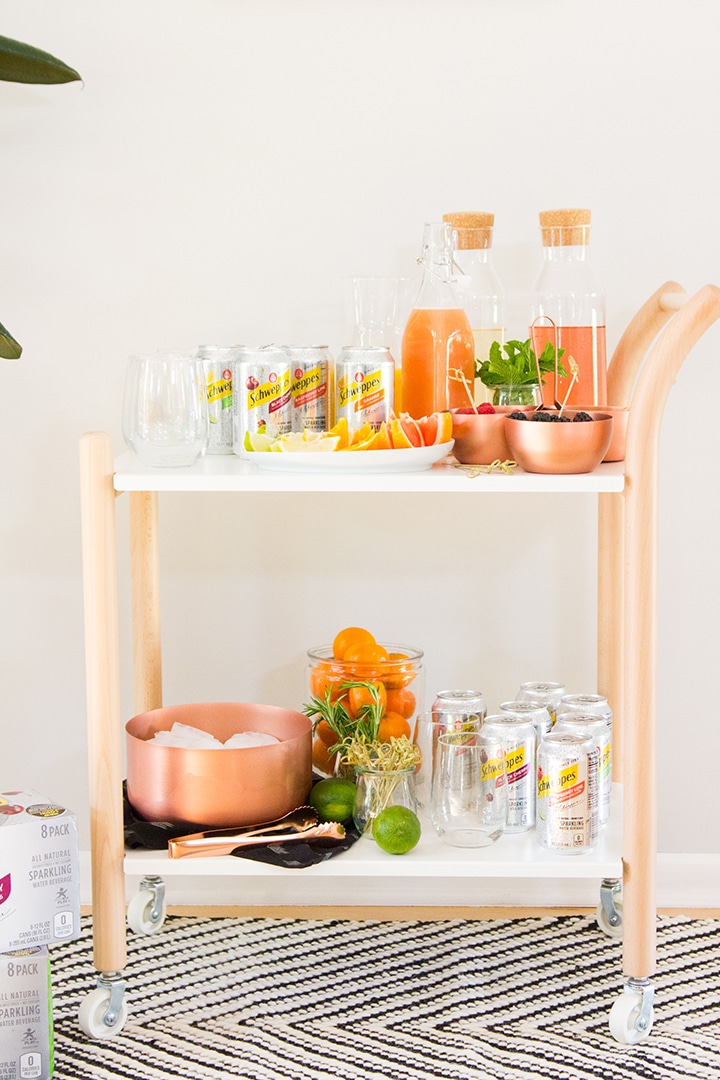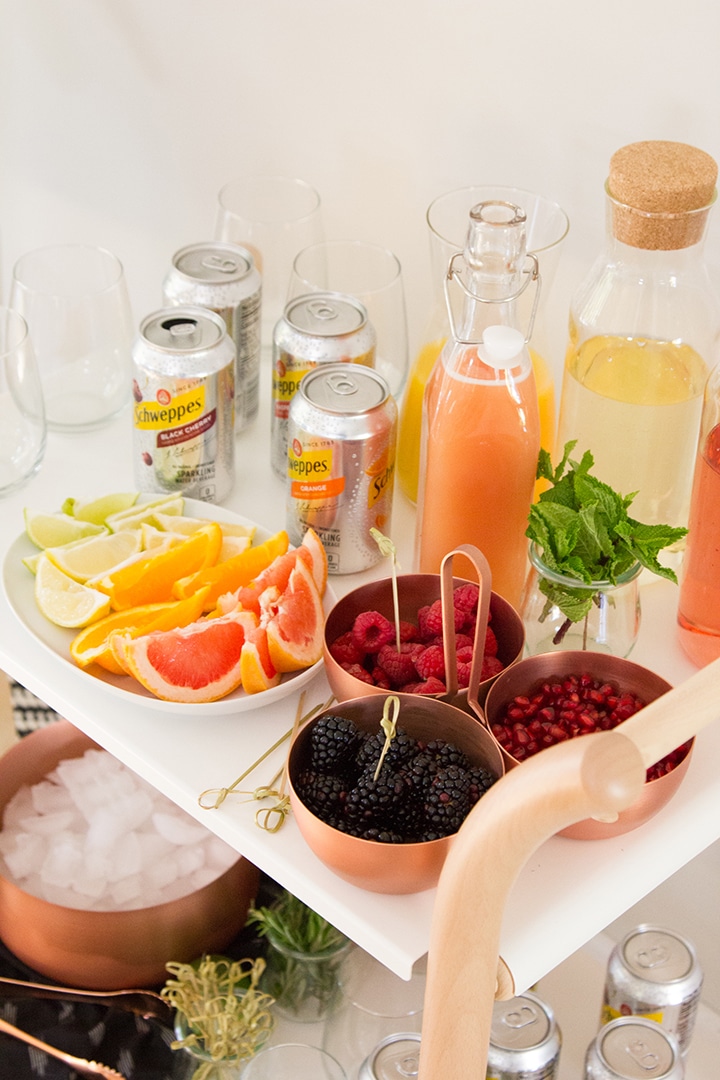 Bar Cart/Wine Spritzer Station
We love using a simple bar cart for parties. I have this one and love it. If you do not have a bar cart you can always use a small bookshelf, side table or end table with shelves. Set up the bar cart to keep things simply for your guests. Add just what you need to make the cocktails so your guests can mix their very own spritzer with ease. And how festive would it be to add some small LED holiday lights to the cart?! And get some bonus holiday hosting inspiration by visiting www.schweppesholidaysips.com!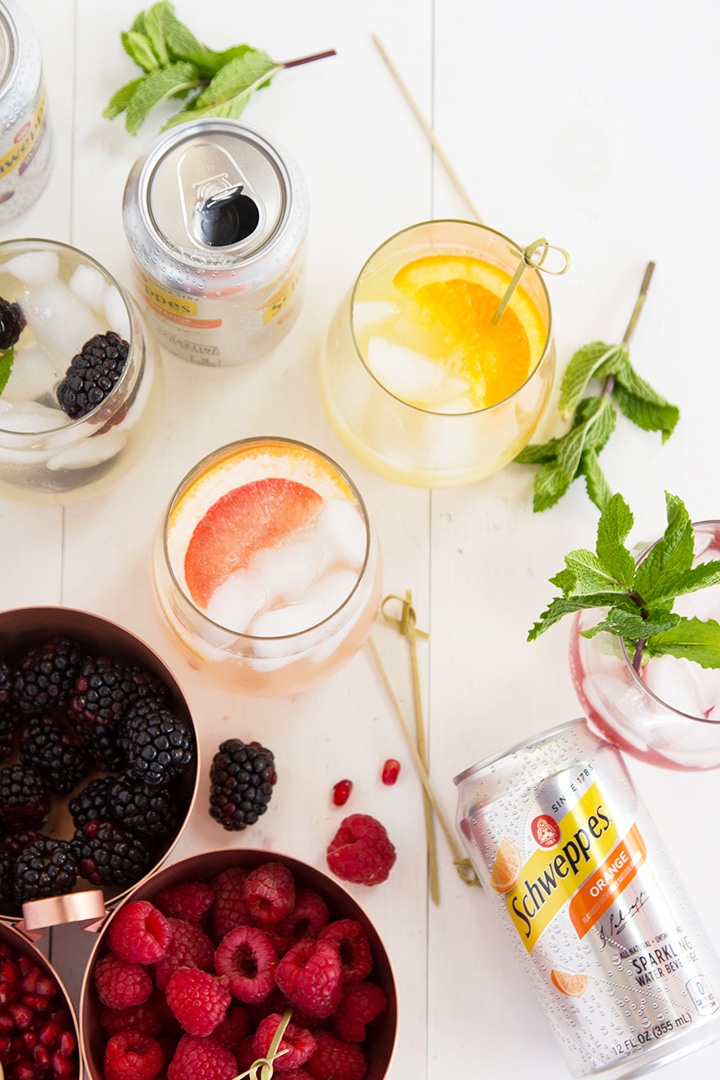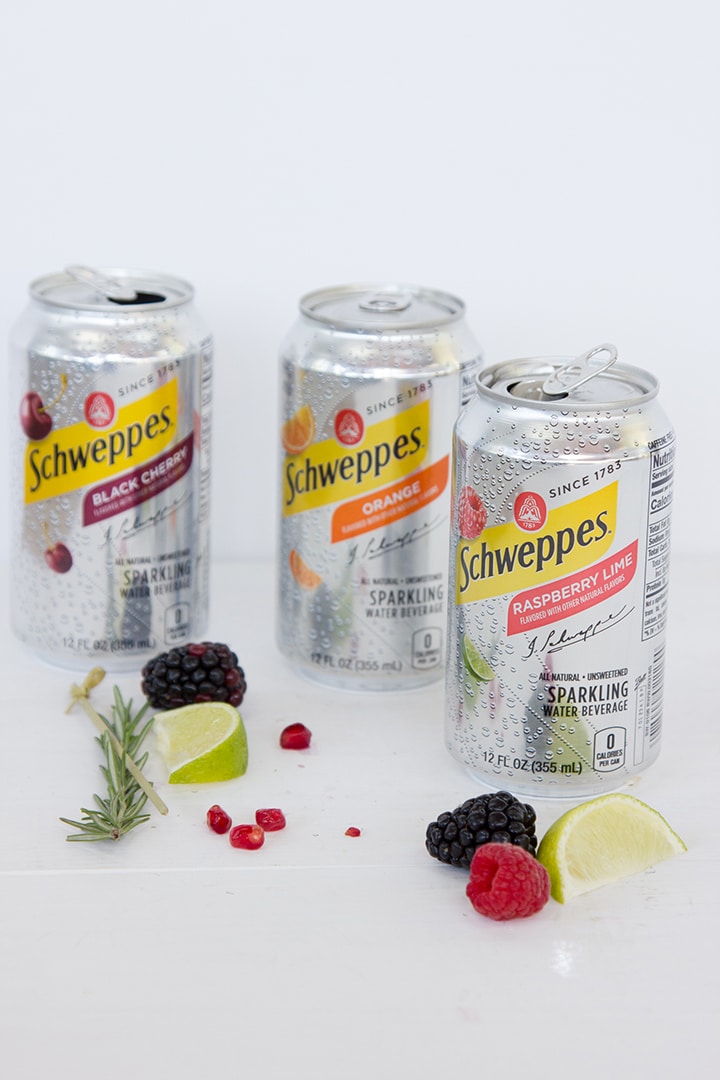 Spend $10 or more on Schweppes products (from 11/15-12/22) and upload your recipe to the site below to receive a free Schweppes scarf.   www.schweppesholidaytw.com 
Photos by Sara Albers.