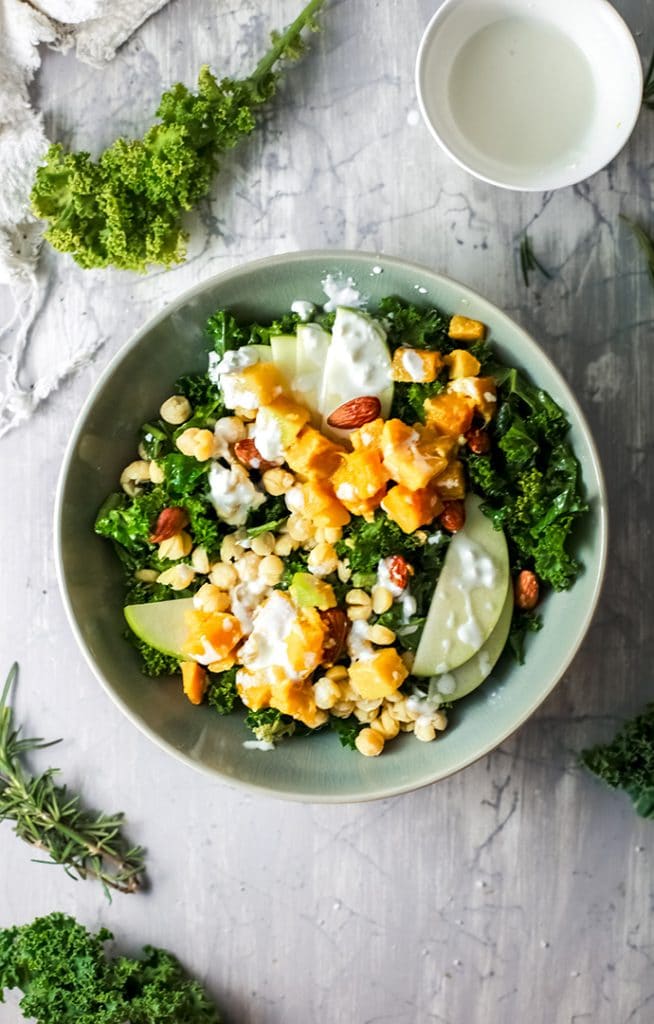 We absolutely love making bowls out of anything we have on hand in the refrigerator. Rotisserie chicken, greens, roasted veggies, quinoa and more. Today we are sharing a favorite Winter Bowl Recipe. This Bowl recipe is healthy and comforting and just perfect for this season!
It's made with roasted sweet potatoes + juicy green apples, roasted almonds and drizzled with a mind blowing blue cheese dressing that brings everything together.
The protein comes from some cooked chickpeas and the base is made with kale (but you can feel free to play with the leafy greens you like). Kale tip: Just like every time we use kale it's super important to massage it with olive oil and lemon juice and then let it set for at least 10 minutes.
Winter Bowl Recipe Ingredients
Roasted Sweet Potato
1 cup sweet potato, cubed
2 Tbsp olive oil
Salt and pepper to taste
½ Tsp Italian seasoning
Pinch of nutmeg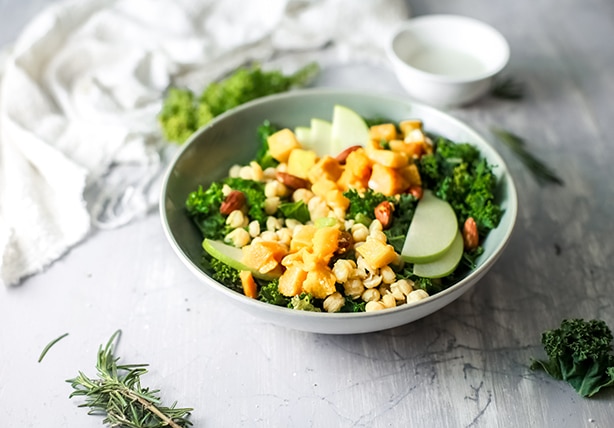 For the Salad
3 Cups kale, chopped
1 Tbsp olive oil
1 Tsp lemon juice
½ Cup cooked chickpeas
1 Green apple, sliced
¼ Cup roasted almonds
For the Blue Cheese Dressing
¼ Cup sour cream
¼ Cup Greek yogurt
¼ Cup milk
¼ Tsp mustard powder
¼ Tsp garlic powder
¼ Tsp onion powder
1 Ounce blue cheese, crumbled
Salt and pepper to taste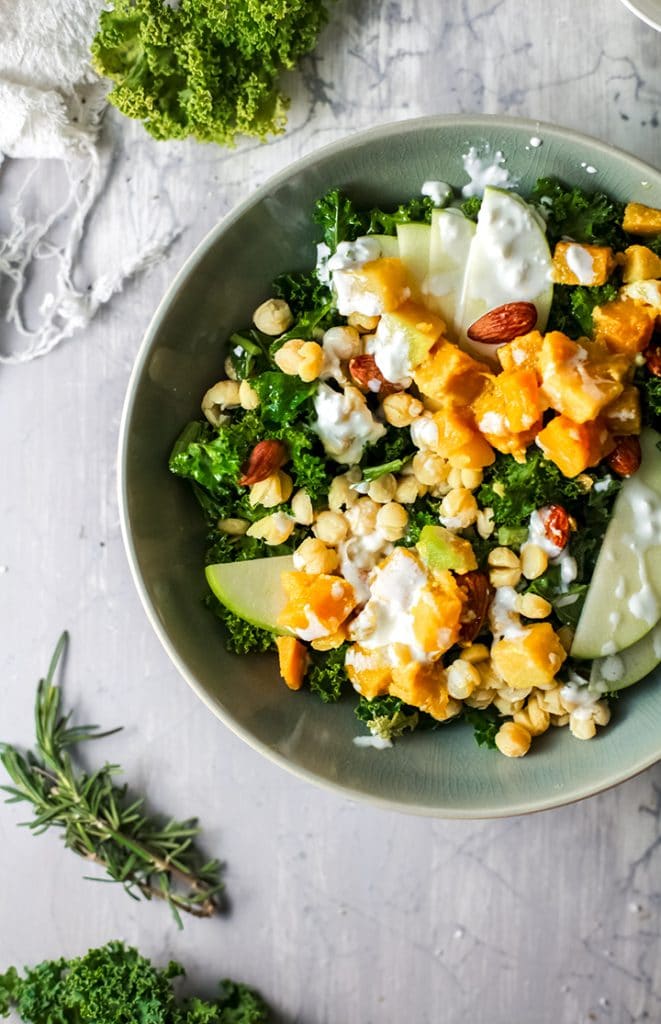 Directions:
Prepare the sweet potato. Add cubed sweet potato and spices and roast at 425 for 20 minutes.
Massage the kale with olive oil and lemon juice. Set aside and let it rest for around 10 minutes so the kale softens.
Prepare the dressing: Whisk together all the ingredients, mixing until the blue cheese is incorporated into the mix. Adjust spices to your taste.
Assembly the salad. In a big bowl place the kale, top with chickpeas, Italian sweet potato, apple and almonds. Drizzle with blue cheese dressing.