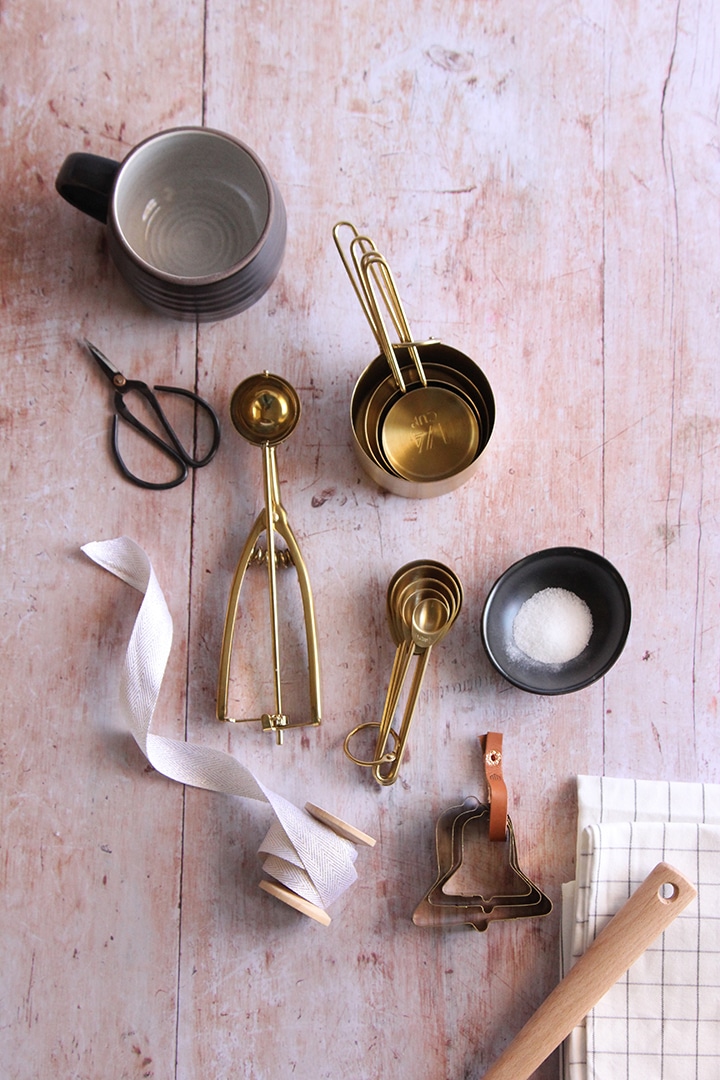 We are excited to be teaming up with some of our best blogging buddies for a Favorite Things Giveaway! Our friend Amy from Delineate Your Dwelling put this whole thing together. You can enter our giveaway here on our blog. Then make sure to visit all of the other giveaways from our blogging friends too! The links are below. Ok, so why is this called a Favorite Things Giveaway? We "curated" some of our favorite kitchen tools and props for our Favorite Things giveaway. You might notice a little black, gold and wood theme! Not only are these some of our favorite everyday kitchen tools, but also some of our very favorite styling props.
Favorite Things
18th Street Mug – just love this medium size black mug from Crate and Barrel. Perfect size.
Measuring cups – I mean, come on – gold measuring cups!
Measuring spoons – and spoons too!
Wood spatula – This shape and size of wood spatula is a favorite indeed!
Gold bell cookie cutters – These are so darling. Three sizes will make such cute sugar cookies this holiday.
Dish towels – I have tons of these. Black and white and the best size.
Pinch bowl – This little black dish sits by by stove top as a little pinch bowl filled with salt.
gold cookie scoop – perfect for holiday baking.
Ready to enter for a chance to win? Follow the instructions on the Rafflecopter and then enter my friend's giveaways BELOW!
Giveaway from 11/15/17 – 11/22/17 – GIVEAWAY CLOSED. Winner notified via email.
Thank you so much for entering My Favorite Things giveaway! Don't forget to stop by and visit my friends for more chances to WIN their awesome giveaways!!
Lovely Indeed | The Merrythought | Squirrelly Minds | Alice + Lois
Delineate Your Dwelling | Pars Caeli | Design Improvised
Idle Hands Awake | Lulu the Baker | Cloudy Day Gray | Tell Love + Party