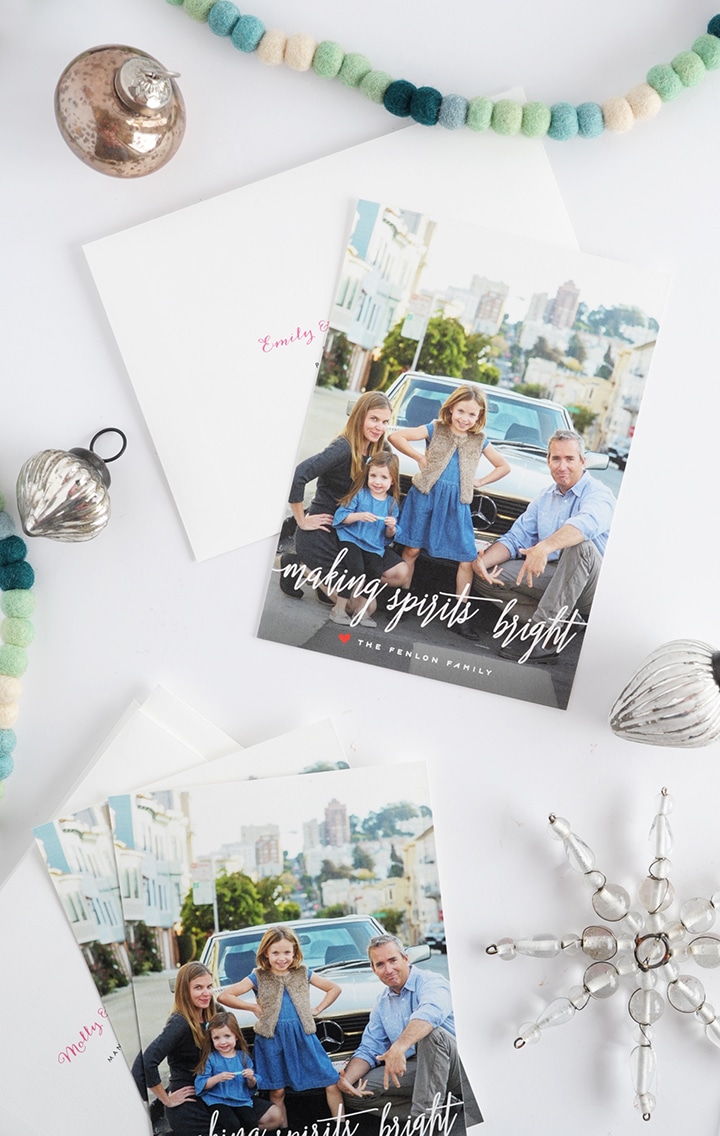 Happy Holidays, friends! We're so happy to be doing a giveaway this week for $200 at Minted! We've been sending out our cards and we're so happy with how they turned out. Sara chose the West Coast card and I went with Spirits So Bright. Love that we can always count on their amazing work from independent designers across the globe. Read more to find out how to enter our Minted giveaway and see some of our favorite designs.
We took our holiday card photos when we were out in San Francisco for Thanksgiving. Sara's family shot was taken on the Batteries to Bluffs. A must do next time you're in the city. And our shot was a block from Sara's place. We were looking for the perfect building to stand in front of, when instead Alex spotted this vintage Mercedes… and well, we thought it would be fun to pose in front of that. Why not make people giggle a little this year. We all need a good laugh, right? The Making Spirits Bright phrase worked perfectly for our pic this year!
Minted has some gorgeous gold foil options again this year. Some more favorites include the watercolor spray card and their completely custom cards are so thoughtful – use a drawing of your child's as the greeting.
If you're looking to send out New Year's cards, here are a few of our favorites – the Year-Round Happiness design, the gorgeous Painted Prism Border and Cheers to the New Year!
To enter this giveaway, just head straight on over to our Instagram feed. This contest ends on Friday, December 23 at 11:59 pm PST and is open to US residents only. Good luck!
Here are some more of our favorite Minted card designs…
photos by Melissa Fenlon and Sara Albers. all rights reserved.