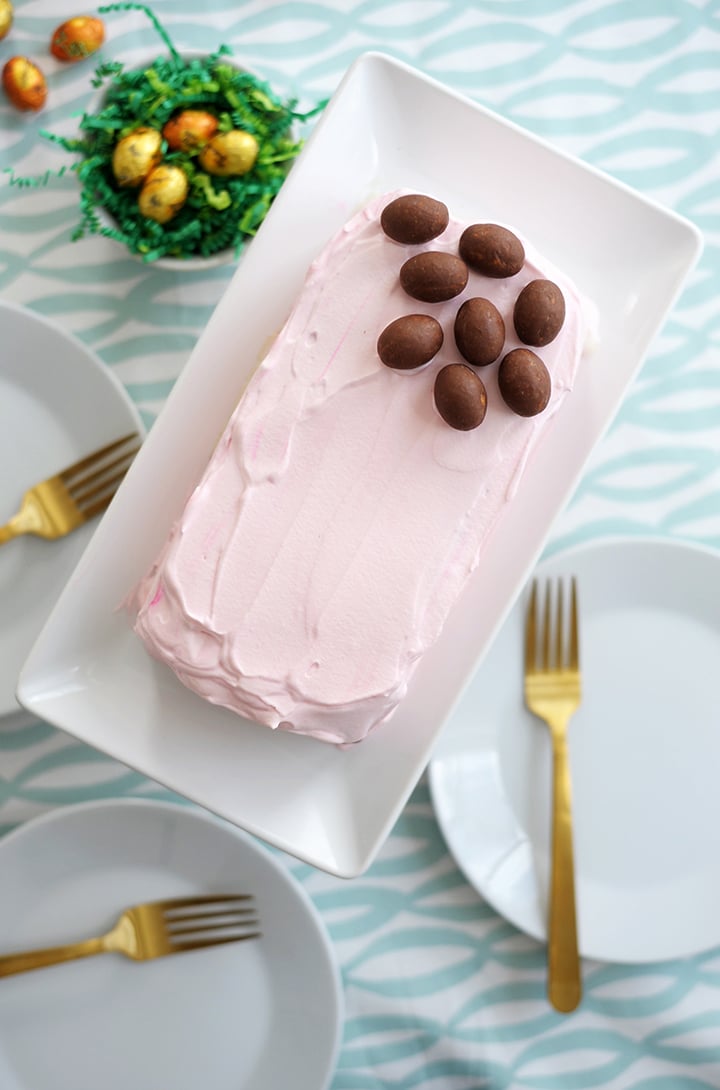 Every year at Easter, we love to make something sweet for the whole family. From Easter bunny cakes to trifles, we like to surprise the kids with a new dessert. This year, we took inspiration from our favorite thing to add to ice cream – Butterfingers! We teamed up with Nestle to create this Butterfinger Easter Ice Cream Cake recipe. There are layers of vanilla ice cream with Butterfinger, hot fudge and chocolate ice cream. Trust us, this cake will be a hit!
We're also sharing one of our favorite ways to set out food for a holiday table – using DIY Wood Box Cake Plates. This DIY is simple and makes a statement. We love the mix of the light wood, pastel paint and porcelain white.
Read more for the full recipe and DIY tutorial…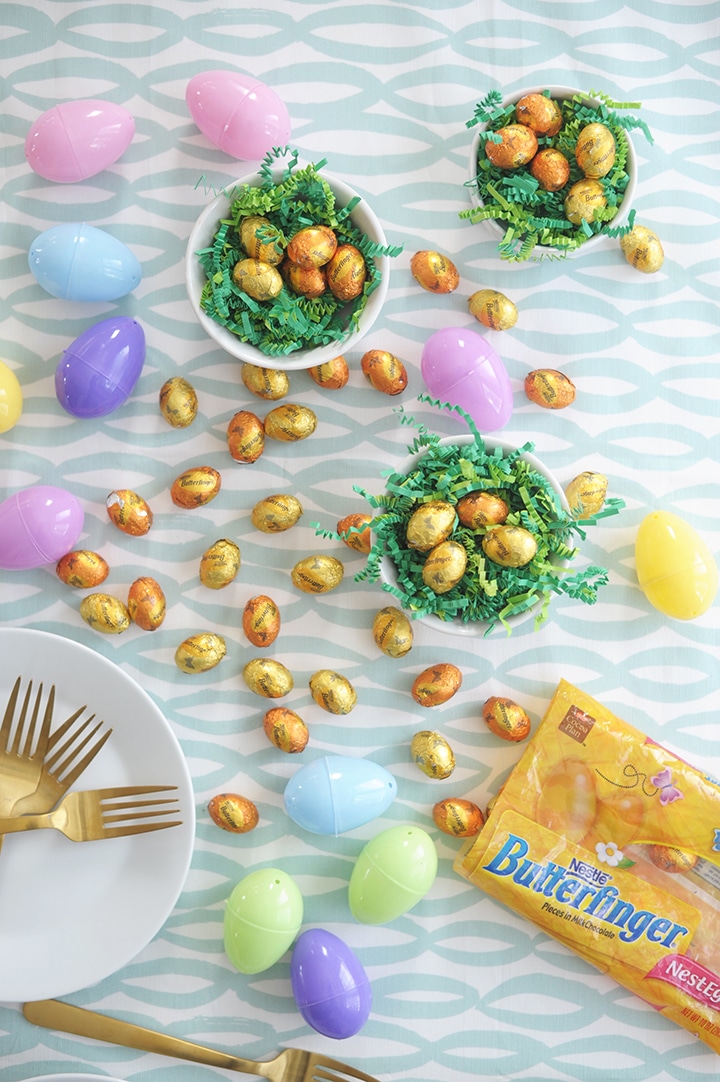 Butterfinger Ice Cream Cake Recipe
Ingredients
15 chocolate wafer cookies crushed
3 tablespoons melted butter
2 cups chocolate ice cream (we like using Slow Churned Reduced Fat Dreyer's or Edy's ice cream)
2 cups vanilla ice cream (we like using Slow Churned Reduced Fat Dreyer's or Edy's ice cream)
½ cup hot fudge
1 package Butterfinger nest eggs (3/4 of bag chopped to add to vanilla ice cream)
3/4 cups heavy whipping cream
1 1/2 tablespoons powdered sugar
1/2 teaspoon vanilla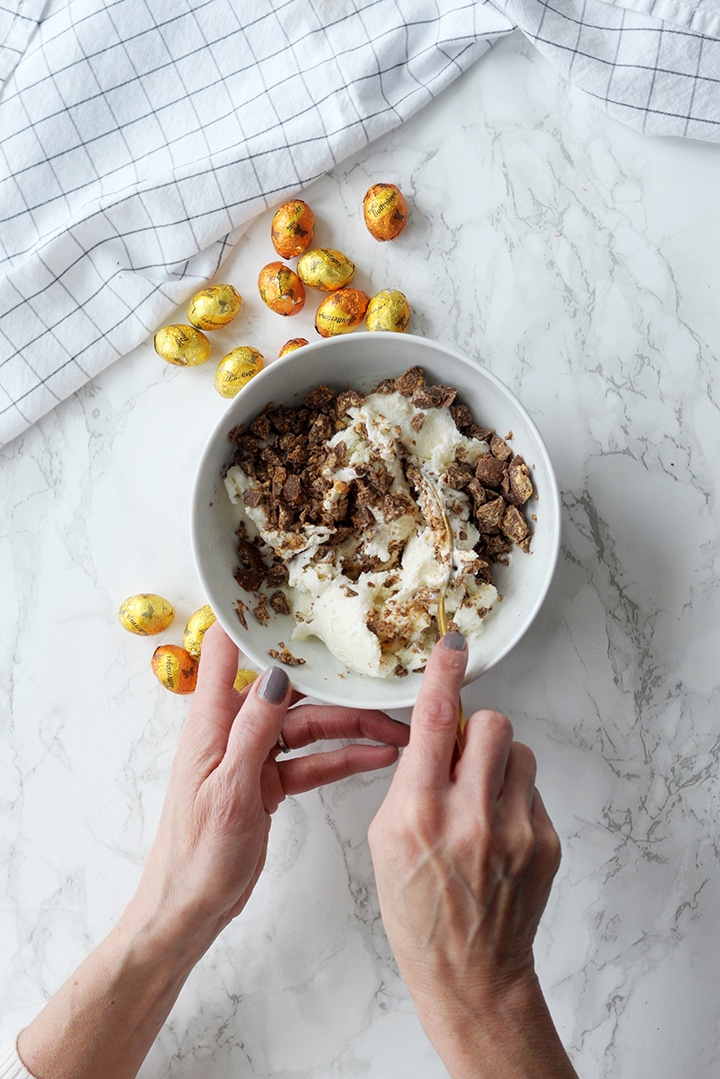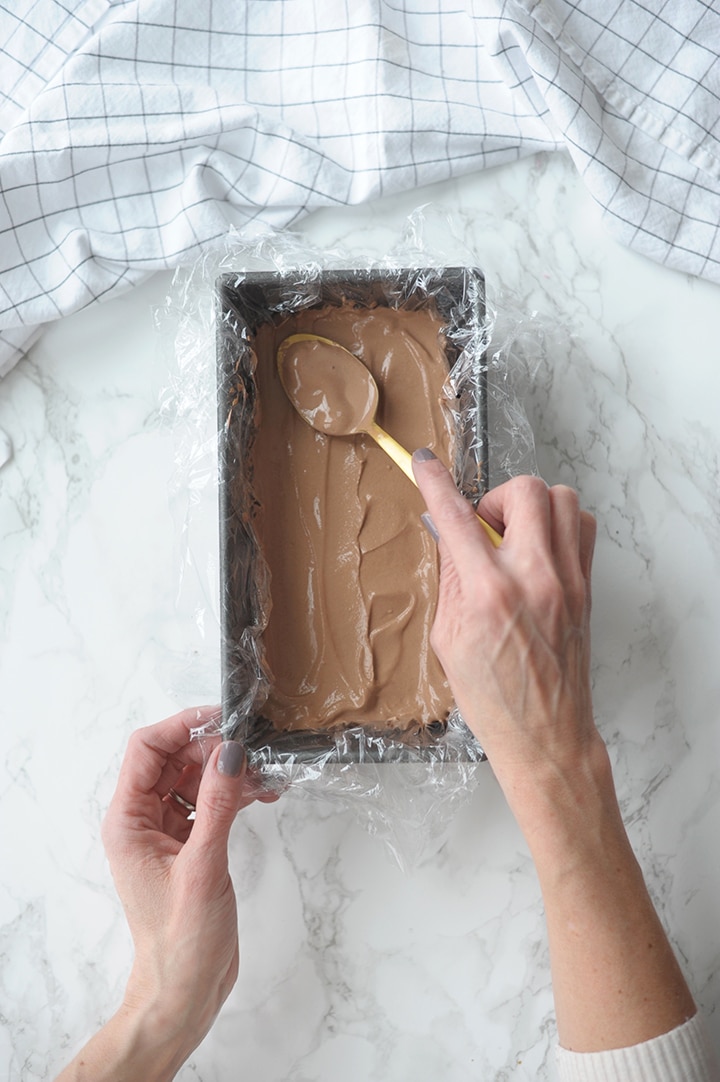 Directions
– Prepare a 9 inch spring loaf pan by lining with plastic wrap, leaving overhang to lift the ice cream cake out.
– Combine crushed chocolate wafer cookies and melted butter and press into bottom of loaf pan. Freeze for 20 minutes.
– Spoon 2 cups of softened chocolate ice cream over the cookie layer and smooth with spoon. Freeze for 30 minutes.
– Pour room temperature hot fudge over ice cream layer and smooth with spoon. Freeze for one hour.
– Combine crushed Butterfinger nest eggs and softened vanilla ice cream and spoon over fudge layer. Smooth out until even and cover with plastic wrap and place back in freezer over night.
– Remove frozen cake from freezer and invert onto cake plate. Pull off plastic wrap.
– Beat heavy whipping cream, powdered sugar and vanilla until soft peaks form. Frost cake with whipped cream. We added pink food coloring to add a bit of Easter pastel color to the cake. Top with Butterfinger Nest Eggs. Put back in freezer until ready to serve.
– Cut into 8 slices and cut in half. Serves 16.
For more fun Butterfinger recipes, head to their Pinterest page.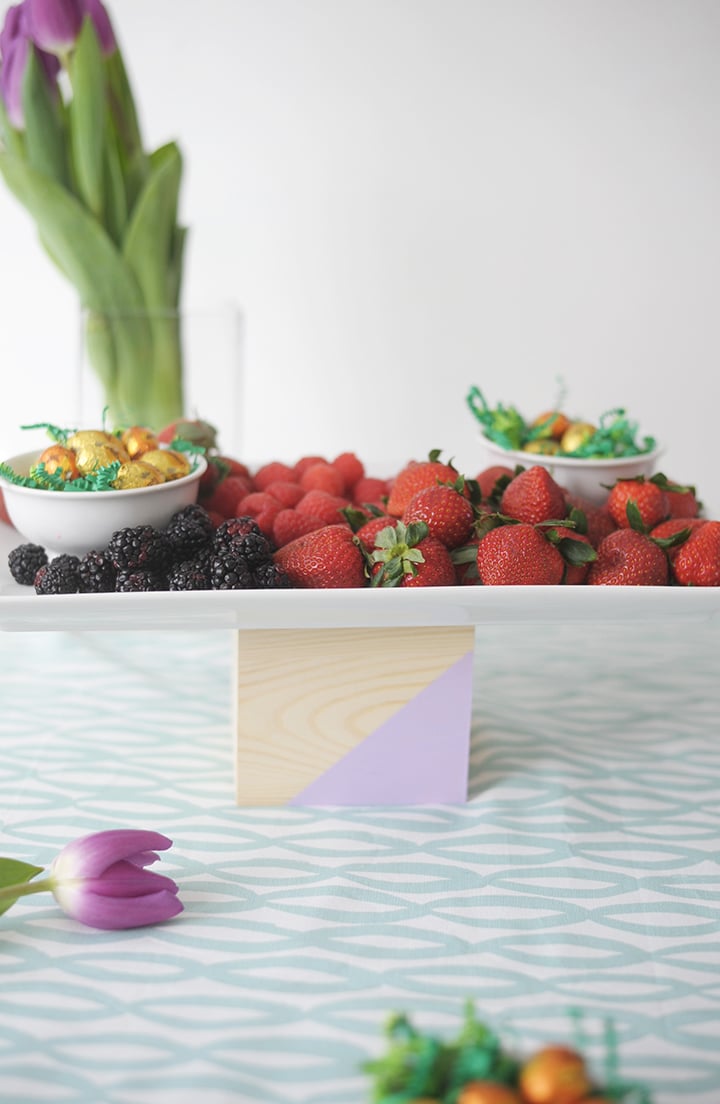 DIY Wood Block Cake Plates
Create these versatile and modern cake plates with simple supplies. We love using these cake stands to serve food for an Easter buffet. It's great to present the food on the table different heights.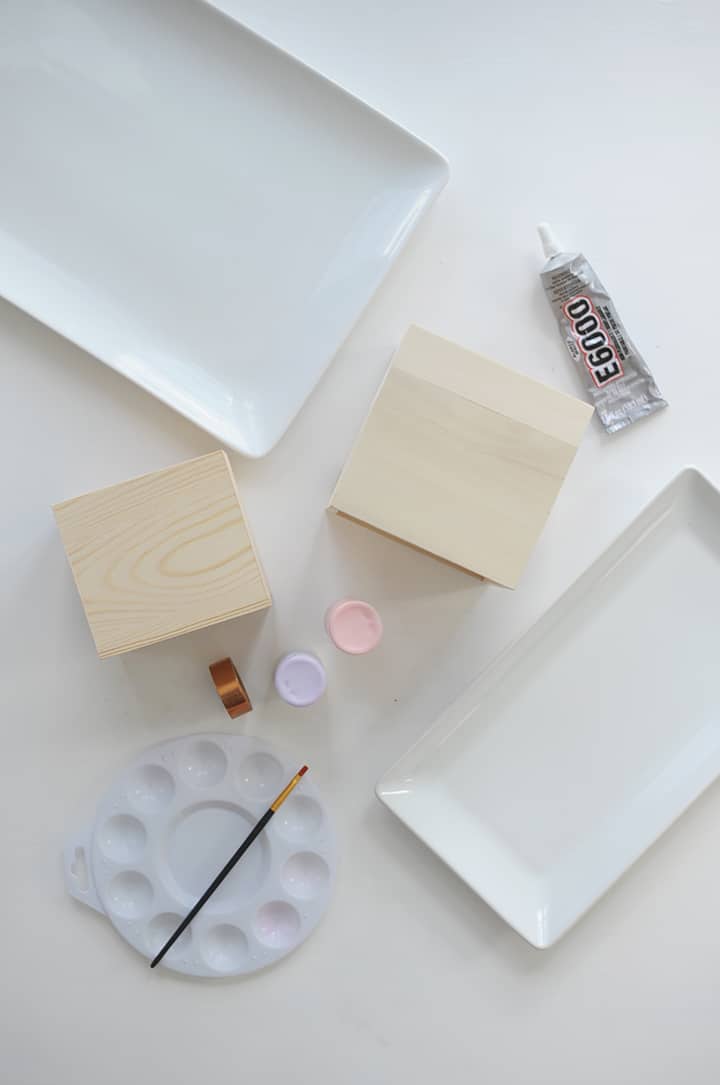 Supplies:
Round plate or rectangular platter, square wood block or vase, acrylic paint, paintbrush, tape, E6000 glue
Steps:
Tape off area to paint on front side of wood block and paint two coats. Let dry.
Peel off tape and put glue along top edge of wood block.
Place platter on top of vase and let dry.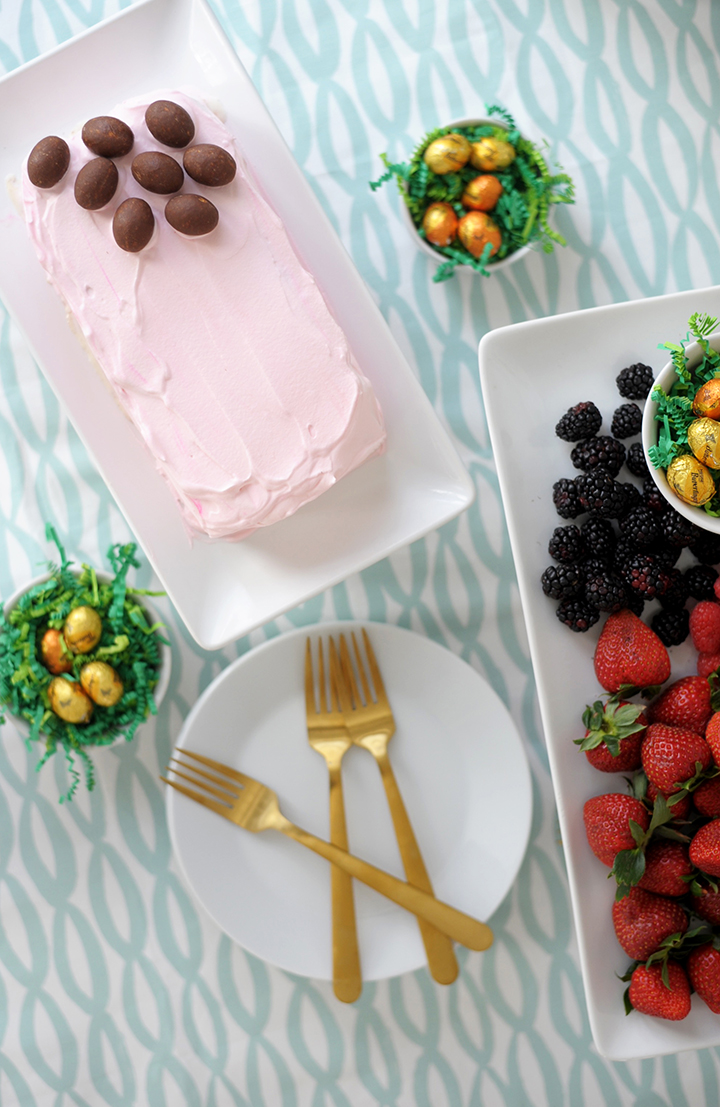 Thank you to BUTTERFINGER® for sponsoring this post.