You know what weeknights can be like around dinnertime. Scrambling in the kitchen to get a meal prepared while the kids are running around hangry or stuck in front of the tv. Sound familiar? One of my goals for this new year is to be better about conscious meal planning, specifically coming up with some easy weeknight meals, nothing too complicated. I love to cook, but sometimes, whipping up a simple, but still delicious dinner is just what I need, nothing too elaborate. Enter our favorite frittata recipe. Our girls love frittatas, and we love them too, especially when pairing with a salad for the adults.
We teamed up with Horizon Organic to share our favorite frittata recipe. This meal is a great source of protein and so delicious! You can even have the kids help pick which veggies and cheese to add to the dish. It's light and packed with fresh vegetables.
We're also sharing some ways to keep the kids active indoors during the winter. Read more to find out some of our favorite activities for the family to do together inside when it's so dark and cold outside.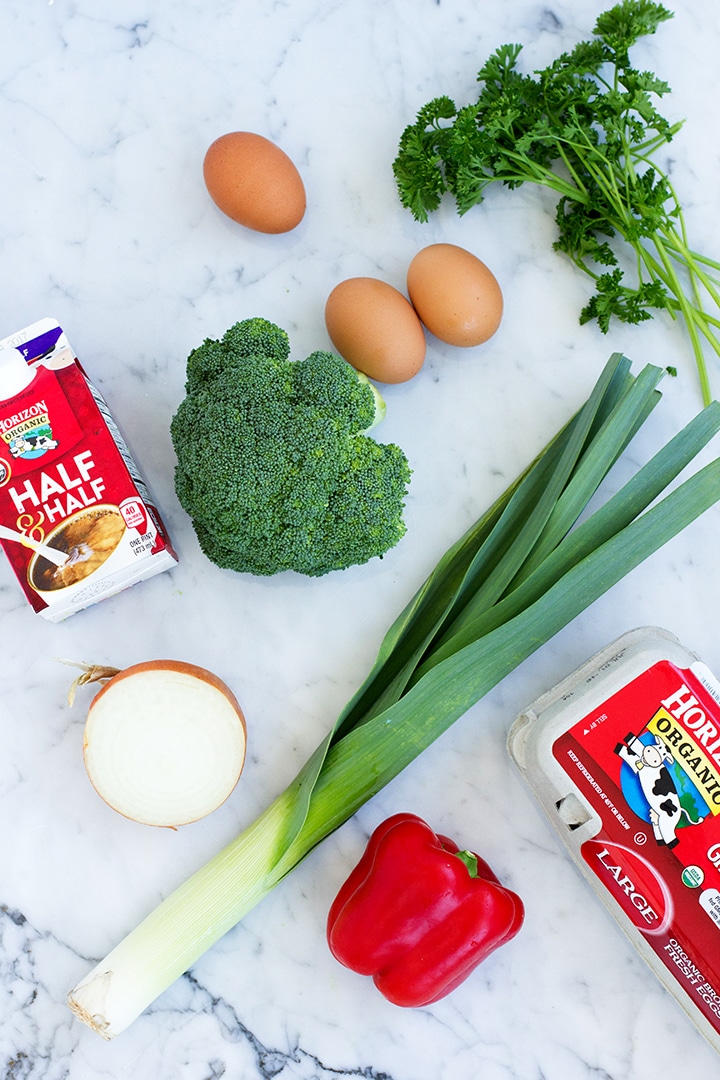 Easy Weeknight Frittata Recipe
Ingredients
2 T olive oil
1 C diced red pepper
1/2 C chopped onion
3/4 C chopped leeks
1 C chopped broccoli
1/2 C shredded cheddar cheese
1/2 C Horizon half and half or whole milk
2 T chopped fresh parsely
salt
pepper
Preheat oven to 350 degrees. In a 10 inch cast iron skillet, heat and add oil. Add onions, red pepper, leeks and broccoli. Saute 5 – 7 mins. Meanwhile, whisk eggs, half and half, cheese and salt and pepper. After veggies have softened, add egg mixture to pan. Cook (without stirring) for 5 minutes. Transfer skillet to oven and bake for 20 minutes or until set.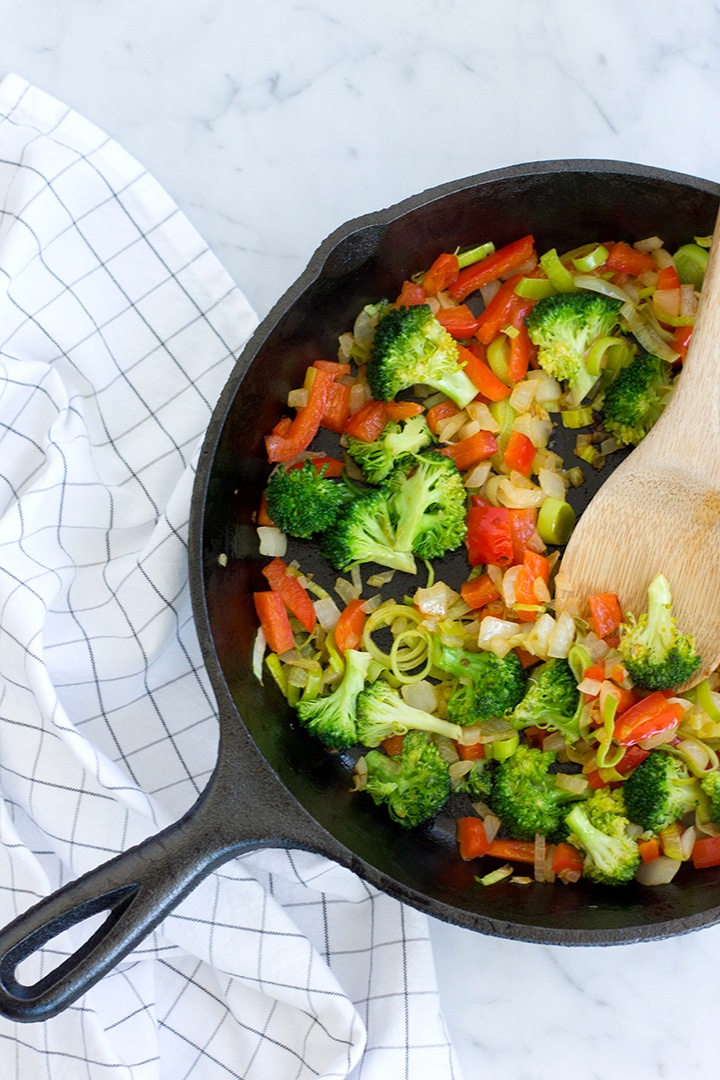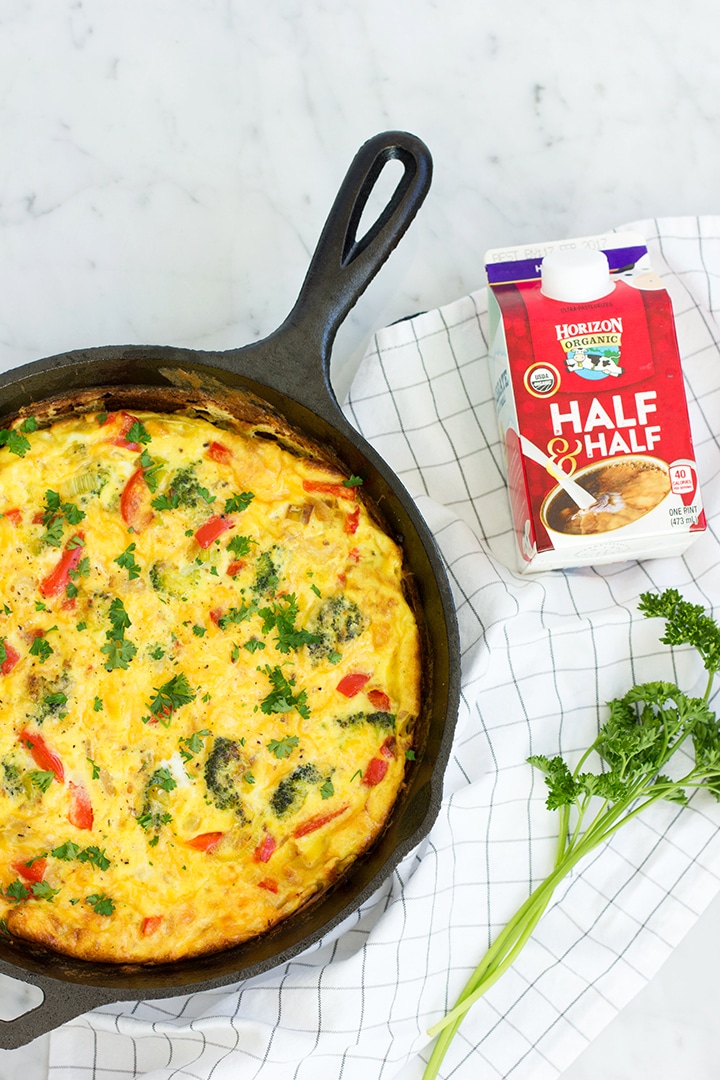 Favorite Activities for Indoor Family Fun
Drawing Game – Here's a fun game that gets the artistic juices flowing. Put everyone's name in the family on a little piece of paper and put in a bowl. Then give each family member paper and drawing utensils. Each person draws a name out of the bowl but doesn't show anyone else who they've chosen. Then tell everyone to start their portrait of the person they chose. See if all can figure out who chose who!
Masking Tape Hop Scotch – Use a roll of masking tape, painter's tape or colorful washi tape to create an indoor hop scotch on your floor. This works on all types of floor. We love to use different colors of tape to create the numbers inside each square.
Cardboard Creations – Save a big cardboard box or two for some indoor fun. Set out the cardboard boxes, along with a bin of markers, crayons and washi tape and let the kids create their own masterpieces.
Homemade Skee ball – To create your own version of skee ball, set out laundry baskets, cardboard boxes or plastic bins in a row. Then collect toy balls for a fun game of skee ball.
Family Restaurant – Let the kids create a special dinner night with a family "restaurant." Have the kids dream up a name for the restaurant, write out and decorate menus and place cards.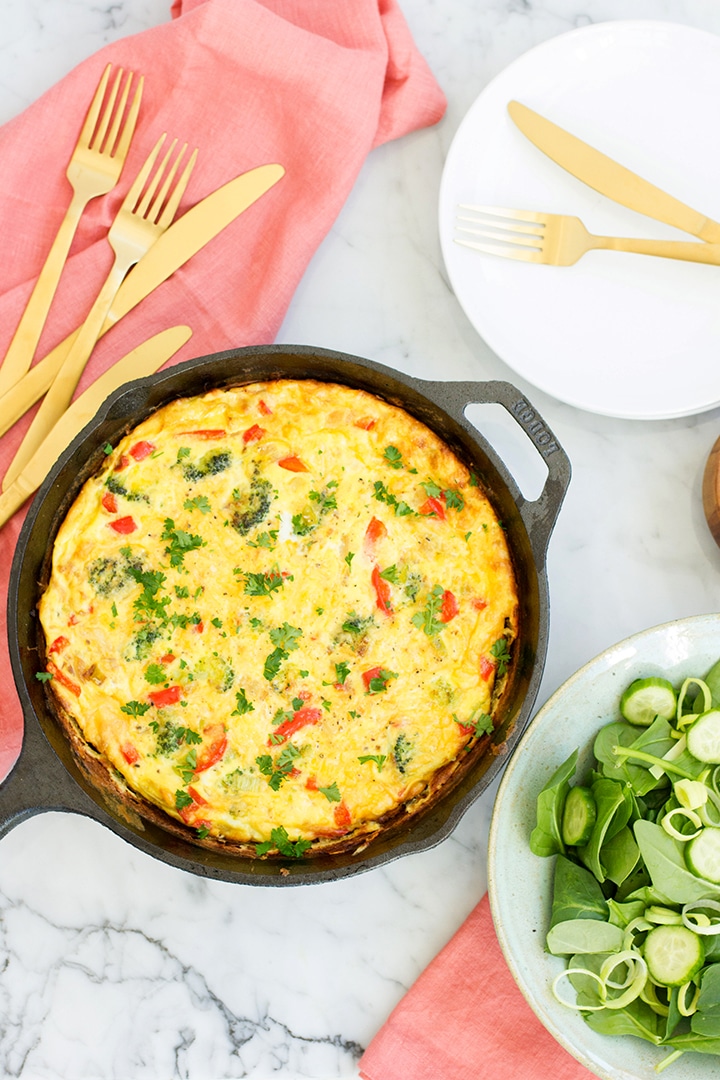 Hope you enjoy this frittata recipe, it works so well for dinner and it's also the perfect main dish for brunch! And have fun with the indoor activities for family fun!
photos by Sara Albers. all rights reserved.
This is a sponsored conversation written by me on behalf of Horizon Organic. The opinions and text are all mine.