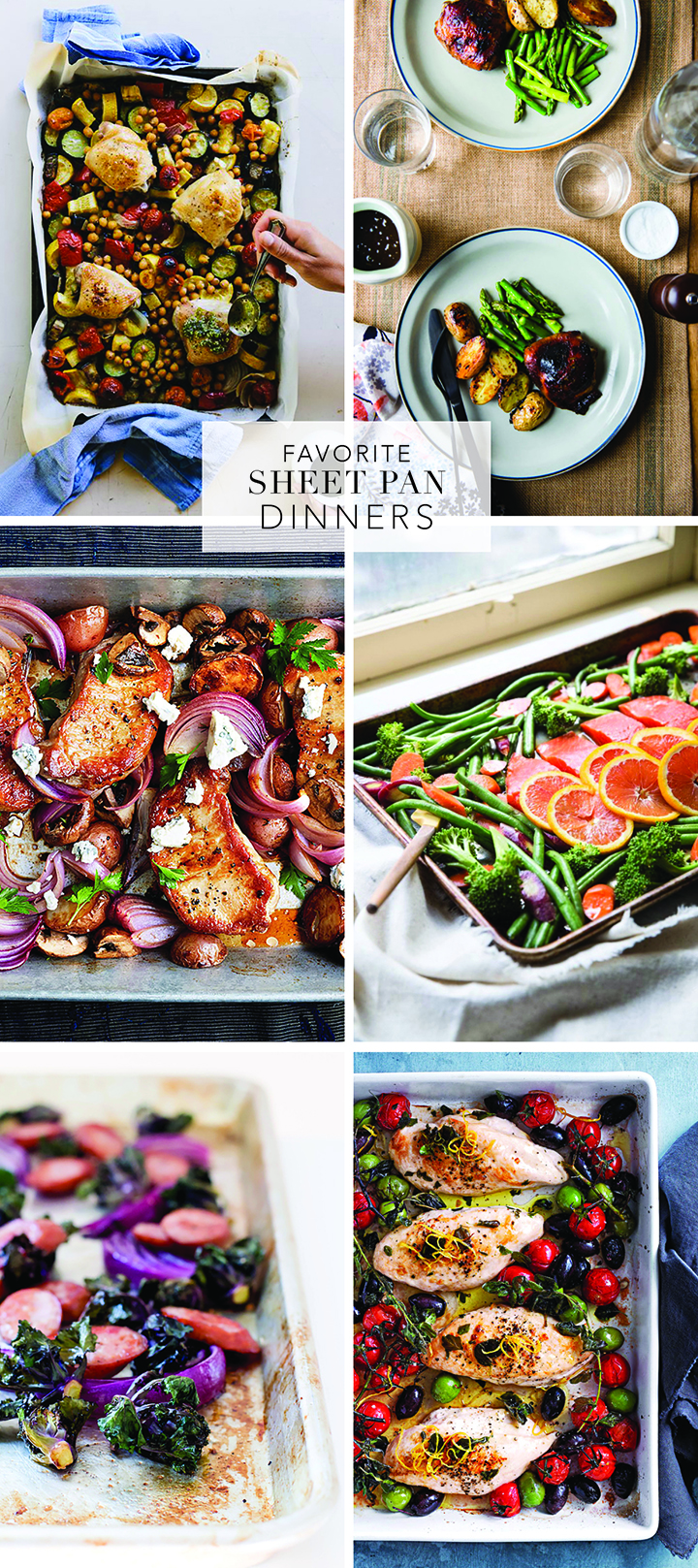 We've fallen in love with the ease of sheet pan dinners. They are so quick to assemble, just pop them in the oven, roast away, and you've got a delicious dinner. Both Sara and I have been big fans of roasting a myriad of vegetables on a sheet pan, but adding the protein to the pan is an easy way to get dinner done fast!
We've put together some of our favorite Sheet Pan Dinner Recipes. From chicken to pork chops to tofu, you'll find some major dinner inspiration here to throw in the oven on your trusty sheet pan.
Read more for the recipes and tips!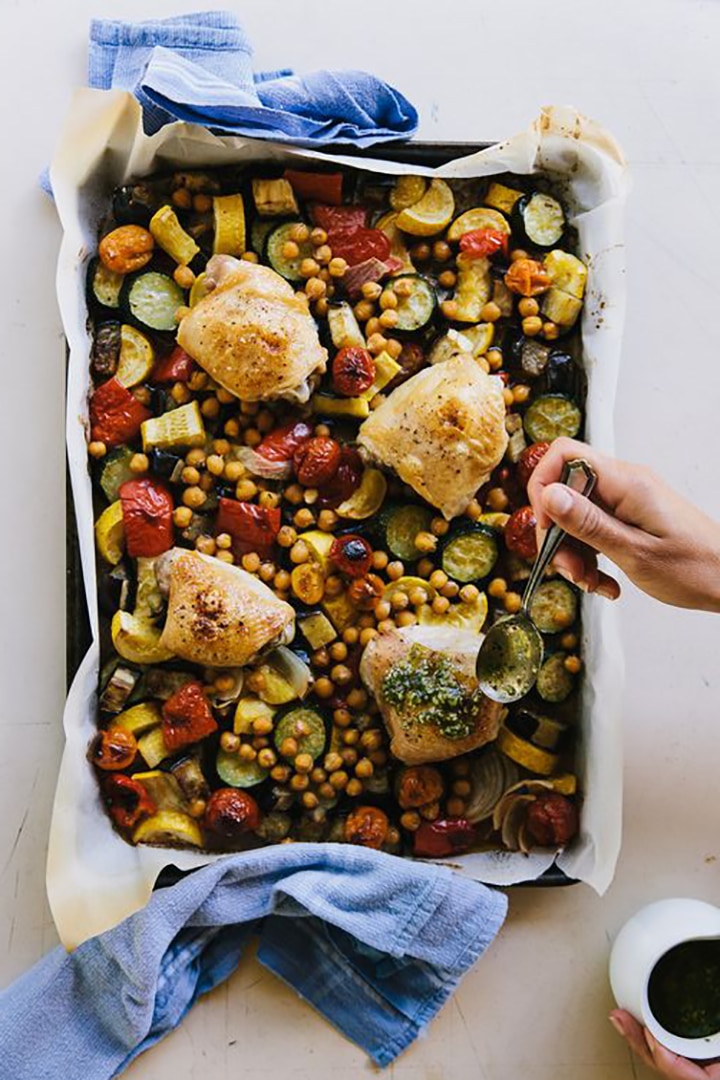 1. Chicken Thighs with Chickpea Ratatouille
2. Pork Chops with Balsamic Roasted Vegetables and Gorgonzola
3. Tray Baked Chicken with Olives and Tomatoes
4. Roast Salmon and Broccoli with Chile-Caper Vinaigrette
5. Sausages with Acorn Squash and Onions
6. Sheet Pan Honey-Sesame Tofu and Green Beans
10. Maple Dijon Chicken, Butternut Squash and Brussels Sprouts
11. Sheet Pan Skirt Steak with Balsamic Vinaigrette, Broccolini and White Beans
12. Orange Sesame Salmon Sheet Pan Dinner Recipe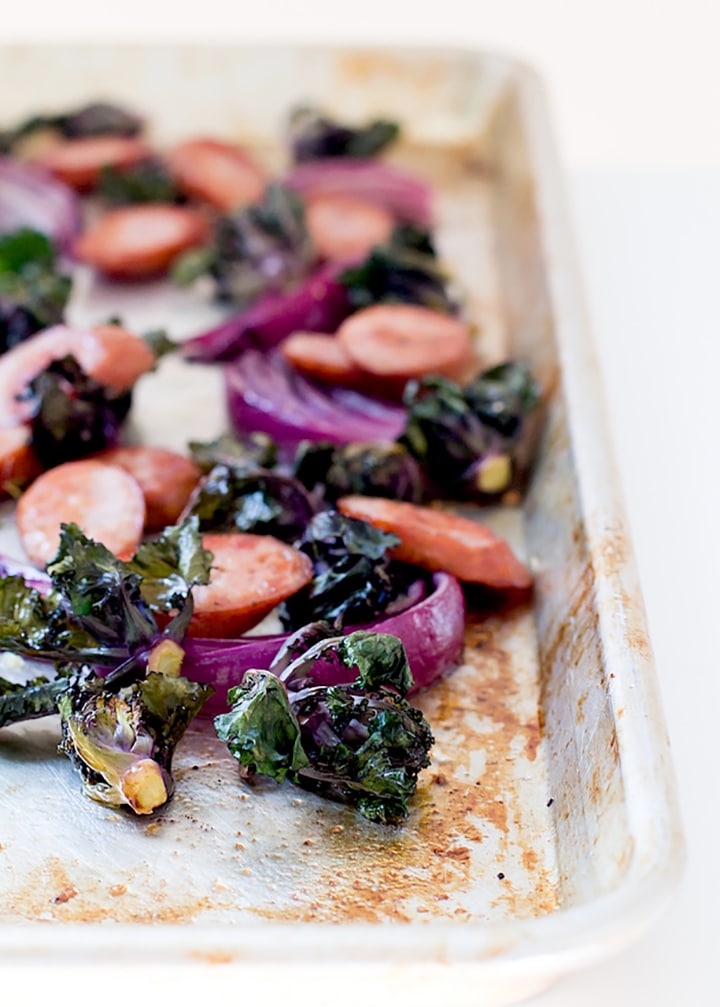 13. Chicken Sausage Kalette and Red Onion Sheet Pan Suppe
14. Moroccan Sheet Pan Chicken
15. Chicken and Veggie Sheet Pan Dinner
16. Chicken and Veggie Sheet Pan Stir Fry
17. Sheet Pan Sweet Potatoes and Black Bean Hash
18. Roasted Gnocchi and Brussels Sprouts
19. Mustard Crusted Salmon with Asparagus and Tarragon 
Here are some of our favorite tips when creating a Sheet Pan Supper.
• When chopping veggies, chop them roughly the same size so they cook evenly.
• If you're going free form, toss your veggies and proteins with olive oil or coconut oil and a little bit of salt and pepper.
• If using meats, go for cuts that roast well, and don't need braising – we love using chicken breasts, bone-in chicken breasts and thighs and pork chops.
• Some sheet pan dinners require timing of when proteins and veggies go in. So if you're using a veggie like cabbage, that would go in after the meat. And we love to turn the broiler on for the last few minutes that everything's in the oven, you get a perfect browning.
And we just ordered this cookbook for more ideas!