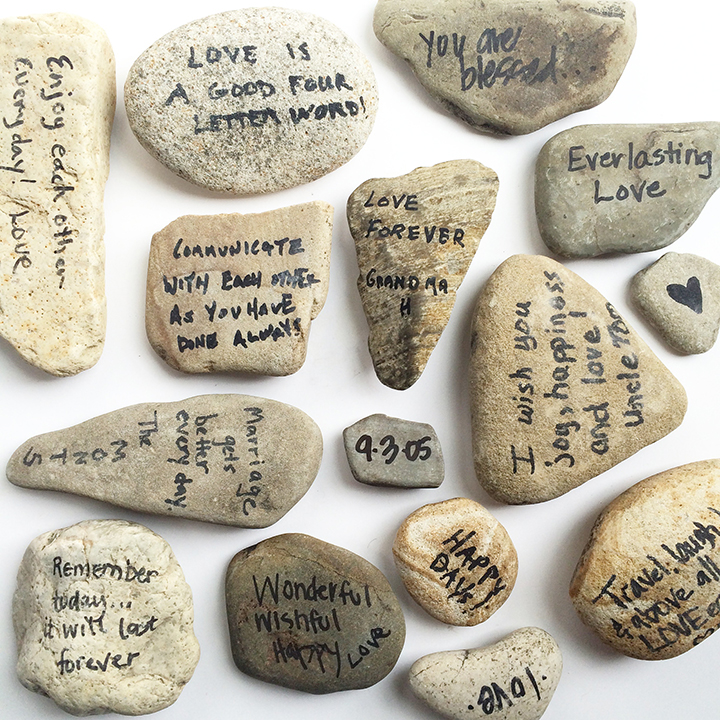 Alex and I celebrated our ten-year anniversary this week. The pic above is one I took the other day of some of the rocks that guests wrote on at our wedding. In lieu of a guest book, we had friends and family write well wishes on rocks from some of our favorite spots in Crested Butte. We keep them in glass vases, but this week I took them all out and read each one. Such great memories, and some incredible advice. My favorite is one that my grandmother Lois wrote. She simply wrote, "Love Forever." I hold that one extra close to my heart.
Hope you all had a great week. Here are some links for you to enjoy. –Melissa
Loved this interview with singer Lizz Wright.
Productivity advice from Susan Peterson of Freshly Picked.
The decline of play in preschoolers.
The obsession with granite countertops.
Uff da, whirlygust, shucky darn – Every state's best slang.
Designers go glamping.
Too cute. Long live the luncheonette (for all you Parenthood fans).
Loving this DIY camera strap.
The prettiest little gift tags.
This salad looks so delish.
Congrats to our friend Audrey from This Little Street, who just launched her first fabric line!
Love the everyday simplicity of these booties.
Okay, and these boots too…
photo by Melissa Fenlon