post by Melissa
It's the New Year, and that means it's time for some healthy eating. I devoured so many cookies over Christmas that I'm ready for some clean eating. I'm cutting out processed sugar, I'm drinking as much water as I can each day, and I'm going for whole foods.
I wanted to share with you one of my favorite healthy, quick meals – Coconut Curry Butternut Squash Soup. I love the pureed texture, the flavors of curry and the sweetness of coconut milk.
Read more for the healthy recipe.
Coconut Curry Butternut Squash Soup
2 Tablespoons Coconut Oil
3 cloves garlic
1 small yellow onion, diced
2 teaspoons freshly grated ginger
3 teaspoons red curry paste
1/2 teaspoon cumin
1/2 teaspoon coriander
3 cups veggie or chicken broth
5 cups butternut squash (peeled, seeded and diced)
1 can coconut milk
limes
cilantro, chopped peanuts, sriracha (for topping)
Heat coconut oil in large pot over medium heat, add garlic and onion and cook for 4 minutes. Add grated ginger, red curry paste, cumin and coriander. Stirring often, cook another 2 minutes.
Add diced squash to pan and cook for 2 minutes, until squash is coated. Then add broth and bring to a boil. Cover and turn down heat to simmer. Cook for 20-25 minutes, or until squash is soft.
Remove from heat. Let cool for 5 minutes, then pour into blender (in batches) to puree. Be very careful because of the hot mixture. Pour pureed mixture back into the pot and warm.
Add 1/4 to 1/2 can of coconut milk to soup (depends on how much you like coconut milk). Squeeze half a lime into soup. Then ladle soup into bowls and top with a spoonful of coconut milk. You can swirl it around to make it nice and pretty. Then top with cilantro, chopped peanuts and serve with sriracha if your guests want a kick.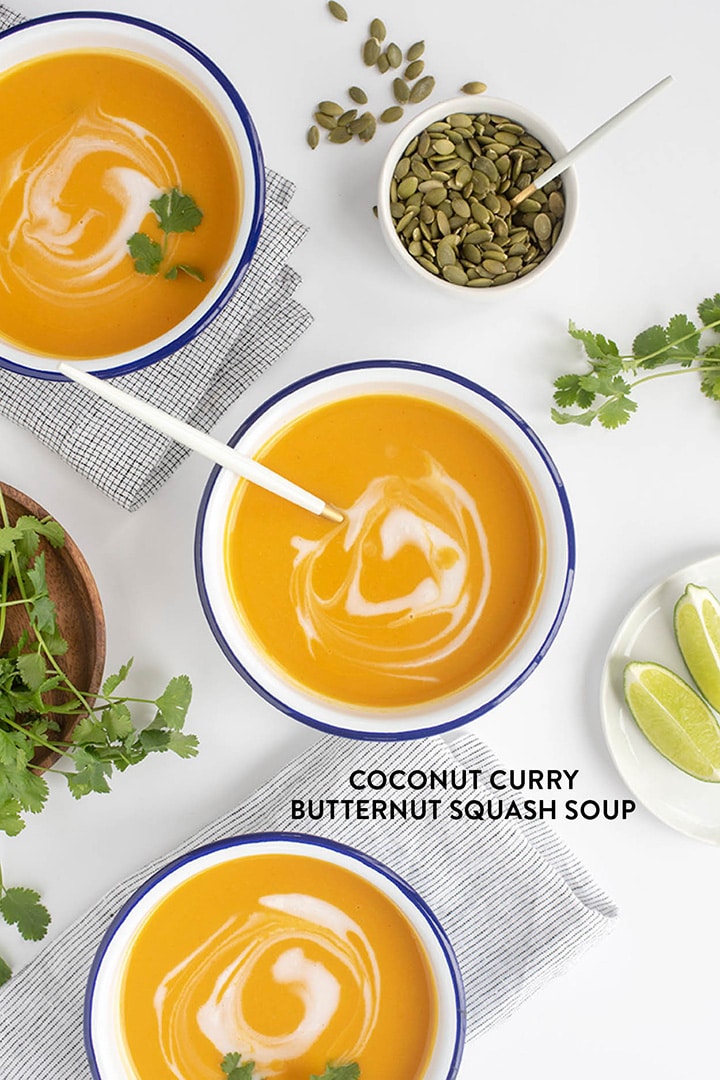 photos by Melissa Fenlon. All rights reserved.