What a year it has been! 2016 was a wonderful year for us – from creating new and exciting content, to new partnerships, building relationships with our readers and making new friends in the blogging community. We were thrilled to be recognized by Better Homes and Gardens as a Top 10 DIY blog again this year. It has been so much fun looking back through all of your favorite (and our faves too) posts from last year. We are highlighting some of the top posts from 2016 – the favorite DIY projects. And we want to take a moment to thank all of you – for taking time out of your day to visit our little place on the internet. – Sara & Melissa
Marbled Indigo Pumpkins – We love anything indigo – and these pumpkins did not disappoint!
DIY Rope Tassel Keychain – These simple rope tassel keychains are simple to make and are the perfect gift.
Natural Fabric Dye Tutorial – We loved doing this project together this summer! We are excited to do more natural dye projects this year.
Weekly Calendar Free Printable – Keep yourself organized with our weekly to do list free printable. This has been a Pinterest sensation!
DIY Hand-Painted Air Dry Clay Indigo Bowls – If you are a long time reader, you know our love for indigo and our love for air dry clay. This project was a match made in heaven.
DIY Stamped Lemon Tote Bag – This DIY hand-stamped lemon tote is the perfect simple DIY for summer!
DIY Modern Message Board – This is one of our favorite projects of 2016. Melissa created this DIY message board and can be used in any area of the home.
DIY Paper Utensil Envelope –  One of our favorite parts of blogging is doing monthly contributor work for brands like minted. We created this DIY for their blog and it was a reader fave. Must be the summery and vibrant colors, perfect for a summer picnic or a party.
DIY Raw Stone Earrings – Do you have a favorite and go-to gift that you like to give friends. Well, these DIY raw stone earrings are our go-to handmade gifts.
DIY Modern Pegboard – We rarely pull out the power tools for projects, but when we do the end result is something we are proud of! This DIY pegboard was so much fun to work on and still lives on in Sara's studio space.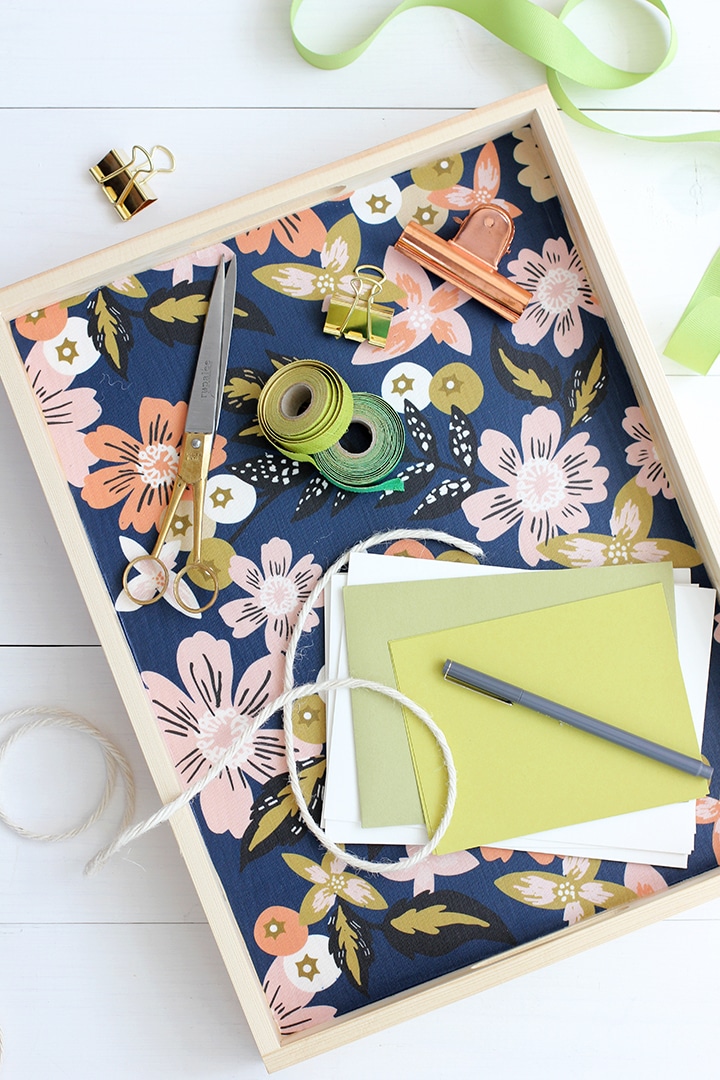 DIY Fabric Lined Tray – This project is a reader favorite and one of ours as well! The tray sits on Sara's coffee table and is admired daily. These trays make the the perfect handmade gift as well.
Graham Cracker Gingerbread Houses – We shared a favorite holiday tradition of making gingerbread houses from graham crackers. This was a reader and Pinterest hit this winter!