How To Add Pops of Color To A Room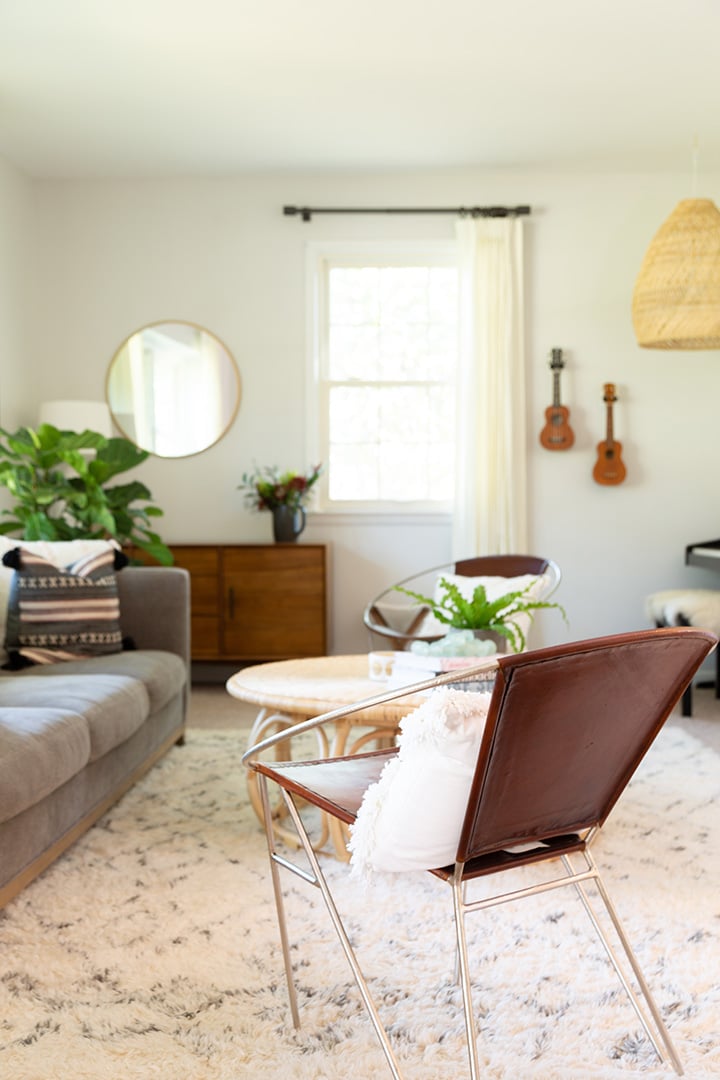 Decorating with whites, creams, blacks and greys are timeless and on trend. But sometimes you crave a little bit of color here and there, right? Today, I am delighted to share how I added an unexpected color for Fall into my living space – Blush pink. Soft pink with black, white and cream make the perfect union, anytime of year. Take a look at my mood board for my color inspiration.
Read more for How to Add Pops of Color to a Room…
My living room is open to the kitchen and dining room. The room is grounded with a large moroccan shag rug in a neutral tone. The coffee table and hanging light are rattan. I have had black and white mud cloth pillows on the grey couch for the last year. The room was longing for a subtle pop of color. The room was also in need of some warmth. I was so excited when Barn & Willow reached out to collaborate as this is just what the room needed. Barn & Willow is an amazing online custom window coverings company.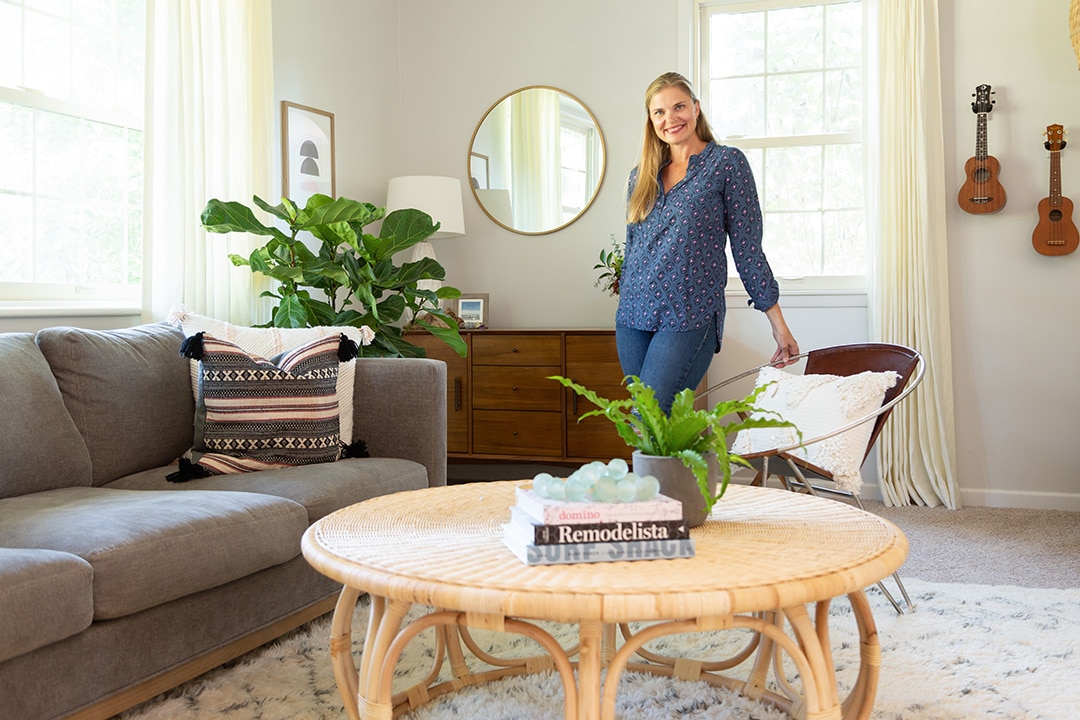 My windows are now beautiful with my Barn & Willow linen curtains. I had been putting off ordering curtains because of the large dimensions of my front window. But Barn & Willow make it so easy. The Measurement Finder is so simple to use. It walks you through step by step to measure for your curtains. Barn & Willow sent me swatches so I could get a sense of what color would look best. I went with a gorgoues Belguim Flax Linen in off white, with a two pinch pleat. The curtains are sophisticated yet practical. They give a sense of lightness during the day and just enough privacy at night.
Now that my windows are taken care of, lets take a look at other areas of the room to add pops of color – whether subtle or bright.
Rugs – This is an area that you can add small doses of color or big!
Pillows – This is my favorite way to add color, because they are interchangeable. I added a patterned black, cream and pink pillow as well as a solid textured pink pillow.
Windows – I went for off white curtains, but this is also an area that you can add subtle color. Especially in bedrooms it is nice to add pattern to the windows. Choosing the color of curtains can be so hard. Barn & WIllow actually has a program called, "Try Before You Buy". Brilliant! You can order up to 3 colors of panels to "try on" in your room.
Accessories – Adding a bright table lamp or decorative basket can add somewhere for your eye to go. I added a pink decor book to the top of the coffee table to add an unexpected pop of color. The light green glass beads from the flea market bring such a nice calm color into the mix.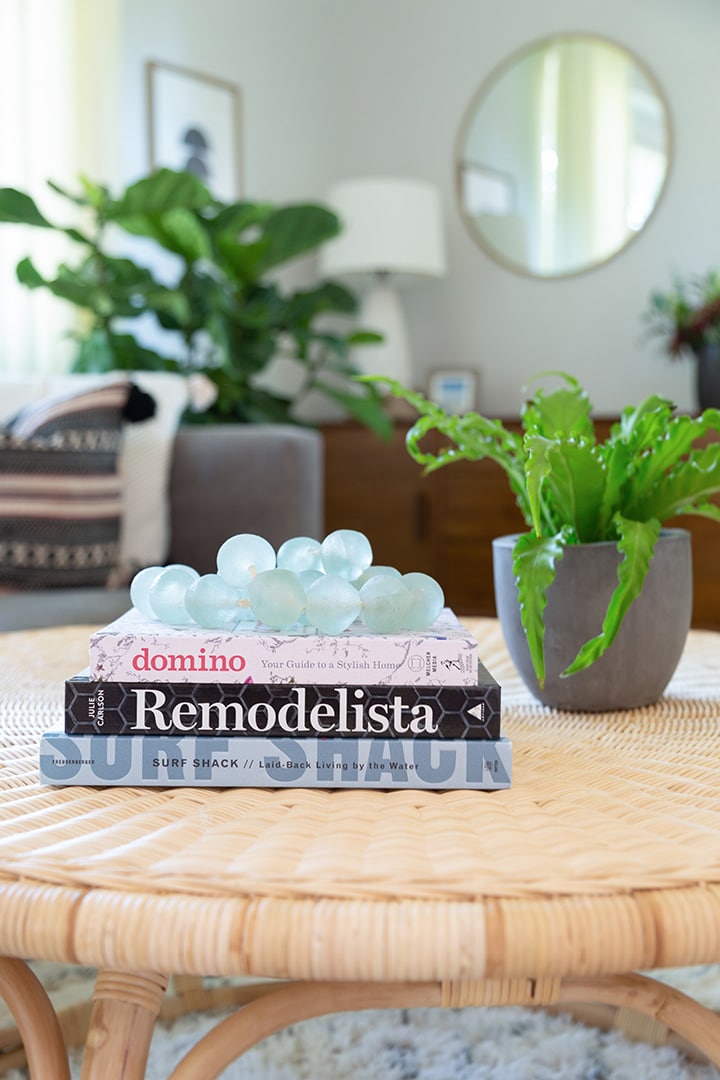 Plants – Pops of green not only add color to a space, but add life. I like to vary the size of plants in a room to give balance.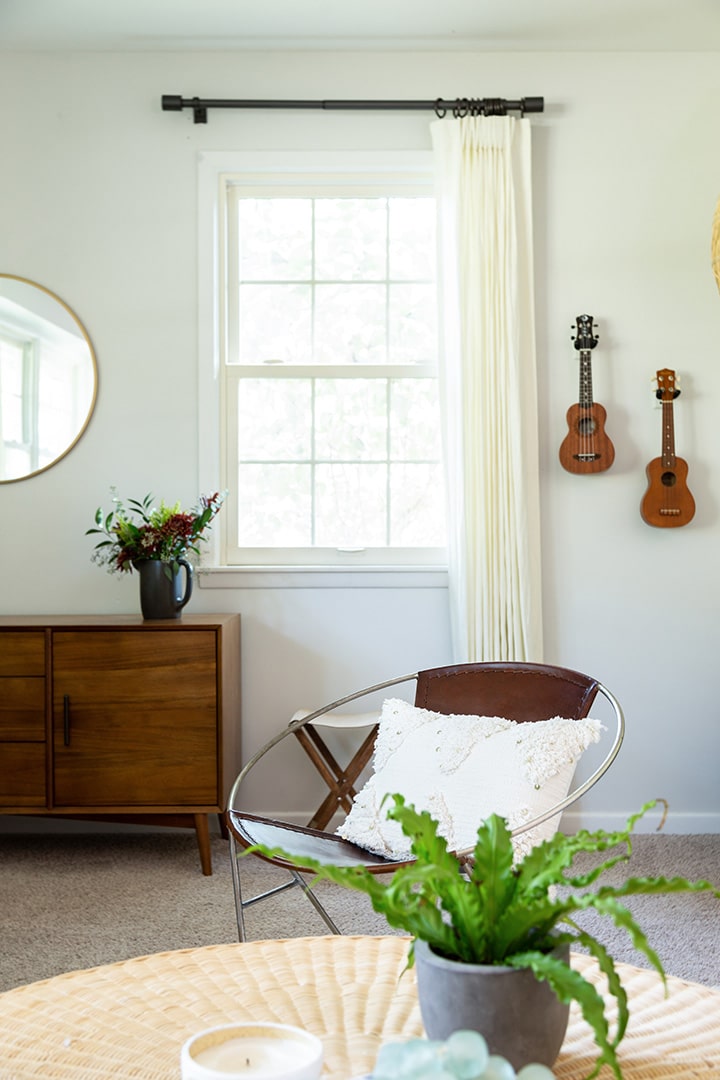 Artwork – Adding a large scale painting or print with bold colors makes such a statement. You can also frame a colorful photo. Or even make a handmade art piece with the specific hue you are adding into the room. I made a simple art piece using blush pink and black paper and framed it. I chose this design because I felt that it represented my little family of three. It was simple, modern and added just enough color.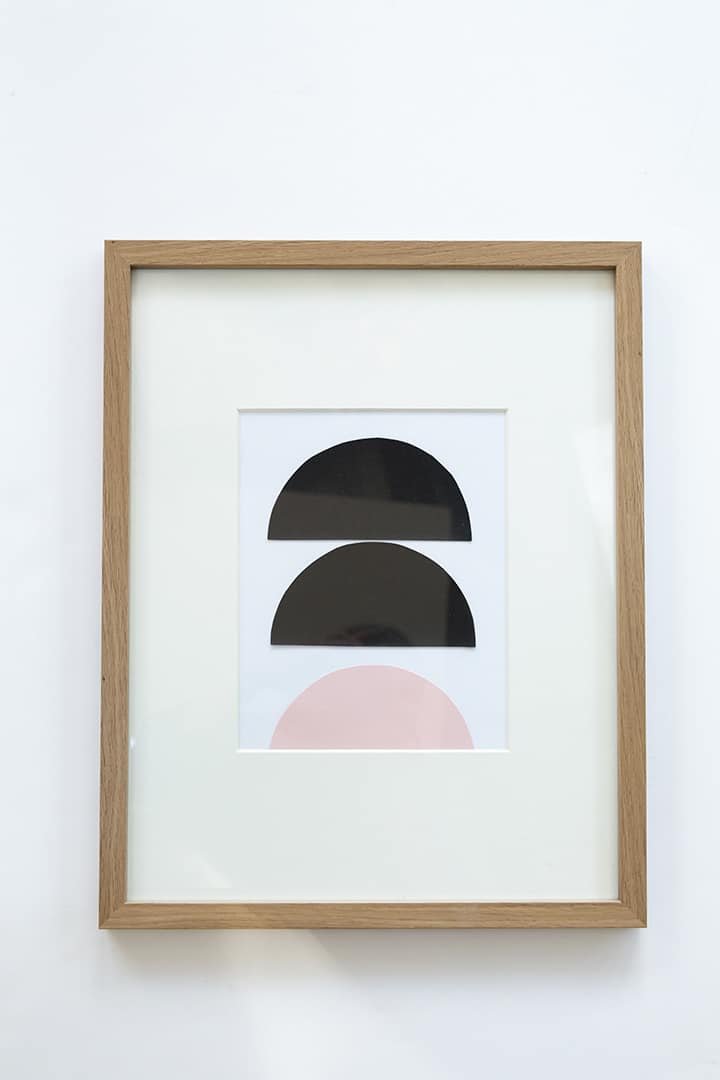 DIY Art
Supplies – black and pink card stock paper, scissors, glue stick. 11×14 frame with 8×10 mat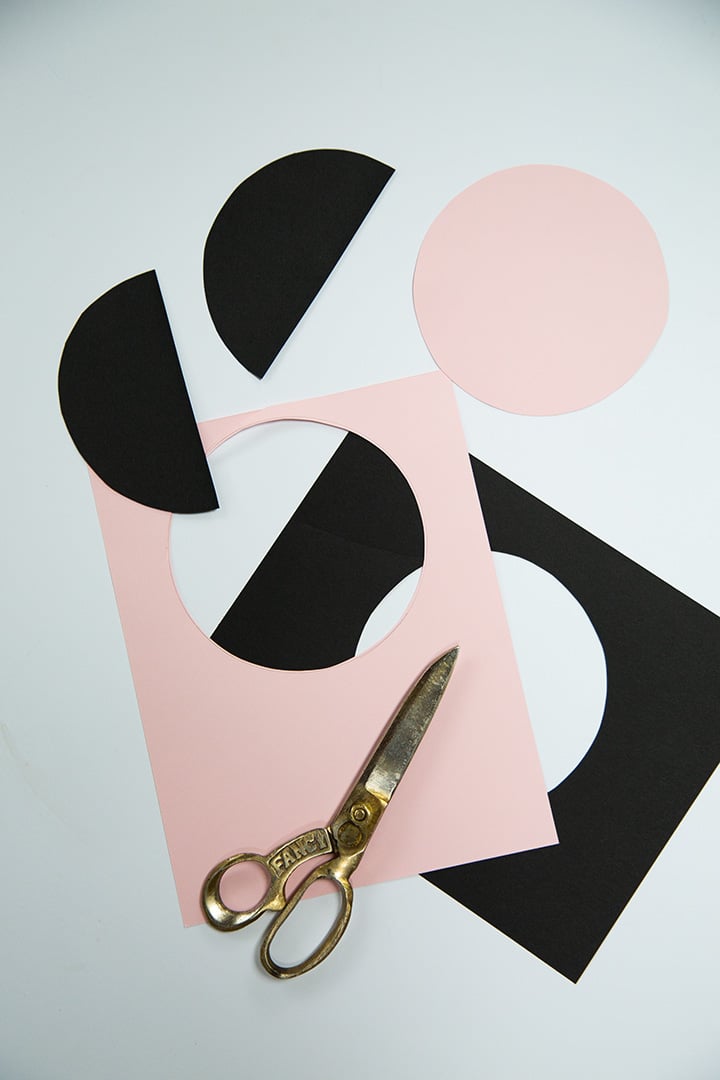 Step 1 – Trace a circle onto the black paper and pink paper. I used a six inch bowl to trace my circle.
Step 2 – Cut one black circle, then cut in half lengthwise. Cut one pink circle.
Step 3 – Glue the half circles onto paper. Glue pink circle below the half circles. Place into the 8×10 mat and frame.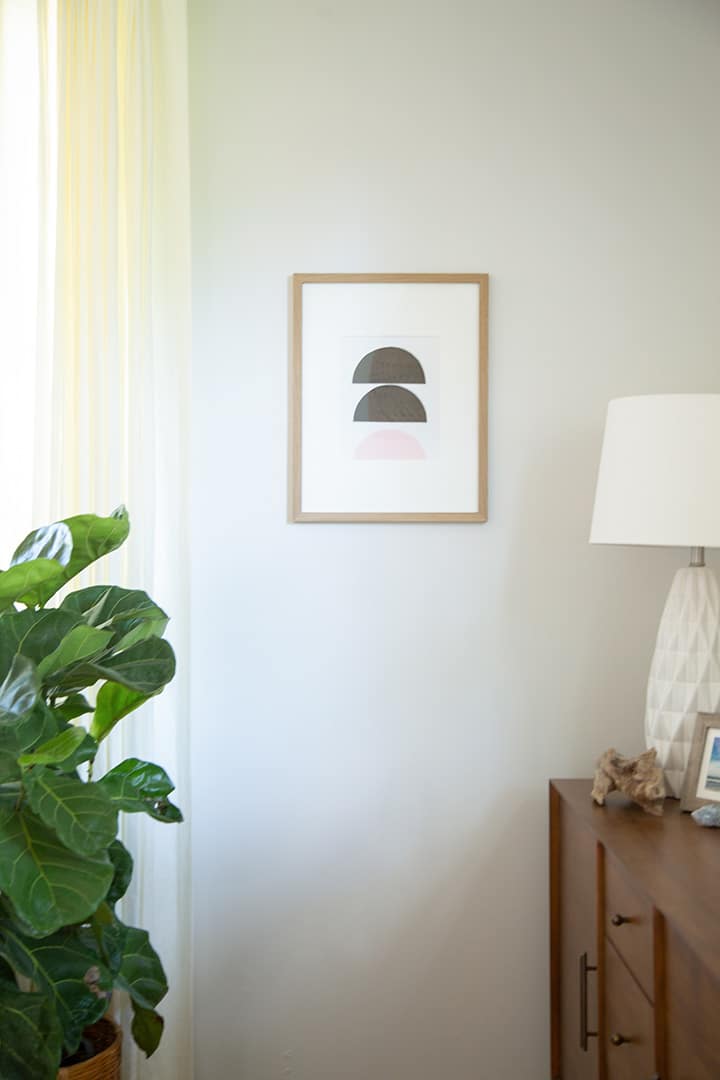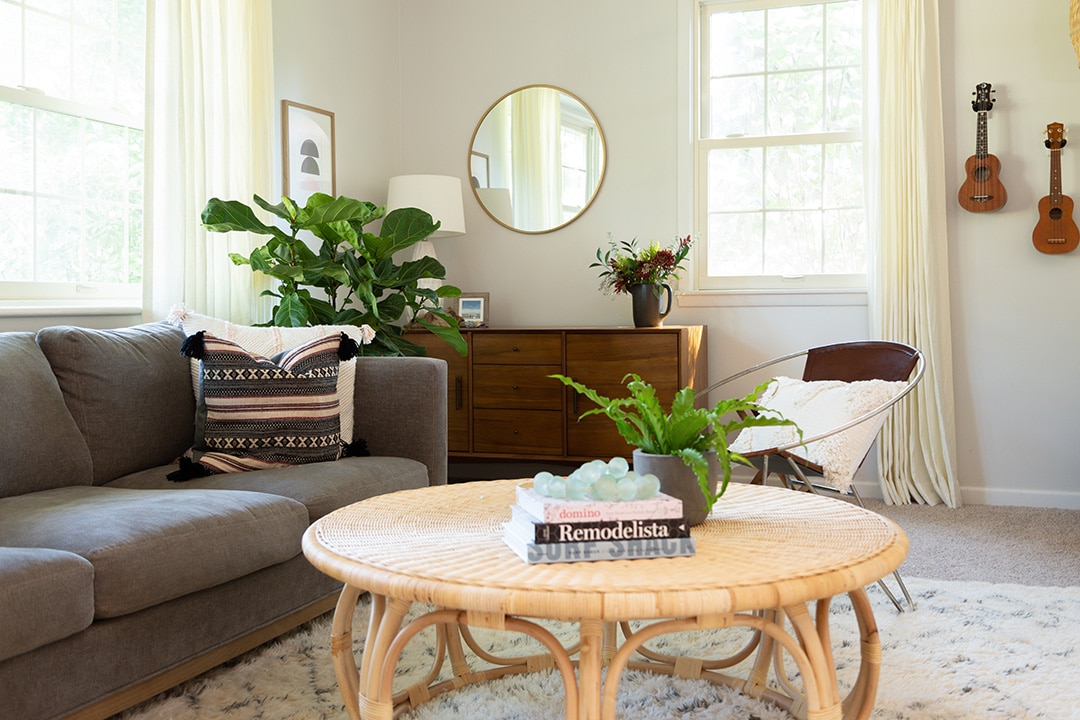 Thank you to Barn & Willow for partnering with us on this post.
Photos by Sara Albers and Sarah Adams.