Kids Cloud Science Project
It's time for a fun kid-inspired activity. Check out this Kids Cloud Science Project for some weather related fun.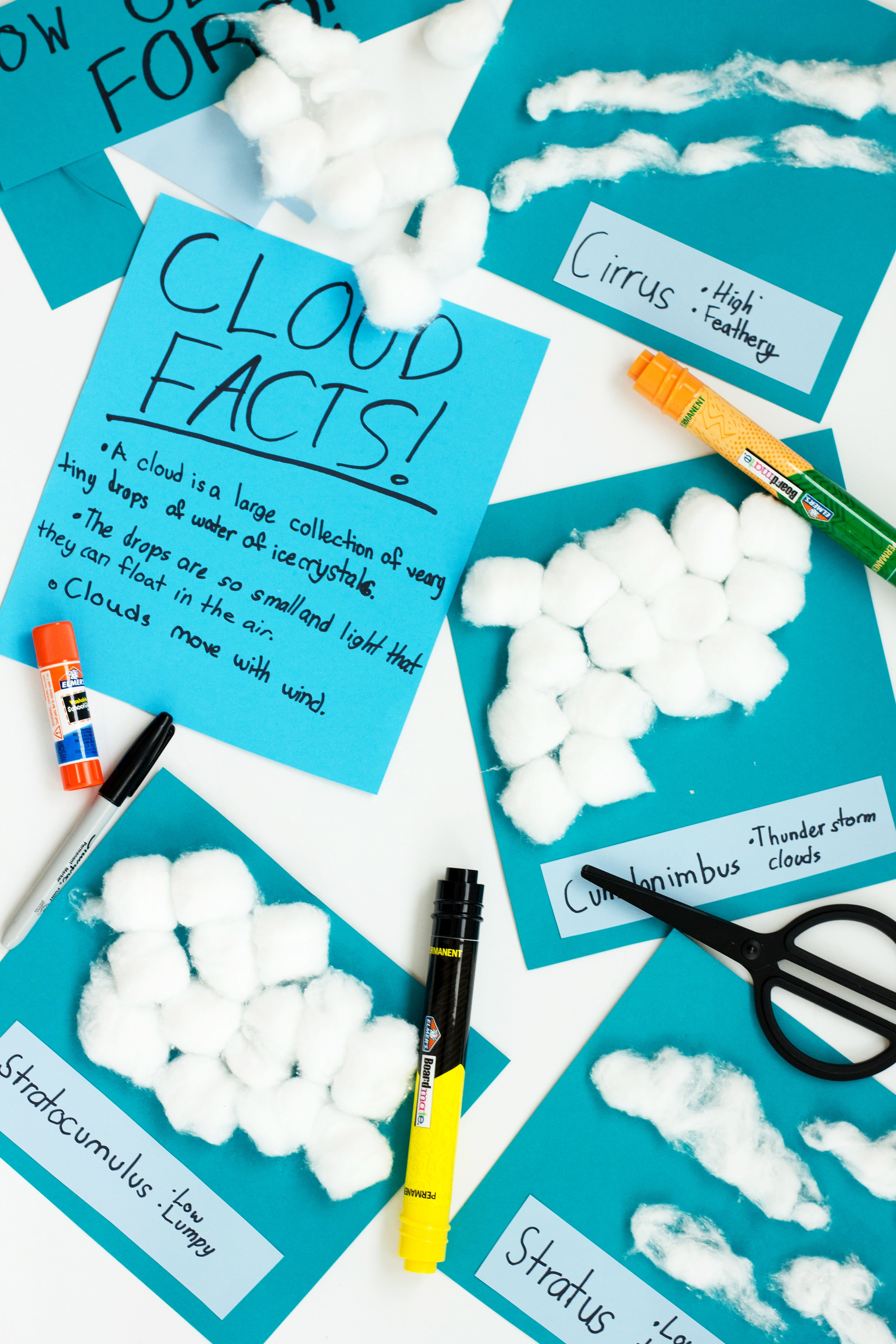 It's that time of year in our house to work on big school projects for the kids. My third grader has her first science project and presentation to create. This could be a cumbersome activity, but today I am sharing my tips on how to make it a fun and rewarding exercise.
We partnered with Elmer's® and Sharpie® brands to create simple ways to create one-of-a-kind projects. They make it so easy with their presentation supplies. Most of our go-to supplies are part of the Elmer's® and Sharpie® brands – like glue sticks, sharpies of all kinds and Mr Sketch! Perfect for our Kids Cloud Science Project.
Read more for our tips and tricks and Kids Cloud Science Project…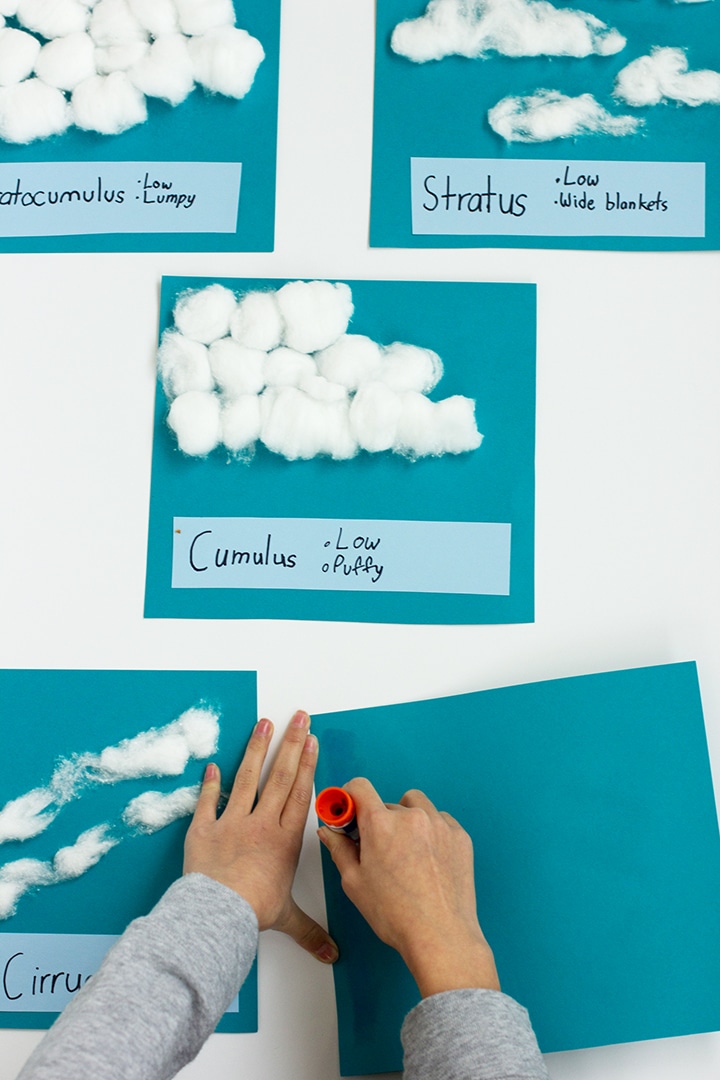 School Project Tips and Tricks
My daughter is in elementary school, so my tips are focused on helping the kids in the lower grades but could also work well with kids of all ages.
1. Game plan.
Spend time to brainstorm with your child on the project overview theme, their ideas, experiments, etc. See what research your child has done in school. Don't be afraid to reach out to the teacher for clarity.
2. Draw a sample.
Have your child draw a sketch or model of what they want to create. We knew that we would be using a tri-fold foam core board for the presentation so my daughter drew the board and went from there. She knew she wanted to do a science experiment as well.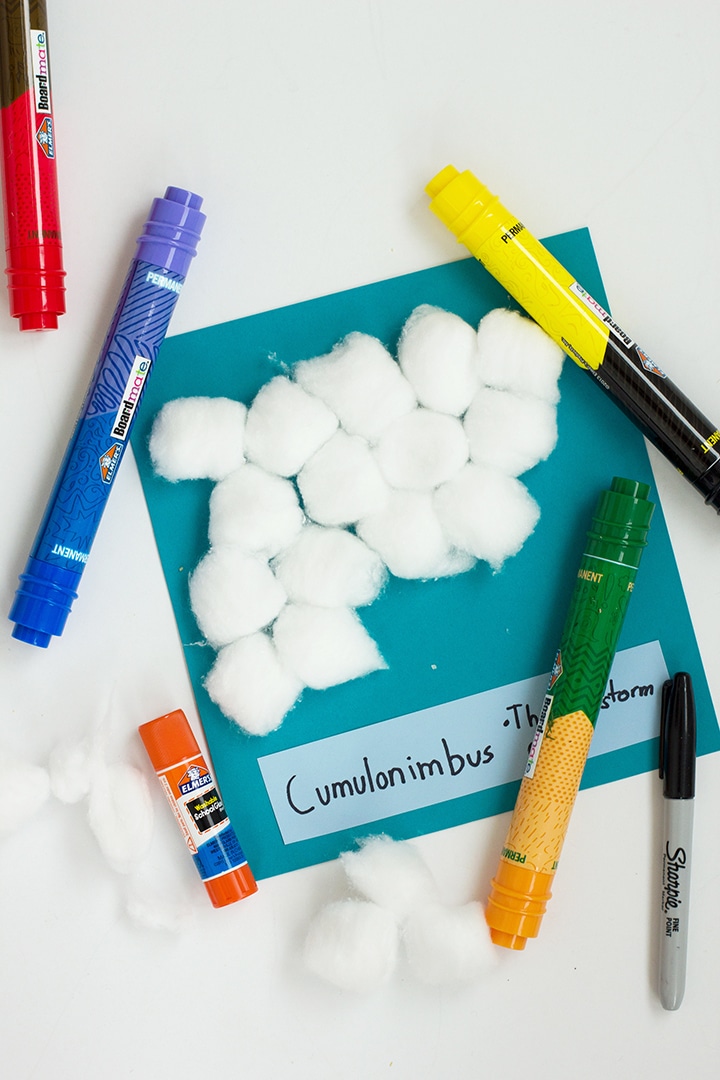 3. Get the right supplies.
Having the right supplies is key. After my daughter made her plan, we went to Target to get our supplies. We kept it simple – We kept it simple – tri-fold board, large Sharpie markers, Elmer's glue sticks, and paper. One stop shopping at Target! Grabbed the cotton balls for the clouds and the shaving cream for the experiment too.
4. Make it fun.
It truly is about having fun! Don't stress. Make sure and give your family enough time to work on the project. I do not recommend trying to do it all in one day. We talked through the assignment and created the game plan one evening after dinner. The next morning my daughter drew out her plan. Then we dedicated a Sunday to execute it.
5. Encourage and support.
It is important to remember that this is your child's project! It is so easy to get too involved and take over. Let your child manage the project, but be there for support and encouragement.
My daughter gets frustrated easily, so I reassured her that if she made a mistake, not to worry – we had plenty of supplies and could fix it.
One tip: suggest to write all the facts, experiments, etc on colored paper and glue or tape to the tri-fold so if they make a mistake, it is easy to fix. I remember learning this the hard way when I was a kid.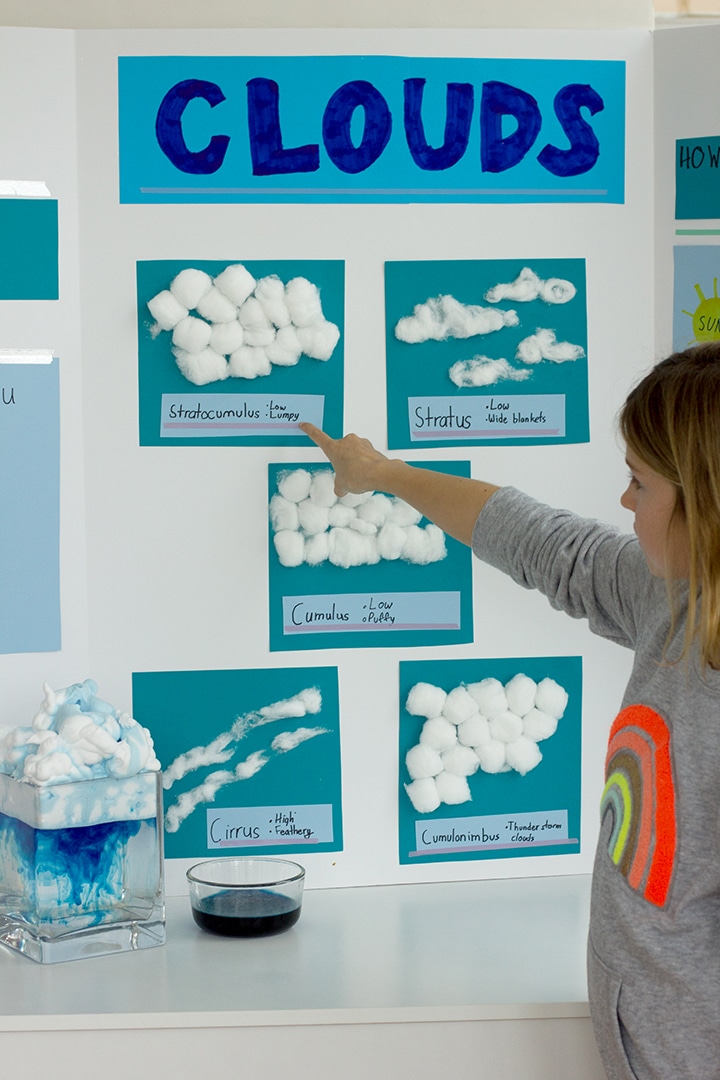 My daughter's project focused on clouds. This is a great project for lower grades. She gathered facts at school in the library and during computer lab. We also looked together at home on my computer.
She developed her general idea of topics to include on her presentation board and her ideal experiment. She drew a model of the board and sketched where and what information would go in each section.
This was a fun and rewarding experience for the both of us. And it's also a great exercise of restraint for me (as you can imagine, I love to decorate a presentation board)!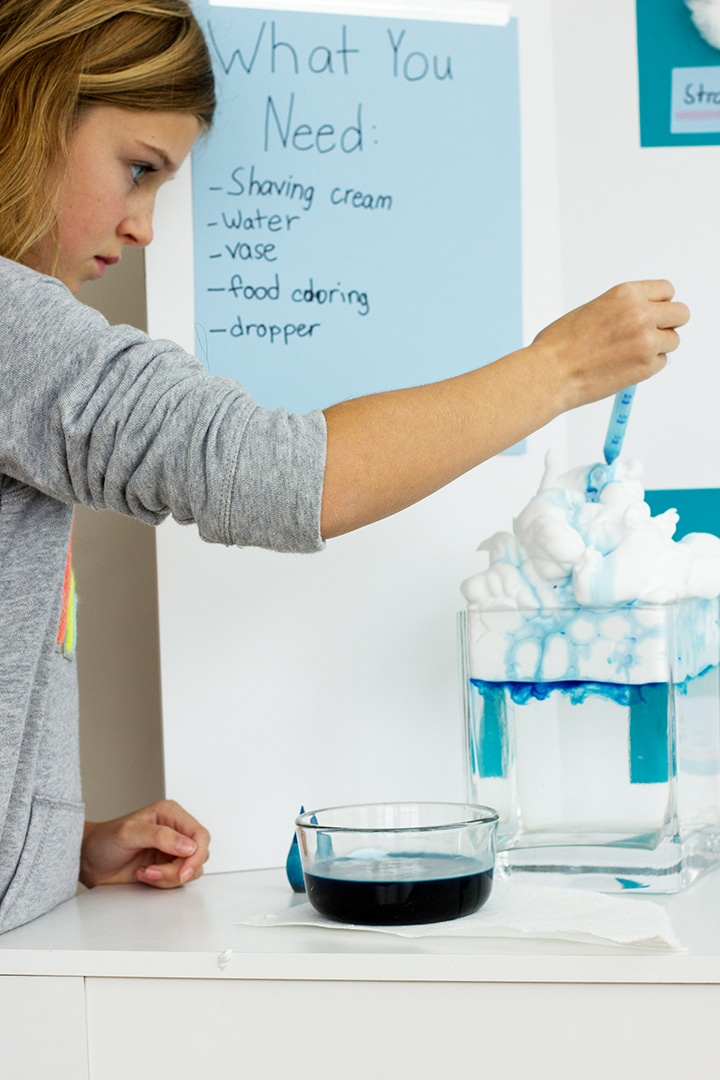 How to do the Kids Cloud Science Experiment
We recreated a rain cloud experiment my daughter had done at school. This experiment shows how clouds hold invisible water vapors that turn into rain when the warm and cool air condenses the water vapors into rain. The shaving cream clouds represent the clouds and how they can hold the water vapors for so long, until the cloud becomes heavy and "drops" the water – rain.
Supplies:
Step one: Fill the vase ¾ full of water.
Step two: Fill the top of water with white foamy shaving cream.
Step three: Mix a separate bowl of water and food coloring. Using a dropper, start adding the colored water to the shaving cream.
Step four: Watch the cloud hold the colored water until it becomes too heavy and the colored water starts to rain!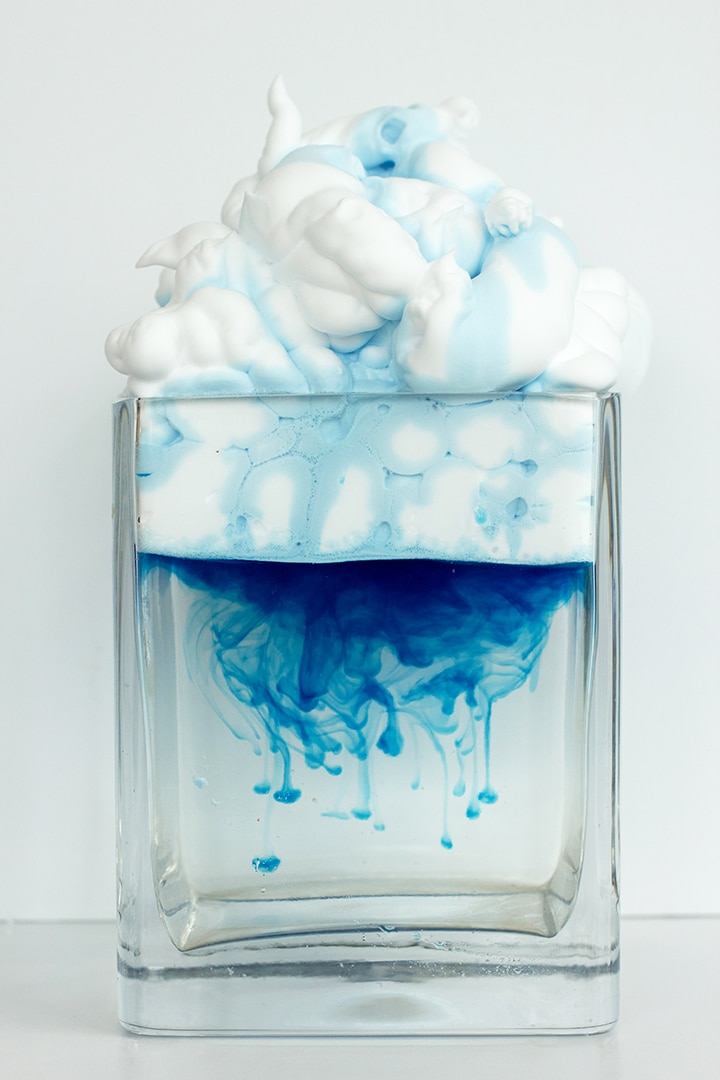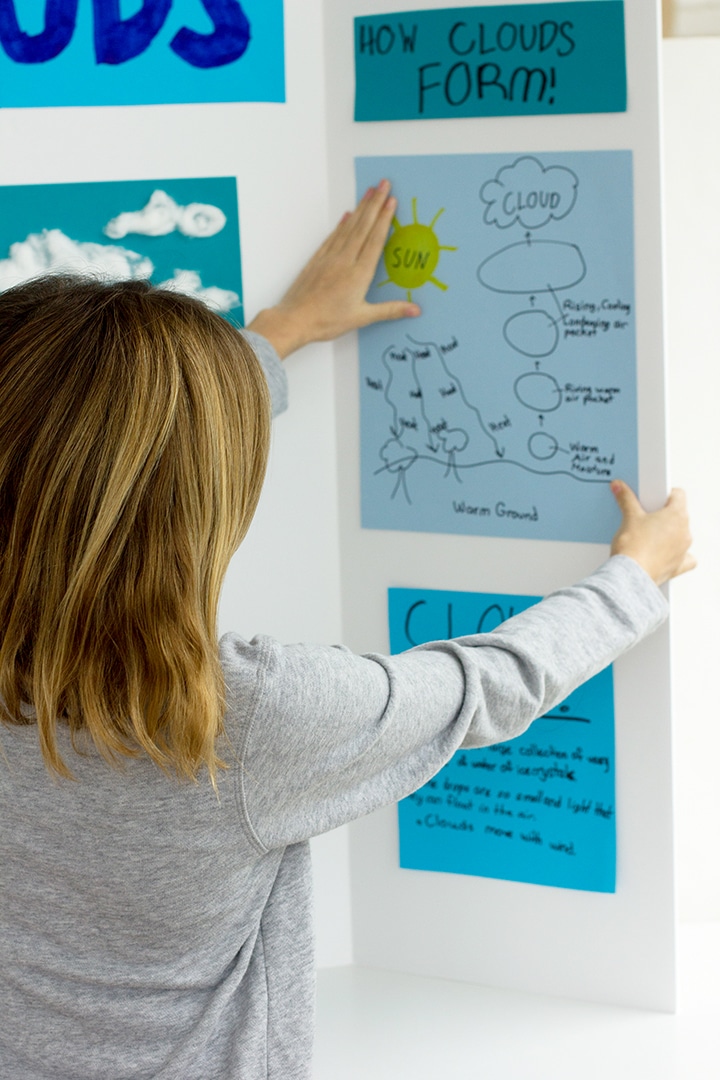 Make sure and check out our Kids Crafts section on the blog. From making Dream Catchers to Tic Tac Toe – we have you covered!
Photos by Sara Albers.
Thank you to Elmer's® and Sharpie® brands for sponsoring this post. Head to Target for 10% off all Elmer's tri-fold boards Cartwheel offer.