Sugar Cookies Recipe with Fresh Flower Topper
Every time our girls are at our parents' house, it's a tradition to make sugar cookies. It doesn't matter if it's the middle of the summer or Christmastime, our mom's famous sugar cookies are made! This sugar cookie recipe is a family favorite any time of year. They are the perfect balance of butter and sugar – a total treat. Last week the girls were cutting out circle shapes to bake and decorate. I then tried to come up with a way to put a summery spin on the sugar cookie when I looked up at little vases filled with mini bouquets that my seven-year-old had put together. Why not top the cookies with fresh flowers? As we know, flowers make everything better.
Read more for the best sugar cookie recipe…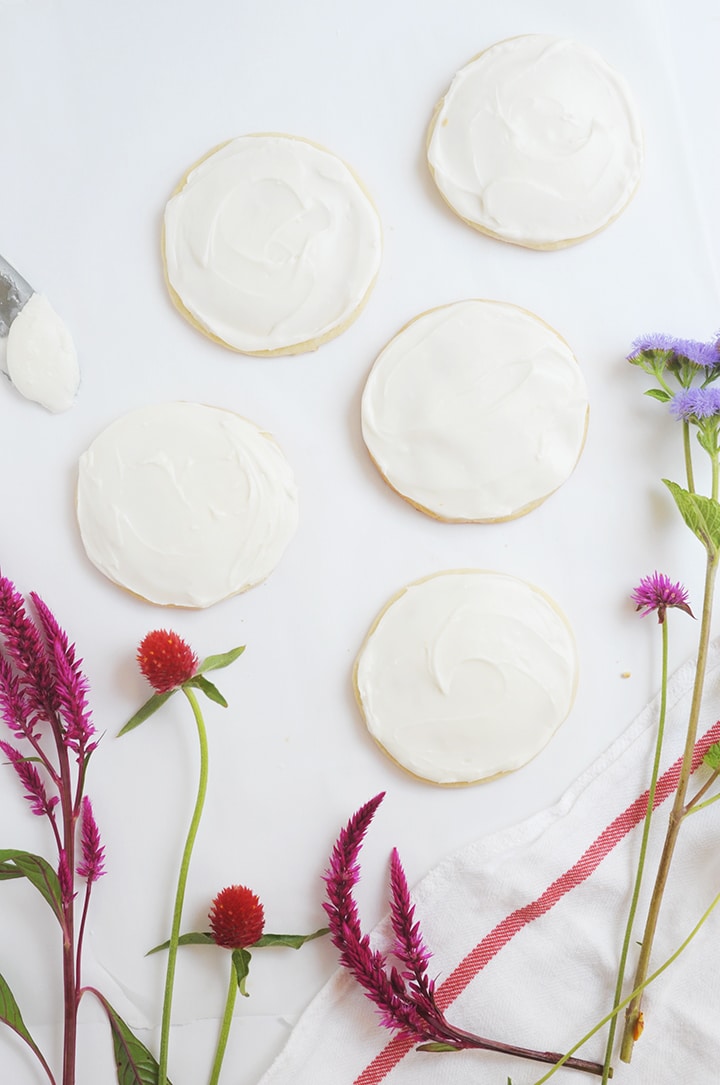 The Best Sugar Cookie Recipe
Ingredients
1 cup butter, room temperature
1 cup sugar
1 ½ teaspoons vanilla
1 egg
1 teaspoon water
3 cups flour
1 ½ teaspoons baking powder
¼ t salt
Cream butter, sugar and vanilla.
Add egg and water. Beat until light and fluffy.
Combine flour, baking powder and salt. Sift together.
Blend dry mixture into creamed mixture, divide dough in half. Wrap each half in waxed paper or plastic wrap and chill for one hour.
Bake at 375 degrees for 6-8 minutes. Watch them carefully. Take out of oven before edges turn brown.
Icing:
Start with 2 cups of powdered sugar. Add 1 teaspoon vanilla and 1 tablespoon melted butter. Stir in teaspoons of milk one at a time until you reach desired consistency.
Instructions:
Ice your cookies and put in fridge for a half hour, until frosting is set. While cookies cool, create mini bouquets of fresh flowers. Cut little blooms down to 2 to 2 1/2 inches and tie together with string. Place bouquets gently on cookie. Of course, these bouquets are not edible. But it's good to remind your cookie eaters that they can't eat the flowers 🙂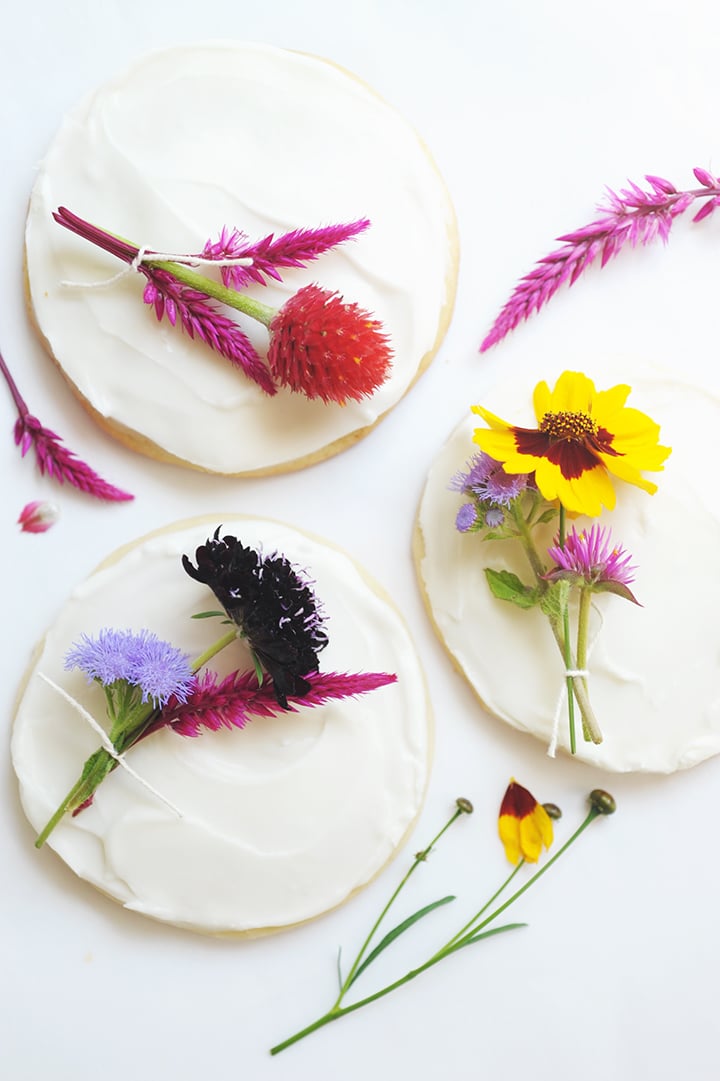 photos by Melissa Fenlon. all rights reserved.