DIY Leather Hair Ties Two Ways
This post was sponsored by Krazy Glue. All thoughts and opinions are my own.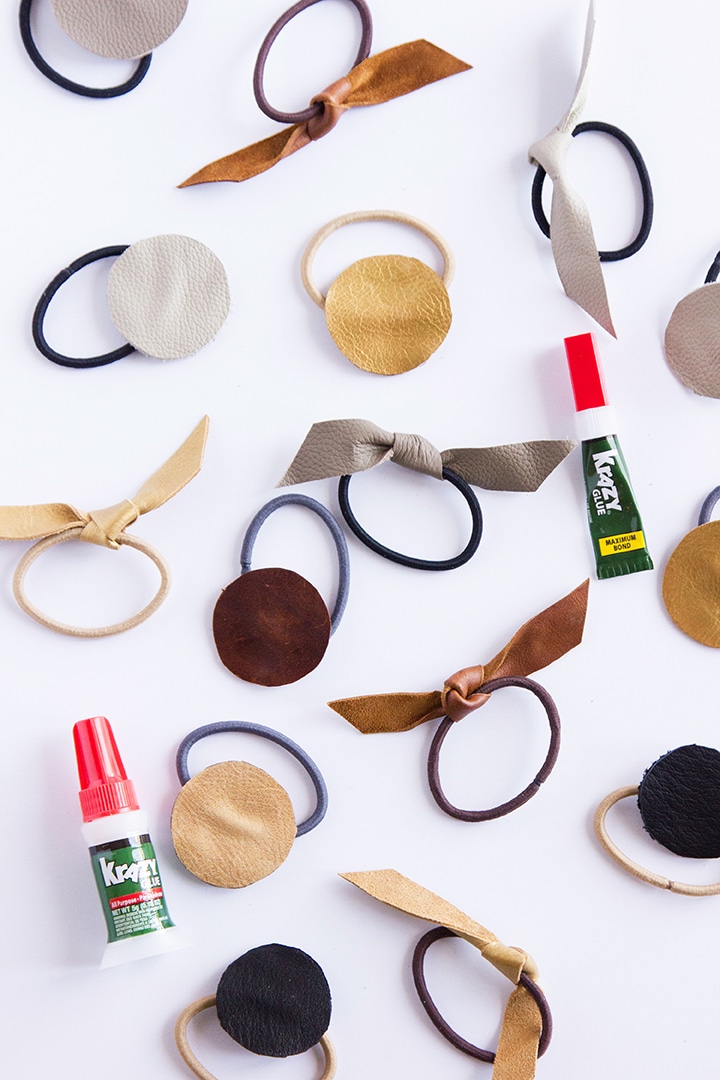 Every year we come up with at least a few handmade projects that will make perfect little gifts for friends. From air dry clay bowls to leather key chains to marbled ornaments – we love to make handmade gifts for family and friends. We love creating and sharing those projects that are simple to make and are so thoughtful to give. Today we are delighted to share with you two ways to make DIY leather hair ties. We partnered with Krazy Glue to show you just how easy these are to make! Your friends are going to love them. You can get a grab bag of leather scraps at the craft store or you can even up-cycle an old leather bag. We adore how these turned out – and so will our friends!
Read more to learn how to make DIY Leather Hair Ties Two Ways…
Supplies
I grabbed the hair elastics and Krazy glue at Target and I was ready to craft! Krazy Glue is a staple in our craft bins and also in our tool box! When we want to make sure something stays put, we grab our Krazy Glue.
Check out our video for all the details on how to make DIY Leather Hair Ties Two Ways!

Circle Hair Tie
Step 1. Trace a 1 ¾ inch circle on the backside of your leather. I used the bottom of a glass votive.
Step 2. Cut the circle with sharp scissors.
Step 3. Cut another piece of leather in the shape of a wide rectangle, a little under 1 ½ inches wide.
Step 4. Adhere one end of rectangle piece of leather to the back edge of circle. Use a little wooden clip to secure. Place the hair elastic under the middle of the rectangle and secure the other end of rectangle to the back of leather circle. Again, secure with Krazy Glue and clip. Allow to completely dry.
Leather Hair Tie
We have made this type of hair tie with leather, scrap fabric, velvet ribbon, gross-grain ribbon – you name it! But once you get your hands on a bag of scrap leather, you will be so excited to make dozens of these!
Step 1. Cut a 6 inch strip of leather, about ½ inch thick.
Step 2. Take the leather strip and make a tight knot around the hair elastic and apply a dab of Krazy Glue to secure to the elastic.
Step 3. Let dry.
These hair ties are perfect for a little handmade holiday gift.
Use as a gift topper. Tie the Leather Hair tie onto the ribbon on top of your wrapped gift for an extra little something.
Stocking Stuffers. We love little gifts inside stockings that are usable items.
Gift basket with other fun hair accessories. Put together a themed gift with a hair brush, dry shampoo, clips and hair ties.
Head to Target to pick up your Krazy Glue with this Ibotta offer. And check out more Krazy Glue ideas here.
Photos and video by Sara Albers.