Home Crush –
Living Room Inspiration
We are starting a new column entitled Home Crush – a play on our weekly Style Crush fashion column. I shared on Instagram that we just moved from our beloved North Beach apartment into a new place in the Marina District in San Francisco. We lived in our old flat for the last 12 years. Our building was sold and we had to move on. It was a very sad day for our little family but we are looking forward and will create new wonderful memories in our new apartment. That being said, it allows for redecorating! Our new place is on the corner and filled with tons of bay windows. We can even see part of the Golden Gate Bridge! I am so excited to move my little studio/office into my new sun room.
Over the next few months I will be sharing some of the rooms in our apartment. I have been adding lots of inspiration to our Home Sweet Home Pinterest board, follow along. Each week I will focus on a particular room or design element in the Home Crush column.  This week, I am starting with design inspiration for the living room – the center of our place. This is what I am working with – I have ordered a Moroccan style rug and have a dark brown sectional couch that we had in our old place (now split into two pieces). I am looking for lighting, coffee table, window coverings and end table inspiration. And you might notice a similar item in a few of the pictures  – a leather butterfly chair. That is definitely on my wish list. Here are a few of my favorites. I am loving the bright white walls and the patterned rugs.
Image above from LovelyLife.se

Image above from Smitten Studio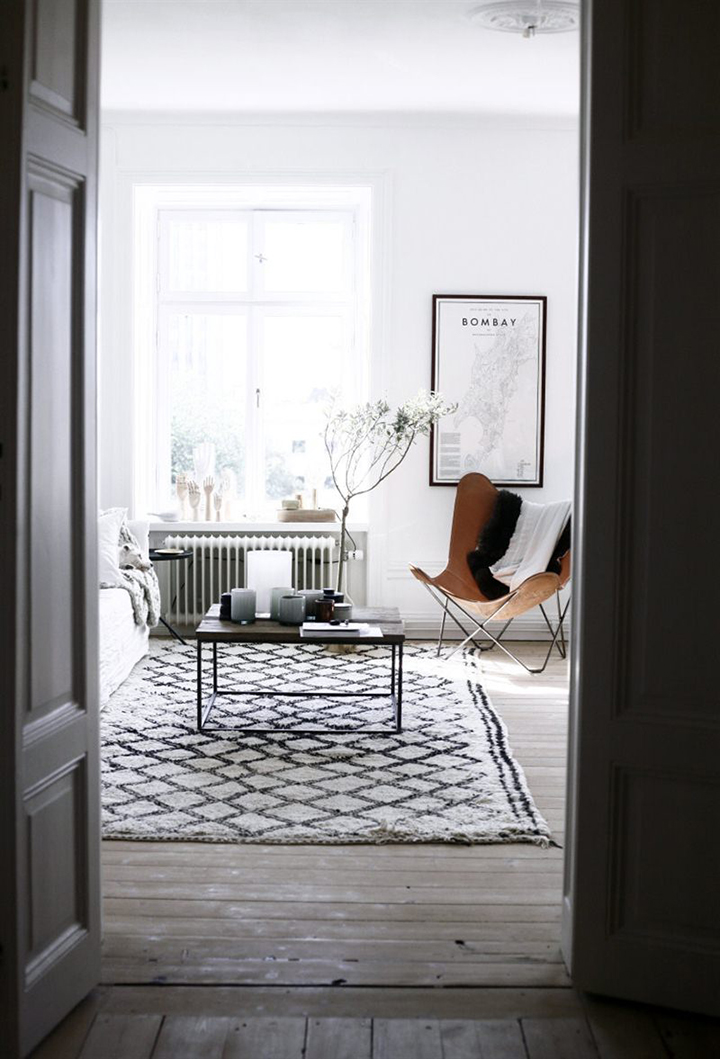 Image above from Svenka Maklauhuset